MyPlayer v1.025 – Fully Functional "Catch Up" TV for Windows Mobile
A New Version of MyPlayer
The latest version of MyPlayer features various error and bug fixes as well as additional support for more TV channels from the BBC, ITV and Five UK networks as well as Hulu, MSN and coverage of the English Premier League from Virgin Media.
Most of this is available free, however depending on your chosen streaming options you may opt for utilizing the MyPlayer credits system which is available to anyone wanting to get their content streamed from the MyPlayer server.
Other than this optional charge, this new version of MyPlayer is free to download and use.
Download Via CAB or MSI
MyPlayer v1.025 is designed for use on Windows Mobile Pocket PC 5, 6 and 6.1, and can be downloaded from developers Skynet. The installer is an MSI file, which means it can be downloaded to your Windows PC and via an ActiveSync managed connection you can install the app to your Windows Mobile device.
Installation should be quick and easy via this method, but if you're out and about and want to download direct to your Windows Phone, the CAB file can be downloaded here – once complete, the 634 KB file will be ready to install upon selection.
Note that MyPlayer streams and downloads video content to yoru Windows Mobile device – as such a very generous data plan or constant WiFi connection is highly recommended!
In order to view video content, you will need to get a copy of Coreplayer or TCPMP (the free version of Coreplayer) and install this to your Windows Phone.
MyPlayer in Action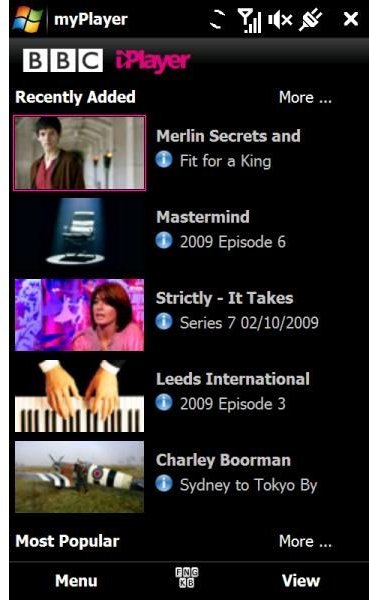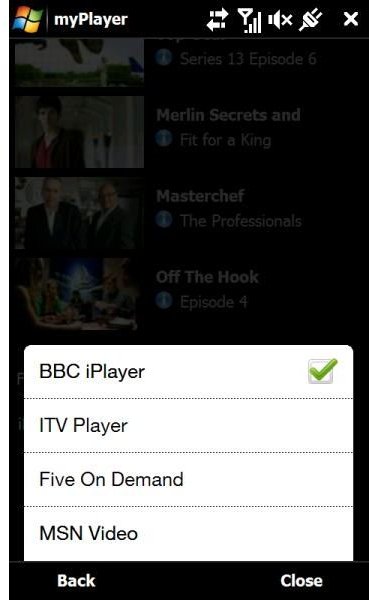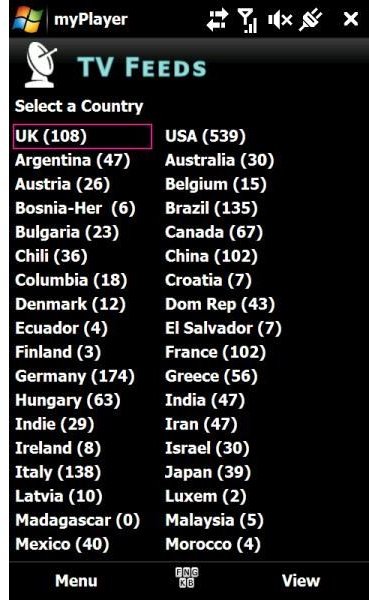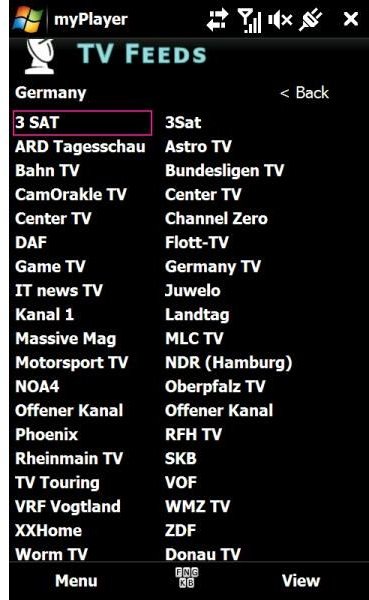 Using MyPlayer v1.025
This updated version of MyPlayer possesses the same BBC iPlayer-type interface and utilizes the kinetic scrolling interface first seen in TouchFLO 3D. It's a simple task to utilize the clear menu system to switch between the different channel content (from BBC to ITV to Five on demand and so on) and while Hulu and MSN may seem limited, the content they provide is of the highest quality.
It is also possible to view live television where available, while an extensive TV index of channels worldwide is also provided from a vast selection of countries worldwide including the USA, UK, India, Germany and more.
It's Even Better! (5 out of 5)
Somehow, Skynet Software have managed to improve even more on the last release of MyPlayer – so much so that I'm giving this an unofficial 6 out of 6, simply because I can't award higher than 5.
Having previously reviewed MyPlayer and awarded it full marks, this new version has extended the functionality, resolved some bugs and delivered additional streaming options.
A myriad of live and on demand television and radio content is available through this free application, and really it doesn't get any better than getting something as comprehensive and functional as MyPlayer v1.025 for free.