TV Schedule Viewer for Windows Mobile: Check UK Listings for Free
If you've ever wanted to check what was on TV while you're on the train home or sat at your desk at work, OnTV is a perfect Windows Mobile based solution.
Providing access to TV listings for all major UK TV channels, OnTV also allows reminders to be set and listings later in the week to be viewed, and provides details of each show.
Best of all, this is a free Windows Mobile application, dedicated to the TV requirements of UK and Sweden based WinMo users (UK version reviewed here)!
Configure, Download and Install
Before installing OnTV on your Windows Mobile 5, 6 or 6.1 device, you will need to install Microsoft .NET Compact Framework 3.5 on your phone. This is a 33 MB download that must be installed to your phone via ActiveSync, and provides an up to date .NET environment on your Windows Mobile device, enabling the most up to date applications to be run.
OnTV is available free from XDA-developers.com (sign up required) and is available in both English and Swedish versions, with VGA and WVGA alternatives. The downloaded CAB file should be copied (or downloaded directly) to your Windows Mobile device from where it can be installed.
Note that this application uses a small degree of data bandwidth in order to receive the required TV schedule information – as such you will need an Internet connection on your mobile device.
Screenshots of OnTV in Use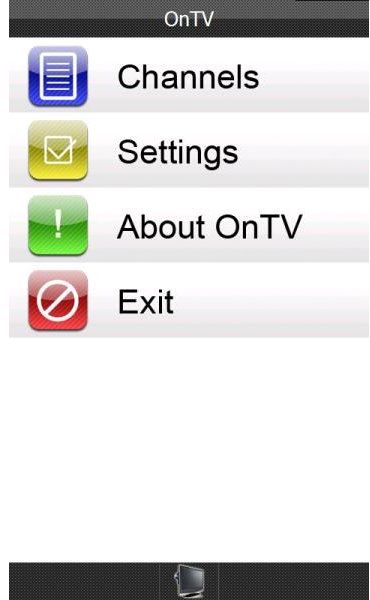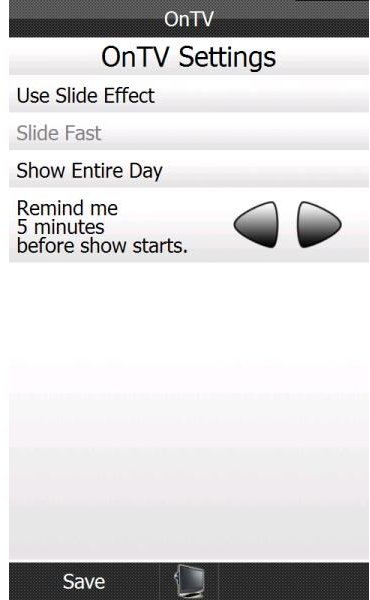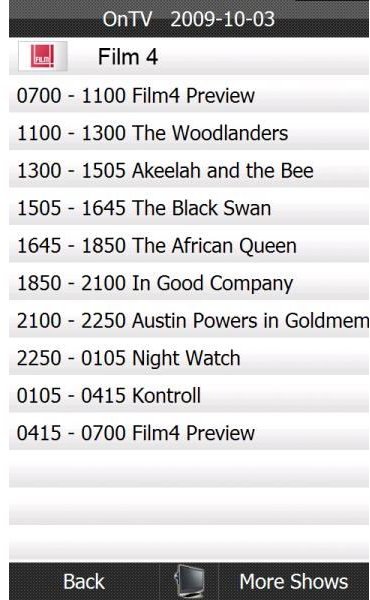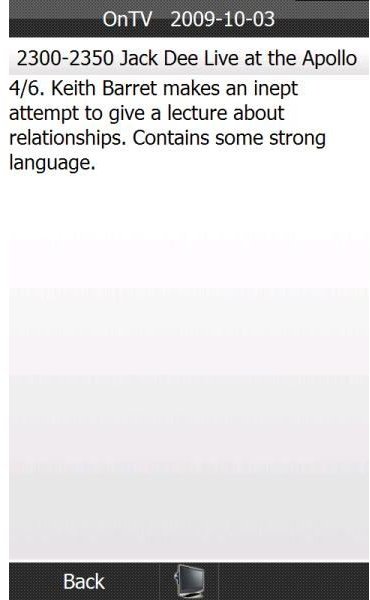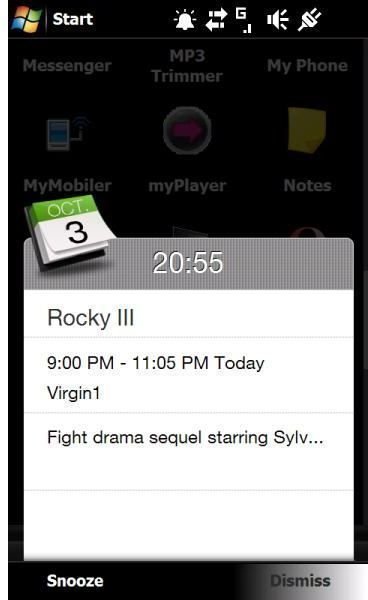 Using OnTV
The great thing about OnTV is that it is very quick to set up and use. Using your finger, select Channels and then the channel of your choice to view what is on in what time slot. Programme information can be viewed by selecting a show, while activating the menu at the bottom of your display to display the Reminder button will update your Mobile Outlook calendar with a notice to watch the broadcast.
This menu can also be employed to change the displayed day in your TV listings view.
OnTV provides coverage of the schedules for the following UK channels:
BBC1
BBC2
BBC3
BBC4
Channel4
Five
Dave
Virgin1
E4
More4
Sky3
Fiver
Five USA
Film4
ITV1
ITV2
ITV3
ITV4
SKYmovies Action Thriller
SKYmovies Classics
SKYmovies Comedy
SKYmovies Drama (only WVGA version for now)
SKYmovies Family
SKYmovies Indie
SKYmovies Modern Greats
SKYmovies Premiere
SKYmovies Sci-fi Horror
SKY Sports 1
SKY Sports 2
SKY Sports 3
SKY Sports Xtra
The following channels are listed in the Swedish version:
SVT1
SVT2
TV3
TV4
TV4+
KANAL5
TV6
ZTV
TV1000
TV1000 ACTION
TV1000 CLASSIC
TV1000 FAMILY
TV1000 NORDIC
TV1000 DRAMA
TV4 FILM
HALLMARK
MTV
TV4 FAKTA
VIASAT HISTORY
CANAL+ ACTION
CANAL+ COMEDY
CANAL+ DRAMA
CANAL+ FILM HD
CANAL+ SPORT1
CANAL+ SPORT2
CANAL+ SPORT HD
High on Content, Low on Feedback (3 out of 5)
OnTV is surprisingly good. While it doesn't provide listings for all British TV channels you might require, it certainly provides listings for the most popular, such as the BBC channels, ITV channels, Sky Sports and other UK TV based channels.
While it doesn't feature any regional options (something that future editions should address along with an expansion of provided listings), OnTV is certainly good enough for British users to install and keep on their Windows Mobile phones in order to make daily checks and receive reminders when their favourite shows are about to start.
The lack of any form of haptic (vibration) or graphical feedback when an option is selected is an unfortunate omission from the user interface.
References
All screenshots and references from OnTV app for Windows Mobile.