Weather4me Windows Mobile Weather Forecast App
Check on the Weather
Whether you're going on holiday and want to check the weather back home, or on an outdoor trek or expedition of some sort and need to keep tabs on changes to the ambient conditions, a tool like Weather4me is vital for getting the best and most up-to-date weather information.
In fact if you're out in the countryside, making sure the right decisions are made based on information from an app like Weather4me could be the difference between a great day out and a horrible experience.
Download and Installation Requirements
This free application for Windows Mobile is available via FreewarePocketPC.net and is designed to run on Windows Mobile 5 and 6.x – interestingly the Microsoft .NET Compact Framework 2.0 is required, but only for Windows Mobile 5; Weather4me will run without additional support on Windows Mobile 6.x devices.
Downloading the 169kb CAB file should be pretty quick and easy and this needs to be either downloaded directly to your WinMo device or to your PC, and then copied to your handset. CAB installers can only be run on your Windows Mobile device, so as soon as it is present on your handset, select the file to begin installation.
Note that Weather4me acquires its weather information from the web – as such, a payment plan with a generous data plan is strongly recommended.
Weather4me in Action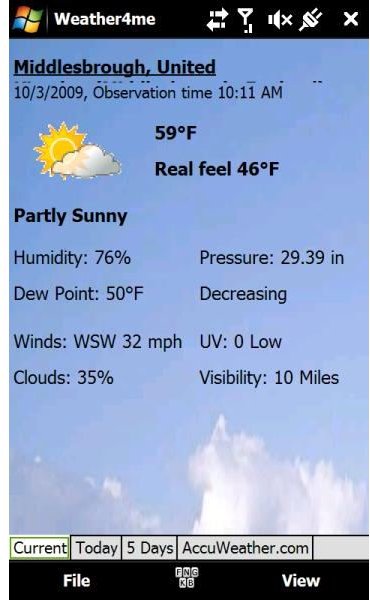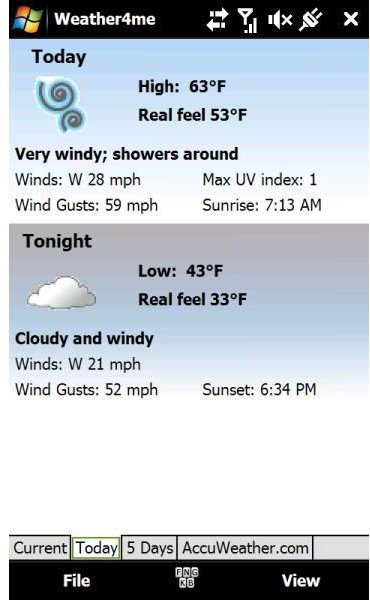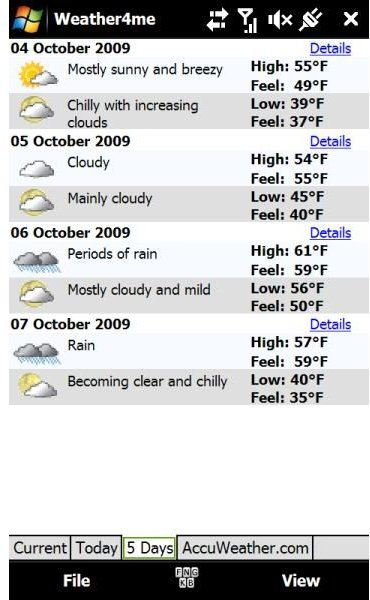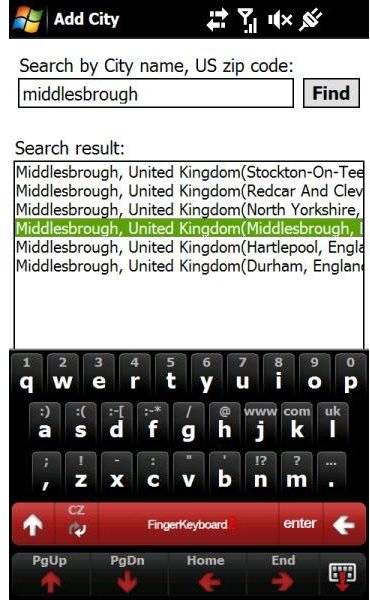 Weather4me in Use
Weather4me is feature packed, and features detailed weather conditions for your selected city. Setting up a city of your choice is quick and simple – simply click Add City in the File menu and search for the required location.
Once your city is set up, you can view "Current" weather information, weather for later "Today" a "5Day" forecast and more information directly from AccuWeather.com, the website that provides the weather data.
Information can be refreshed manually or automatically and units can be set to metric or imperial (English) – both options are configurable via the Settings screen.
Comprehensive City Choice and Weather Coverage (4 out of 5)
The depth of city and town locations, coupled with the fast switching between different cities and locations make Weather4me a particularly useful tool – it stands above other Windows Phone weather apps because of this element and its ease of use.
You may notice it is a very small download file as well, and once installed takes up little more than 0.5 MB of space on a WinMo device, making it not just compatible with Windows Mobile 5 but perfectly targeted at older phones with lower resources than the current crop.
That said it is just as suitable for a Windows Mobile 6.x phone.