Mobile Wi-Fi Router App Review: Turn Your Windows Mobile Into a Wi-Fi Hotspot
Your Windows Mobile Device Is A Router
if you've ever been caught out by electrical storms or flooding knocking out your telephone lines and cables but found you still have a mobile signal, you've probably considered or even tried out tethering your Windows Mobile device to your PC or laptop to take advantage of the Internet connection.
But what if you had several PCs or laptops all requiring an Internet connection? That's where Mobile Wi-Fi Router comes in.
As its name suggests, Mobile Wi-Fi Router can manage your Wi-Fi connections from your PC or laptop and route them through to the internet using your network data plan. It's a great idea, and it's available free.
System Requirements and Installation
Available via FreewarePocketPC.net, Mobile Wi-Fi Router can be quickly downloaded, installed and setup on Windows Mobile 5, 6 and 6.1 devices. For this review, the utility was successfully tested on Windows Mobile 6.5.
The downloaded file is just 170 kb - perfect for downloading direct to your phone and installing via the CAB file. Alternatively download to your PC and copy across - but chances are if you need to use Mobile Wi-Fi Router you don't have an internet connection on your PC…
Once installed, you will need to reboot your Windows Mobile device. After the restart, go to Start > Settings > Connections to activate your new wireless router!
Mobile Wi-Fi Router Screenshots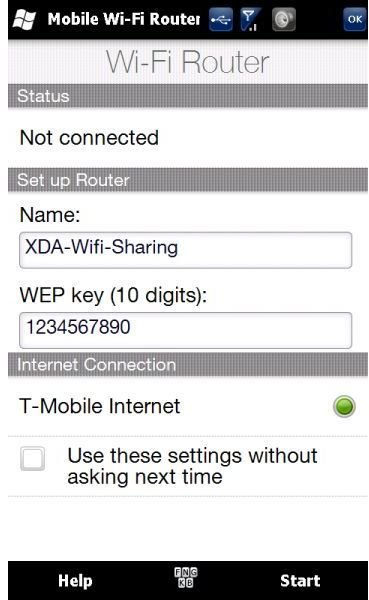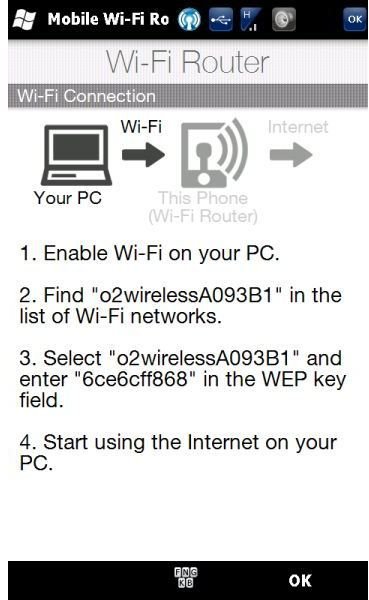 Get Routing!
Once activated, Mobile Wi-Fi Router asks for your router SSID and your WEP key. It then saves these, sets itself up as a clone of your original router and passes internet connections to and from your PC!
Using your existing WEP and SSID details is an excellent idea - your Windows Mobile device becomes as your usual router as far as your PC or laptop is concerned, meaning there's no messing around with setting up new IP addresses and new network connections.
Potential Life Saver (4 out of 5)
Mobile Wi-Fi Router is a great app - a life saver in many ways. What's particularly useful is the fact that it is so easy to use.
It's simply a case of activitating the software and waiting for your PC to pick up the signal.
Although not the most secure system - it uses the old fashioned WEP key form of encryption - Mobile Wi-Fi Router is a perfect workaround solution for any power or communication lines outages that would otherwise put your internet connection out of action.