PocketZax - Revisit Retro Adventure Classics On Windows Mobile
Interpreter, Not Emulator
If you remember gaming classics such as Zork - the old style text adventure games that would keep you up for hours at night trying to fathom out the clues - then you might want to try PocketZax.
This is a Windows Mobile-based interpreter for those text adventures - also known as interactive fictions - that made up the bulk of early games on old 8 bit computing platforms such as the TSR 80, Commodore 64 and early Apples.
PocketZax isn't quite an emulator but performs a similar task, giving access to a huge archive of games at the Interactive Fiction Archive - there is literally months of fun in amongst this collection from recognised memorable classics like Zork to lower key affairs that are just as expansive and in depth.
System Requirements
PocketZax is compatible with Windows Mobile 2003SE, 5, 6, 6.1 and is shown here running on Windows Mobile 6.5. It's designed for use on both touchscreen and smartphone devices and also requires Microsoft .NET Compact Framework 2.
You can download PocketZax from www.adamdawes.com - the program is free and can be quickly installed either by downloading the 187 KB file directly to your phone or downloading to your PC and copy to your handset and installing.
The vast library of games at the Interactive Fiction Archive can be downloaded and transferred to your Windows Mobile device in order for the games to begin - it's simply a case of loading a game into the interpreter!
PocketZax will run on virtually all screen configurations, and can rescale for VGA or WVGA screens - there are also some configuration options to alter font size and toggle between full screen and windowed mode.
PocketZax Images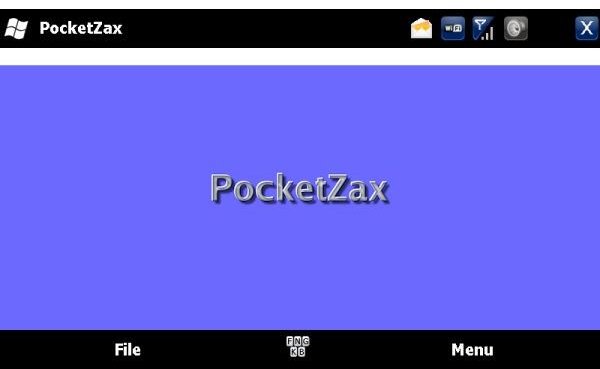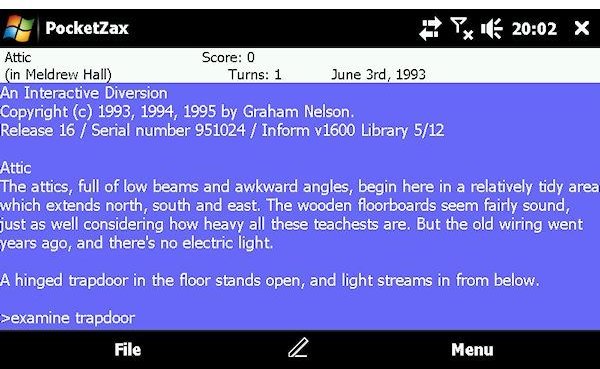 Engaging Interactive Fiction (4 out of 5)
PocketZax is a great way to revisit 100s of lost classics, literally opening your eyes to a world of interesting and engaging interactive fiction works.
While the genre is quite out of fashion in today's world of high quality graphics an textured bitmaps, the popularity of eBooks makes interactive fiction text adventures an obvious "next step".
It's remarkable that there still so many games to choose from, giving users the opportunity to revisit classics like Zork and Buckaroo Banzai - and all that's needed is a Windows Mobile device and time to engage with the world of adventure within!