HTC Snap Review - Examining The Smartphone's Design and Software
Design (4 out of 5)
When it comes to build quality HTC is second to none and the HTC Snap is no exception, I found that there were no gaps, loose components or anything else that proved to be lacking in terms of the strength of the device's build quality. Just hold the Snap in your hands for a moment and you'll quickly realize that it feels strong. While that may not be the most scientific way of determining the build factor I have found over the years that a device that feels strong typically is.
The ergonomics are excellent. The unit is very thin at 12mm and offers a reasonable size of 116.5mm x 61.5mm a setup that fits into my pocket better than the Blackberry Curve series while still offering ample space for the device's full size QWERTY keyboard which takes up most of the device's frontside realty.
Aside from the keyboard the front side of the unit features a 2.4" display along with a trackball that is used to navigate the device and which can be tweaked for sensitivity purposes (sorry no touchscreen), and a round green circle at the bottom right hand side that brings up the user's "inner circle" which we'll examine later in our article. The front side also features a few soft keys, which is pretty standard on HTC smartphones.
There is also a mini-USB connection for charging and data syncing at the bottom of the device. Other than that, the unit is pretty plain outside of the 2MP camera featured on the backside. Although it does feature a MicroSDHC card slot that can offer up to 16GB of additional memory at the current time along with a volume option for quickly changing your ringtone volume.
Here's a quick look at the HTC Snap Smartphone: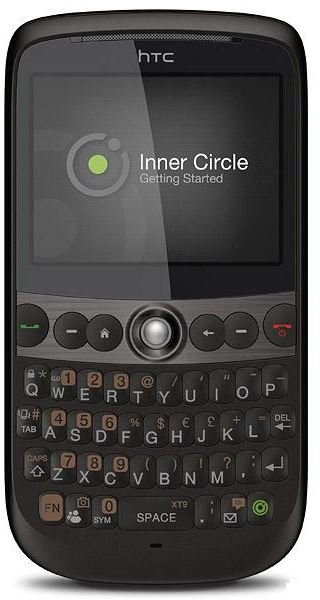 Software Features (5 out of 5)
The most talked about feature found on the HTC Snap is the new "Inner Circle" button. No this option doesn't let you phone your 10 favorite friends for free. Instead it involves pushing the little green button at the bottom of the device's keyboard, which in turns brings up only the emails from your most important contacts, contacts you choose and manage directly from your device. Is this option simplistic? Absolutely! And it shouldn't be anything other than simplistic, with thousands of emails in my folder I was grateful that I now had the ability to sort my emails in order of importance. As I actioned my important emails my next emails were moved up the list as they arrived, making it easier to find what I needed when I needed it.
The backbone of the HTC Snap isn't too shabby either, featuring Windows Mobile 6.1 Standard (non-touchscreen OS) the Snap is optimized for one handed non-touchscreen functionality, I found the trackpad sensitivity to be perfect for my own browsing habits, however other users may not and for that reason HTC has included a sensitivity application that can be used to adjust the way the trackball is used, an option that should help new and experienced users optimize their trackballs to fit their own habits. Have you ever owned a Blackberry? Just tinkle with the sensitivity and you can have your trackball feeling just like your Blackberry devices in no time at all.
The browsing software comes as no surprise, it's the mobile internet explorer version 6. While this browser isn't the most ideal for internet browsing it is far superior when compared to past IE Models. The browser does offer zooming, tabbed browsing and even full webpage layouts. Thankfully the device offers a good amount of connectivity options including Wi-Fi, which helps speed up page load times.
The device also offers an MP3 Player and video viewer. The audio player actually supports MP3 and AAC files but it doesn't offer anything revolutionary, rather it's a typical HTC player with rather average audio output. I tested my Motorola S9 headset against the applications A2DP Bluetooth connection and again I would rate the audio output as "average" at best.
Connectivity (5 out of 5)
HTC almost never fails to impress when it comes to connectivity and the HTC Snap is no different. From the quad-band calling frequencies users can travel the world and still find a signal in almost any area they visit. The device also features 2 different versions, one with the European 3G connection and the other with U.S. 3G. Using the 3G connectivity you'll find extremely fast web page loads and downloads, while the device also supports Edge/GPRS connectivity for non-3G based areas.
The Snap also comes equipped with Wi-Fi which I found worked just as well as on any other HTC device currently on the market. I was able to easily connect to my home secure network in a matter of seconds, while unsecured networks in my area connected with just the simple press of a button. Once connected web pages loaded very quickly and I could send files in a matter of seconds to my home Wi-Fi network.
The device also features Bluetooth 2.0, I already mentioned the A2DP Bluetooth audio features in the software section, however the actual Bluetooth also worked extremely well. I was able to print to my Bluetooth printer using a third-party application and I connected 3 different devices to the unit using various com ports. Overall the Bluetooth is, as I would expect, trustworthy with no frills.
HTC Snap Hardware (4 out of 5)
The only reason I gave the Snap 4/5 is because it lacks a touchscreen, I understand that not everyone wants a touchscreen but it would have made the device more popular. With that being said the 2.4" display with a 320 x 240 pixels of resolution output is very vivid even in most sunlight rich areas (although not perfect) and while it isn't a huge screen I still found it easy to browse my device on the display.
The unit also features a 2MP camera that is mediocre, so much so that all I need to mention is the undertones and overtones produced by the pictures. I found yellowish hues when taking pictures in even the most well lit areas while night time pictures are pretty much useless. HTC has never been known for their device's cameras and this device is no exception.
The Snap also features an Assisted GPS (A-GPS) that offers excellent mapping capabilities using your device's data connection and surrounding cell phone towers. I connected to the program and my location was discovered within 30 seconds which isn't phenomenal but will work for most users.
The device also features a 528Mhz Qualcomm Processor with 192MB RAM and 256MB ROM which isn't at the top of its class, however, even with 3-4 apps opened at one time, I found that the device operated smoothly with no real noticeable slowdowns.
Finally the device's 1500mAh battery offers a large capacity, however, after a day of Bluetooth and data use, I found myself needing a second battery, for light to medium users the battery should be good enough.
Conclusion
The HTC Snap is a high powered smartphone that offers some nice new features for HTC such as the included trackball and Inner Circle Function. Despite a lousy camera offering and rather average audio output I would still recommend this device to any business or personal user looking for a competent smartphone.