Choose the Best Internet Browser for Windows Mobile
Multiple Browser Options
Since the arrival of Windows Mobile 6.0, Opera Mobile has been available as a decent alternative to the outdated Internet Explorer Mobile. Opera Mobile has become the browser of choice for the majority of WinMo users in this time, to the point that the majority of mobile phone providers supply Opera pre-packaged.
Over the last few months, however, new entrants into the Windows Mobile browser market have attempted to get their own share in the new browser wars.
Seeing the flexibility of the Windows Mobile platform and the reaction to the Safari browser on the iPhone, developers SkyFire and TorchMobile offer superb new browsers.
Opera Mobile 9.7 beta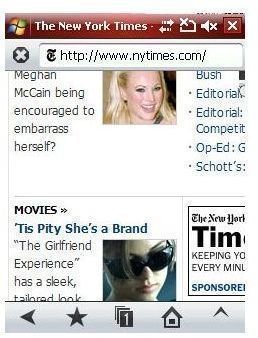 Available from Opera, Opera Mobile features new "turbo" rendering, meaning that the user experience of web browsing - from zooming and panning to opening new pages - is greatly enhanced. The new version also supports the use of widgets that can be launched from your Windows Mobile desktop to give one click access to web services.
However, Opera Mobile 9.7 beta doesn't seem to be agreeable with older Windows Mobile devices - the Opera website demonstrates it working perfectly on a Sony Ericsson Xperia X1i, but this is regarded as the highest spec Windows Mobile phone on the market at present, so is guaranteed to run the software well.
Perfect for HTC Touch series phones and the Xperia, Opera Mobile 9.7 beta isn't quite there in terms of development across all devices and shouldn't be used on lower spec or older phones.
Skyfire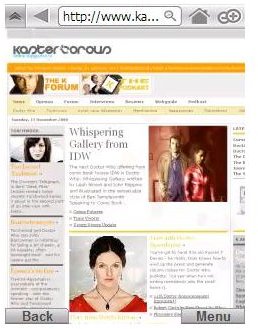 Skyfire gives the Windows Mobile user a browser that is almost a replica of desktop software, able as it is to play streaming video and music, pretty much allowing you to browse what you want, regardless of your mobile device.
It is this flexibility that has made Skyfire (no longer supported by the developer but still available from Softonic) so popular - it's the only mobile browser that supports all major Web 2.0 standards such as Ajax, Javascript and Flash 10. This means that websites appear on your Windows Mobile device in exactly the same way as they do on your computer.
With a few timeout issues aside, Skyfire is potentially the best of the bunch - but there is a new kid on the block…
IRIS Browser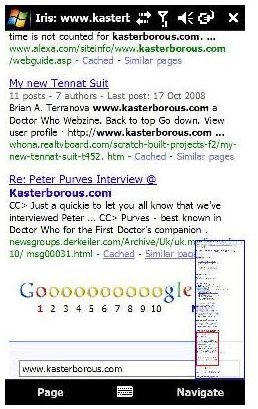 The latest addition to the Windows Mobile browser market, IRIS offers a superior interface to both Skyfire and Opera Mobile, improving on the speed of Opera and the usability of Skyfire.
Available from FreewarePocketPC the IRIS Browser is no longer supported by the devleloper, but its continued popularity is tribute to the slick, usable and feature-packed application that was released back in 2008.
Like Skyfire, IRIS Browser is suitable for installation on older Windows Mobile devices running version 5 or later.
Conclusion
With no new Internet Explorer Mobile expected until Windows Phone 7, these three browsers offer the best browsing experience - but as is often the case with the Windows Mobile platform it all depends on your hardware specification.
On the right device, Opera Mobile is fastest, and therefore makes for a better basic browsing experience.
However, Skyfire with its regular version updates just pips Opera Mobile 9.7 beta, with IRIS Browser snapping closely behind at the back of the pack.
It's a crowded market, and perhaps one will achieve dominance - then again, perhaps one will rise from the flames…
References