Travelling Blogger Review - The Windows Mobile Blogging Client
Blogging while on the go is possibly the single most important Windows Mobile application need for many users of the platform. Until now, Pocket#MT was the best bet, but with some limitations on the upload of images and interaction with the current Wordpress codex, a development or replacement has been required.
Travelling Blogger looks like it fits the bill - with Wordpress integration, support for many blog platforms via the MetaWeblog API and plenty of standard blogging features, creating posts, pages and formatting content can now potentially all be carried out from a Windows Mobile handset while you're sat in the park, on a train or engaged in some other activity.
Download and Installation
This superb free software is no longer available from the developer's homepage, but can be found here. Designed for the older Windows Mobile 5, 6 and 6.1 devices, Travelling Blogger requires Microsoft .NET Compact Framework 2.0 or higher to be installed on your device. The latest version of this is available from Microsoft.com.
Travelling Blogger can be downloaded either directly to your Windows Mobile device or to your PC and copied across via USB or Bluetooth.
Once the download is complete and the .CAB installer file is present on your device, select the file to run the installation. This should take a few moments, and then the installation will be completed.
Travelling Blogger in Use
Typically Windows Mobile in appearance, Travelling Blogger is nevertheless slick and user friendly. Setting up the blog connection requires your WinMo device has an active data connection, while you'll also need the required access setup on your blog (for instance on Wordpress blogs you'll need to activate access to XML RPC).
Entering blog copy is easily achieved, while formatting is achieved by way of drop down menu that rather than give a WYSIWYG interpretations drops the tags into the content area.
Travelling Blogger incorporates an FTP tool as well as allowing the upload of images from your Windows Mobile device to your blog. These are great enhancements, although the FTP aspect can depend on your network provider's generosity.
Travelling Blogger screens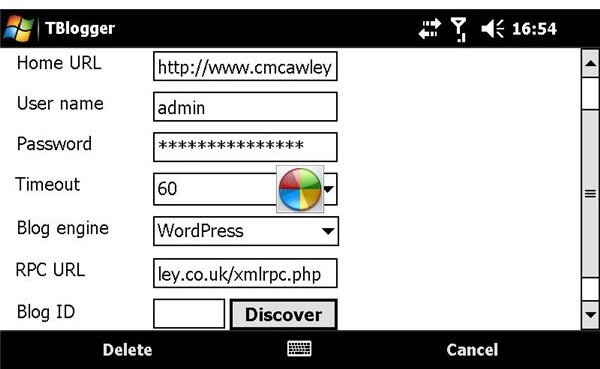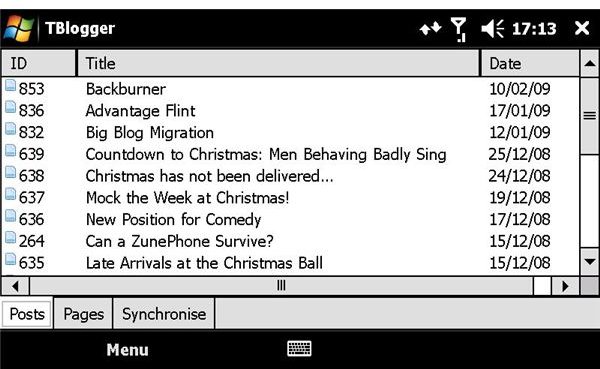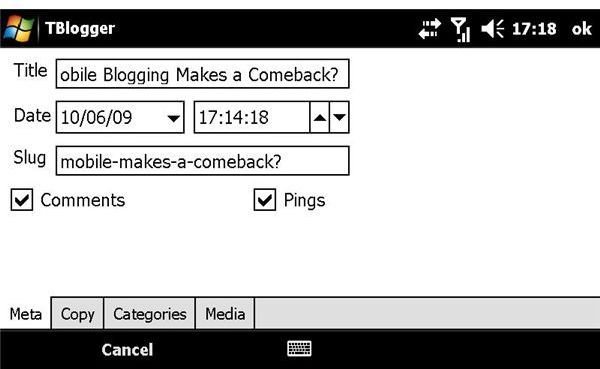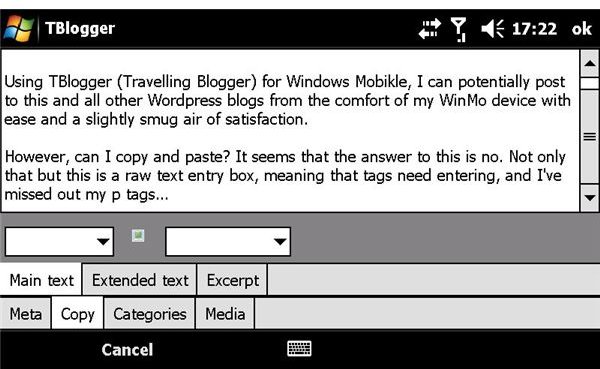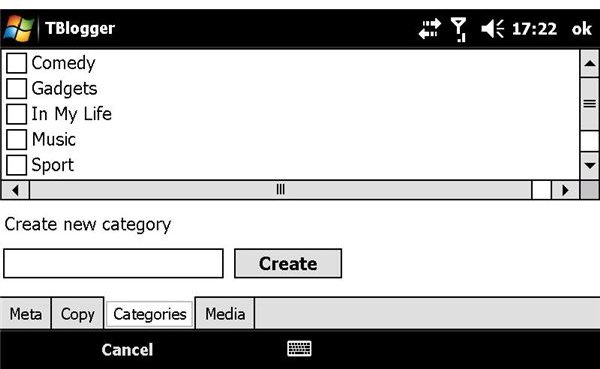 It Looks Good - But…
I had high hopes for Travelling Blogger.
As a writer with 4 blogs (3 of them on the Wordpress platform, a 4th facing migration) I really wanted to be able to use Travelling Blogger on a day to day basis.
Blogs with a lot of traffic need regular posts (as well as user-writer interaction) and Travelling Blogger seemed to offer this along with the functionality it provides.
Except - there is something missing, something important. Something vital to at least 95% of bloggers.
There's no copy/cut and paste function within the application.
Scuppered! (3 out of 5)
This is a disastrous omission that has already scuppered use of other less impressive mobile blogging clients.
As such my recommendation of Travelling Blogger is based wholly on its ease of use, blog synchonrisation and ability to add new posts, pages and categories remotely.
Lacking copy/cut and paste effectively reduces Travelling Blogger to a blog editing client. No copy and paste means quoting or link to any other sources is impossible without typing them in verbatim. This in turn means flipping between applications - not an easy or convenient thing to do on any mobile platform.