Don't Touch Me Review - Free Motion Sensor Alarm for Windows Mobile
Movement Detection
As Windows Mobile devices become more and more desirable as electronic consumables, they require greater care and greater attention to their whereabouts.
Don't Touch Me is pretty much the Windows Mobile version of a car alarm, an accelerometer-based alert tool that raises the alarm when movement is detected. All of which means that if someone picks up the phone when you've activated Don't Touch Me, they will get a nasty surprise!
Although this is all good stuff, notice the hardware requirement – Don't Touch Me requires the accelerometer (also known as a g-sensor) hardware usually found in HTC Touch series phones to be active and working, as well as Microsoft's .NET Compact Framework 3.5 (available free from Microsoft) and Windows Mobile Pocket PC 5 , 6 or 6.1.
Download and Install
Installing Don't Touch Me requires you to visit the developers home page and download the CAB installer file. You can download this file either directly to your PC or directly to your Windows Mobile phone – however note that if you download it to your PC you'll need to then copy it to your Windows Mobile device to run the installation.
At just 43 KB, Don't Touch Me doesn't take up much space at all on any Windows Mobile device so if you have the hardware you should definitely give it a go.
Don't Touch Me screenshots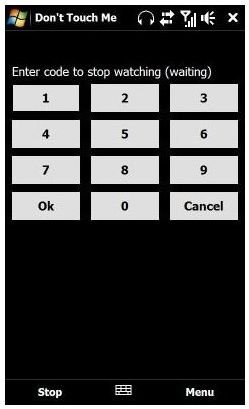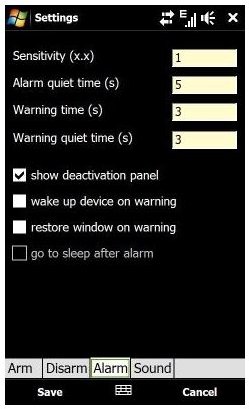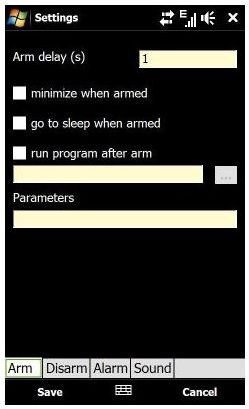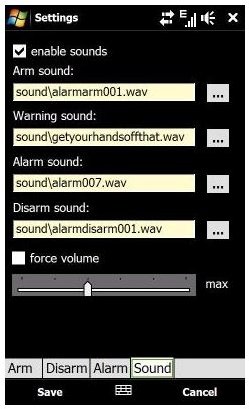 Easily Configurable
Once installed, Don't Touch Me can be easily configured by running the tool and going to Menu > Settings > Alarm. Here there are a wealth of available options, key among them the ability to set a particular WAV file to act as alarm (it won't use MP3 files) and the ability to define a deactivation code.
Sensitivity can also be tweaked, while certain applications can be launched when the alarm is set off – a perfect way to photograph would be phone thieves by setting your device mounted camera to activate and take photographs in the alarmed confusion…
New Standard (4 out of 5)
Don't Touch Me is a must have Windows Mobile security application for any HTC Touch series handset.
It is a sad limitation of other manufacturers devices that they don't support or provide g-sensor/accelerometer technology, but with constant moves into this area it won't be long before the functionality comes as standard. Similarly it won't be long before phone manufacturers or networks provide software of this sort as standard.
A free download, Don't Touch Me could conceivably save your Windows Mobile device from unsuitable hands – definitely worth a try.