Review of GoNews RSS Reader For Windows Mobile
Premium Product that Must Deliver
With RSS readers available as a built in widget on modern Windows Mobile devices, any new feed reader needs to be either free, offering a vast new selection of features – or both.
GoNews is entering a busy marketplace that already features starring roles from Google Reader and Viigo – so can this product that costs a reasonable $14.95 deliver the sort of politics, business, sports, entertainment or tech news that most RSS users are looking for?
And while we're at it, does it allow single click feed subscription and the ability to manage podcast downloads?
Download and Installation
Available from SBSH (www.sbsh.net), a trial version of Go News can be downloaded for free, and lasts 12 days.
Both .EXE and .CAB file installers are available, with SBSH keen for users to utilise OTA (over the air) CAB file installation via their website.
If you're installing via desktop, download the EXE file to your PC and with an ActiveSync managed connection to your Windows Mobile device run the installer, following all on screen instructions on both PC and handset.
You might prefer to download the CAB file however, which can be downloaded to PC and copied to your device for installation, or downloaded directly to your Windows Mobile handset via the mobile browser. The CAB file must be run from your device in order to install the software.
GoNews in Action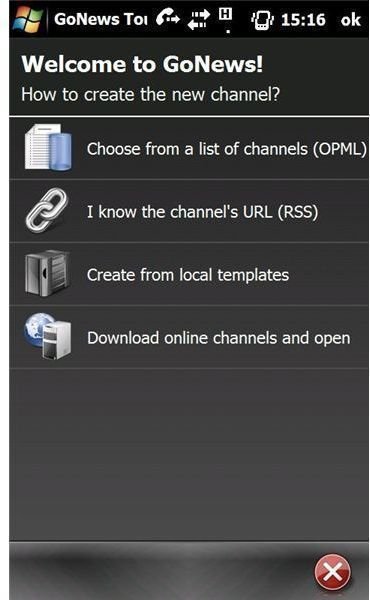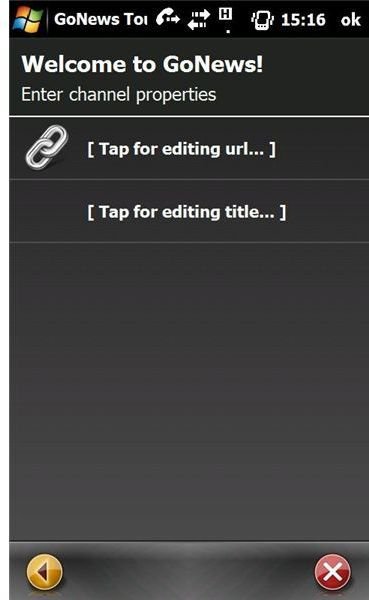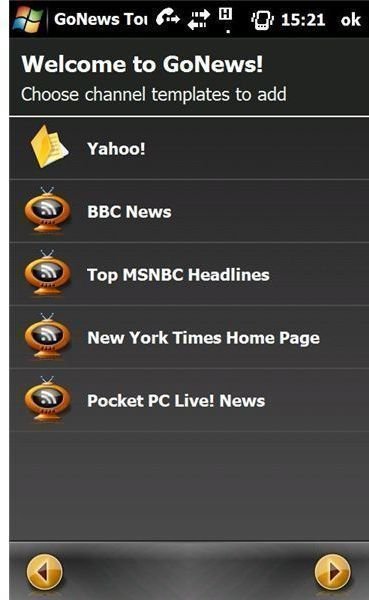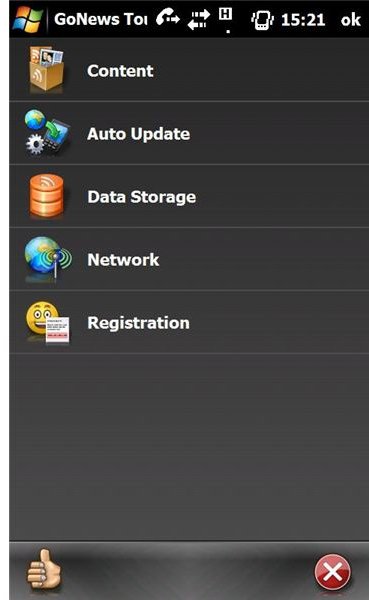 Get Your Feeds
With a light installation file (1.14 MB for the over the air .CAB file, 1.3 MB for the .EXE file) you would expect GoNews to appear a bit basic and reminiscent of the older Windows Mobile style.
This isn't the case however – GoNews has a visually pleasing, finger friendly, polished interface that certainly encourages anyone expecting a piece of RSS reader software that can offer something different to Viigo.
The installation comes with a series of feeds set up as standard in order to give the user something to read if they've opted for a remote over the air installation and don't have a list of their preferred RSS or atom feeds to hand.
Sadly it is with the custom RSS feed choices that GoNews lacks. Adding a feed is a straightforward process – and the SBSH website provides plenty of support for this and other functions via a manual – but finding the feed again once explicitly saved is impossible.
Delivering a trial version with such a distinct limitation of a main function isn't the smartest move – not even mentioning this as a trial limitation however is likely to cost SBSH considerable sales.
Does it Make the Grade? (2 out of 5)
SBSH's GoNews looks great, and it is apparently functional. The menu works well, the finger controlled interface is simple and straightforward and the interaction with the preset feeds is perfect.
In short, GoNews should be a perfect application that would make a suitable alternative to Viigo for users prepared to pay for the pleasure of using the software that might be unhappy with some recent changes to Viigo.
However GoNews just doesn't do what it says on the tin, certainly at the trial stage. With this basic, imperative feature either failing or absent entirely from the trial software, Go News doesn't make the grade.