Manage Tasks and Processes with CleanRAM for Windows Mobile
Free Your RAM
With three levels of cleaning, cleanRAM can free up every last megabyte of unused memory, speeding up your Windows Mobile device far quicker than doing a bulk program shut down via Task Manager, and far more reliably.
During testing of the tool on the Sony Ericsson Xperia, I was able to free up over 45MB of RAM following 6 hours standard use of media player, Palringo chat, Twitter, Facebook beta and emails. cleanRAM closes the processes and deletes the temporary data in a matter of seconds, giving an almost immediate resolution to performance issues that is unmatched on Windows Mobile.
Improved Device Reliability
cleanRAM basically removes the need for a soft reset, improving the reliability of the device and avoiding the need to take it offline while it reboots, during which time you could conceivably miss an important phonecall.
To download, visit FreewarePocketPC.com and click on the download link. The downloaded CAB file will need to be either copied to your mobile device via a USB, WiFi or Bluetooth connection, or downloaded directly via the Windows Mobile default browser.
Installation begins when the CAB file is selected to be opened, and runs through quickly. The CAB file is a modest 146kb, and the resultant installation is similarly small, meaning that this is an application that should be left installed on your mobile.
Configuration Screenshots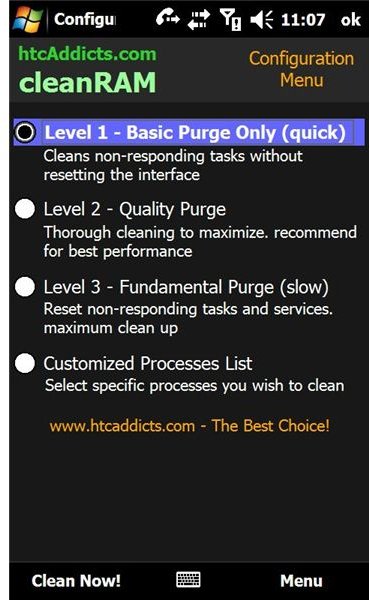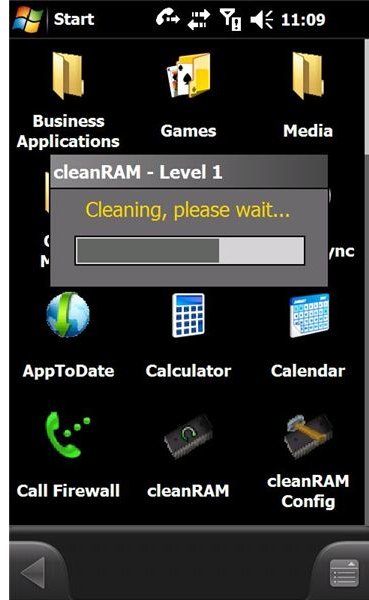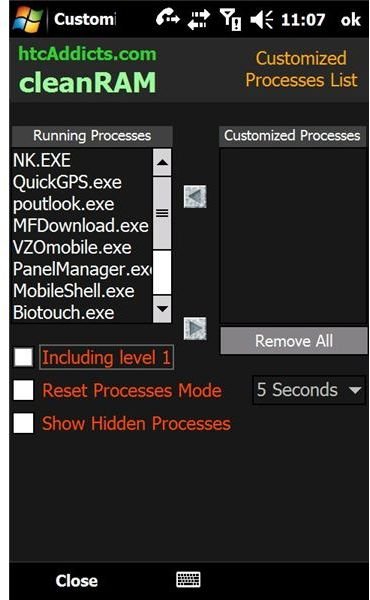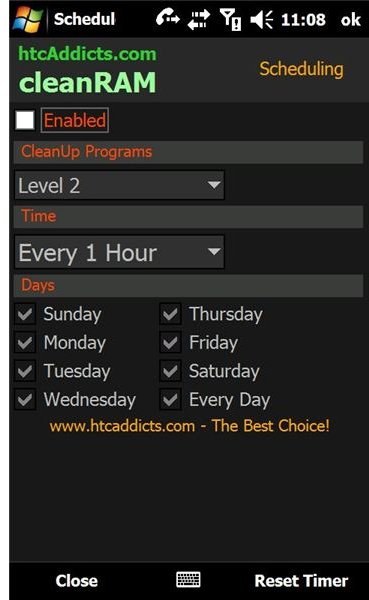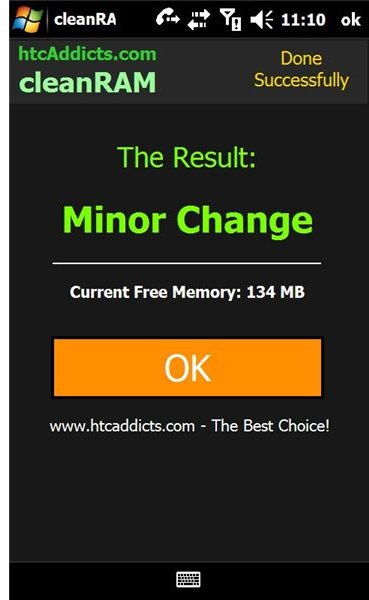 Configuration
Once installed, cleanRAM can be run from one of two Program Files menu items. The first is a straightforward clean-up, dependent on whichever default option is set in the cleanRAM Configuration, which is the second menu item.
There are three levels of purge with cleanRAM, accessible via cleanRAM Configuration:
Level 1 – basic purge, a quick clean that removes non-responding tasks without resetting the interface
Level 2 – is a quality purge, a thorough clean that is recommended by the programmers to maximise performance
Level 3 – this is the fundamental purge, which takes time resetting non-responding tasks and services, resulting in the most effective clean-up.
It is also possible to select processes to close via the Customized Processes List.
Superb (5 out of 5)
Other features of cleanRAM include a scheduling system to run a cleanup of whichever specified level on an hourly, daily or weekly routine. Settings can also be backed up and restored in the event of having to remove the software for whatever reason.
I cannot stress enough how vital this application is to anyone serious about using their Windows Mobile device. cleanRAM is the task manager that should have shipped with Windows Mobile 6.1, and as such it gets full marks.
Superb.