Qik Streaming Client for WinMo - Broadcast from Your Phone
Handheld Video Streaming
A perfect tool for broadcasting events and news as they happen – not to mention enhancing the content on your existing website, Qik is also perfect for the standard user, and can be integrated with Facebook, Twitter, YouTube and many other websites.
One perfect use for Qik might be to demonstrate to someone how to perform a specific task – a perfect use for streaming video directly from your Windows Mobile device.
Qik is available for download from FreewarePocketPC.net and has been tested for use on a range of Windows Mobile devices as wide ranging as the HTC Touch series and older models from around 2006 (full list of supported devices). This review tested Qik on a Sony Ericsson Xperia, and the performance on that device seems to be pretty spot-on, and the screenshots speak for themselves.
Install Qik
To take advantage of this superb service, first of all you will need to download the software. The CAB file that is downloaded will need to be copied to your Windows Mobile device either via your Bluetooth or wired USB connection via Activesync or Windows Explorer, or downloaded directly through your handset's browser. Once downloaded, run the CAB file to install.
Qik in Action!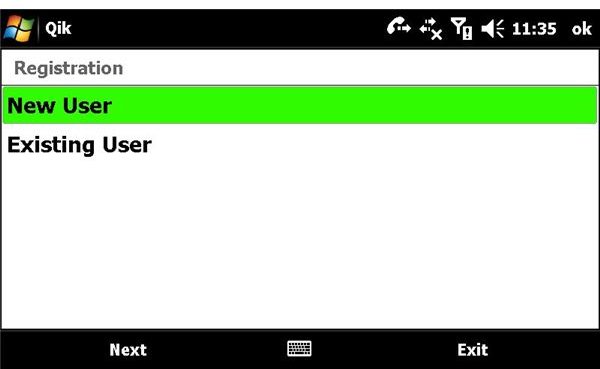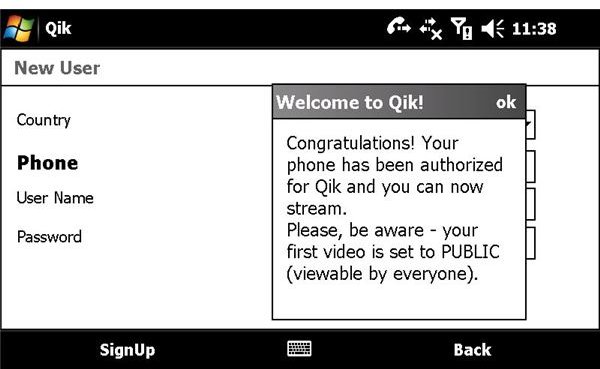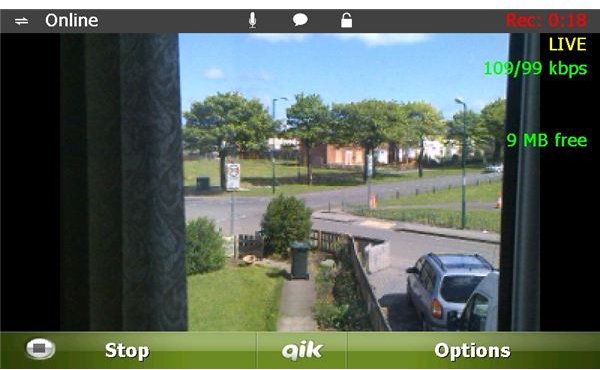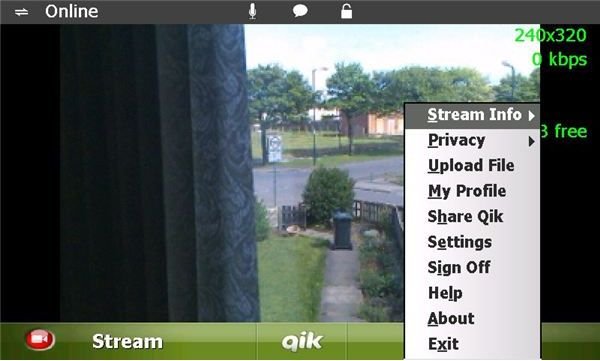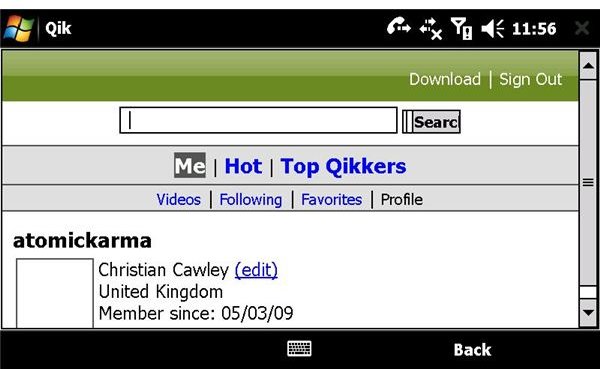 Get an Account, Get Started!
Using Qik requires an account with the service – but for speed and ease of use the mobile client includes a quick signup screen, which is a great feature. Once you've signed up, be aware that the first video you stream will be set as "live" – so anyone will be able to see it, so no expletives!
Utilising the main camera on your device, Qik uses dedicated camera software to enable the streaming to be compressed and transmitted across the web. The image of what is being filmed is instantly available on your Windows Mobile device display, as well as information such as your remaining memory, the speed of the streaming and whether or not you're broadcasting images or not.
The output can be viewed on your own dedicated profile page at qik.com, allowing families and friends or business contacts to view both live and playback later if they miss it.
Superb App, Quality Service (5 out of 5)
At its most basic, Qik turns your Windows Mobile handset into a public webcam, one that broadcasts on a standard platform enabling all manner of video feeds, MeTV and video blogging.
The integration with Facebook, Twitter, YouTube, Orkut, MySpace, Tumblr, 12Seconds (useful as this service has trouble with certain Windows Mobile devices), Mogulus, Seesmic and Wordpress makes Qik immensely powerful, and potentially the Next Big Thing in Web 2.0 – it shouldn't be too long before news, movie or TV show information is first leaked on Qik rather than Twitter.