How to Watch TV on Windows Mobile 6.1 with Web TV 3.1
Streaming TV on Your Windows Mobile Phone
Available from 1800pocketpc.com WebTV 3.1 does what it says on the tin – it allows the user to view various free-to-air TV channels across the web from the convenience of a Windows Mobile device.
Used in conjunction with your media player of choice (for instance Windows Mobile Media Player, Coreplayer, TCPMP etc) WebTV 3.1 acts as a client connection manager to the various channels that it will display.
Streaming TV channel feeds from British, American and Continental Europe TV stations are available, such as Sky News, BBC News, Bloomberg Live TV and CNN, not to mention a collection of movie channels.
Download and install
Before installing, it's best to make sure your Windows Mobile device is connected to a local wi-fi or a reasonable use flat-rate internet connection via your network provider. Once downloaded, the 362kb ZIP file needs to be unzipped, and the CAB file within it copied to your Windows Mobile device memory via USB or Bluetooth connection.
This file cannot be installed from your desktop PC, and must be copied to your Windows Mobile device to perform the installation.
Once it's on your handset, browse to the WebTV Setup CAB file and select it to begin the installation, following any onscreen prompts.
WebTV Screenshots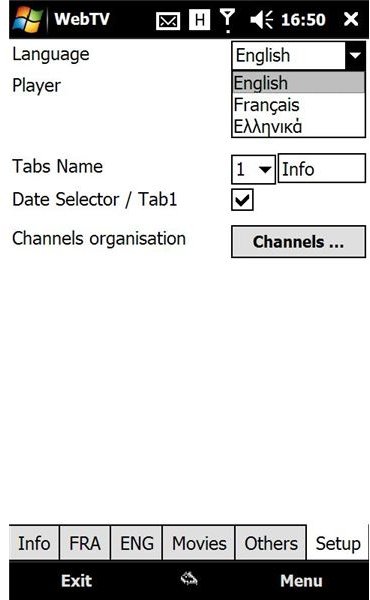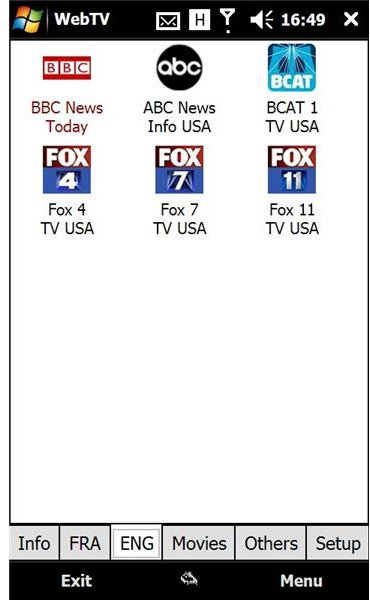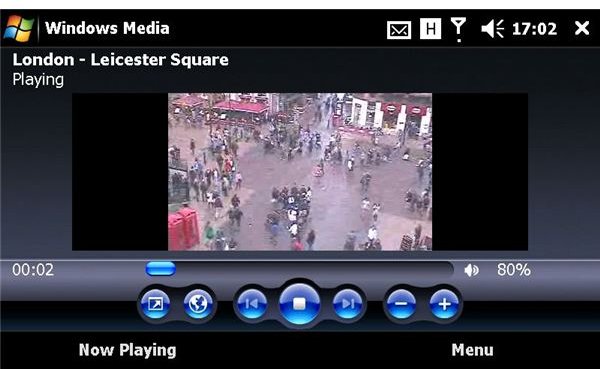 Using WebTV to Watch TV
Once installed, WebTV 3.1 can be launched from your usual Programs screen, and the first step is to go to the Setup screen and select your language of choice: choose from English, French or Greek.
After that it's pretty much a straightforward case of selecting your channel of choice and enjoying the feed. There are over 1000 channels available, so it shouldn't be difficult to find something of interest!
For best results with Windows Mobile Media Player, an additional and configured streaming media application is recommended. For best overall results however, utilise the superb Coreplayer which combines support for all media formats.
WebTV also displays feeds from a selection of webcams from across the world, for instance London's Leicester Square.
Room for Improvement (4 out of 5)
WebTV 3.1 is a handy and trouble-free application. It works without ay problem on Windows Mobile 6.1 devices, and provides a good selection of English-language news and movie content. With a quick and light installation that requires minimal resources, WebTV 3.1 is a great, easy-to-use solution to watching TV content on the move - with the right network connection or data plan.
With a traditional Windows Mobile style interface and a fragmented approach to launching feeds in different applications however, there is room for improvment over future release iterations.