Use Slick for Windows Mobile Across Multiple Instant Messenger IM Networks - Yahoo, MSN, Jabber, AIM, ICQ And Google Chat
Slick?
Desperate to add its name to the esteemed list of Windows Mobile chat clients, Slick allows interaction with chat partners on MSN, ICQ, Yahoo, AIM, Jabber and Google Chat networks.
As such it is worthy of further consideration, not least because every Windows Mobile chat client worth its salt these days supports multi network contact lists.
The name Slick however conjures up an attractive Web 2.0 interface, big buttons for thumb and finger interaction on Windows Mobile 6.1 touch screen devices and possibly even the type of multi screen interface seen in other recent apps (not least the Twitter client, PockeTwit).
Unfortunately, Slick is none of these.
Download and Install?
Available from www.lonelycatgames.com Slick has high hopes, and it does get off to a good start, making itself available to Pocket PC 2003, Windows Mobile 5, Windows Mobile 6 touch screen users as well as Windows Mobile Smartphone users (the none touch screen variety).
The download file is in ZIP format, and contains the EXE and the CAB file, allowing installation to take place either directly on your Windows Mobile device or via an ActiveSync managed connection over USB to your desktop.
Download is just 638kb – a nice size for a chat client – and installation is a case of making sure the CAB file is present on your Windows Mobile device and selecting it.
Slick in Pictures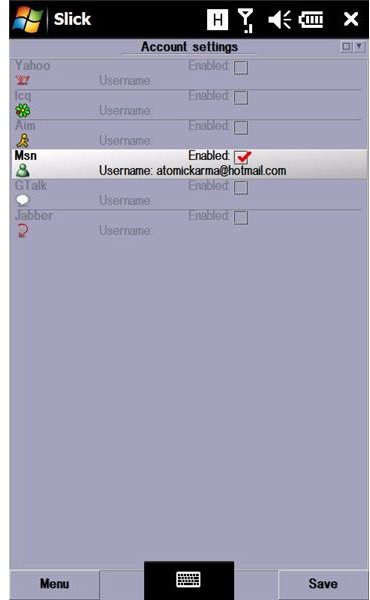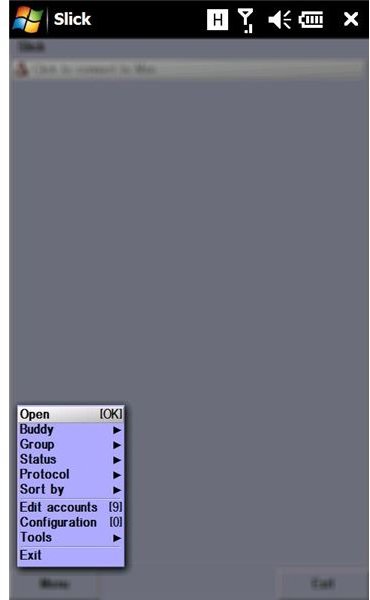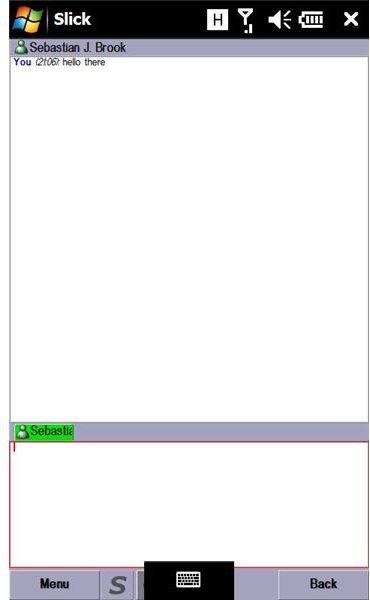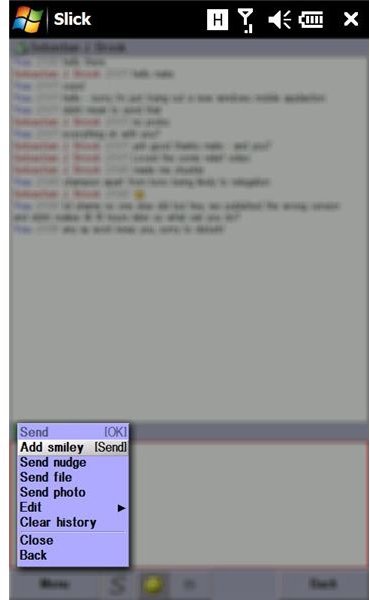 Launching, Configuring and Chatting
Slick launches quickly, but then things become a little uncertain. An odd colour scheme and an unnecessarily snazzy "fade to blur" effect whenever a menu is accessed are examples of poor and pointless user interface design – but Slick has another much greater failing.
The text is too small.
I'm not suggesting at any moment that glasses are required, but the text size coupled with the colour screen are pretty woeful. Further investigation reveals that the font size could work – with a slightly bolder resolution, but there is no option to alter this, leading to an uncomfortable and unusual chat experience.
(NB Slick has been reviewed on the Sony Ericsson Xperia X1 – devices with less advanced display resolutions may find the resolution and font size more agreeable).
Conclusion: Disappointing (1 out of 5)
Slick does have useful features – a data counter to ensure you don't overspend on chat, and the ability to alter the ill-advised colour scheme. It's also possible to send smileys, nudges and files while in chat, so Slick does its best to replicate the features of the various chat network desktop clients.
Up against Palringo and fring however, Slick just doesn't cut it - those two solutions are way ahead of the IM client pack, and sadly Slick is lagging behind.
There is hope for Slick, however. The app is currently in beta – raising the possibility of a much enhanced version at some point in the future that accommodates all Windows Mobile models.
With bigger text…
This post is part of the series: IM Clients
Reviews of the various Windows Mobile instant messaging clients available for download