Call Firewall Blocks Unwanted Mobile Phone Calls on Windows Mobile Devices
What does it do?
Sick of unsolicited phonecalls from mobile phone companies and survey companies, SMS messages from car dealerships, dating sites and ex-lovers? Call Firewall is a configurable call screener that will monitor incoming calls and act upon them as per the presets that you give it.
Utilising the type of whitelist and blacklist indexing that is often seen in email security programs, Call Firewall is a useful utility, the sort that one might expect to come prebundled with Windows Mobile 5 or 6. Able to reject or accept calls based on the name or telephone number, Call Firewall can also be setup to send an SMS to rejected callers to explain why their call is ignored.
Where to Download
To get hold of a copy of Call Firewall, visit the download site and choose the most appropriate version for your device. Windows Mobile Pocket PC and Smartphone versions are available as well as a device-specific MotoQ version for the compact Motorola WinMo device.
Installation is via CAB file; if you're new to Windows Mobile, you will need to visit the download link in your mobile browser and save and install from there or else download to your PC and copy across via an ActiveSync-managed Bluetooth or USB connection to your handset. From there, run the CAB file to begin the installation.
Call Firewall Screens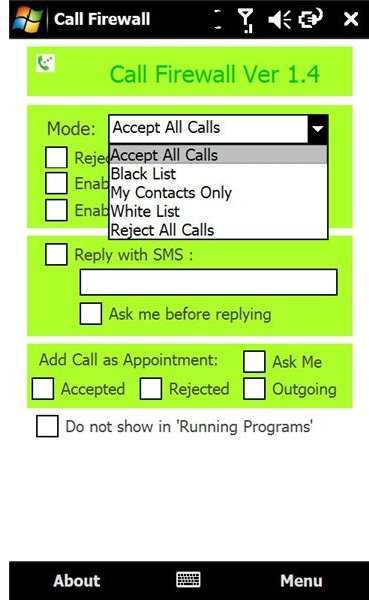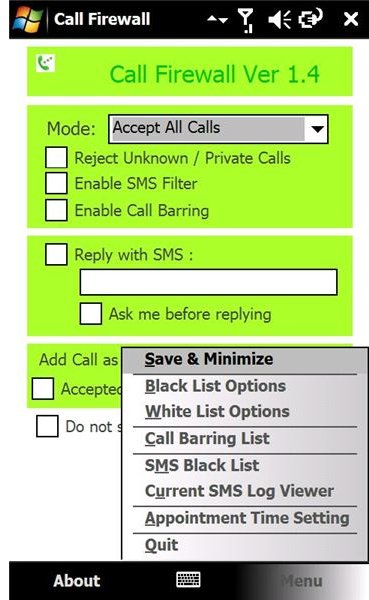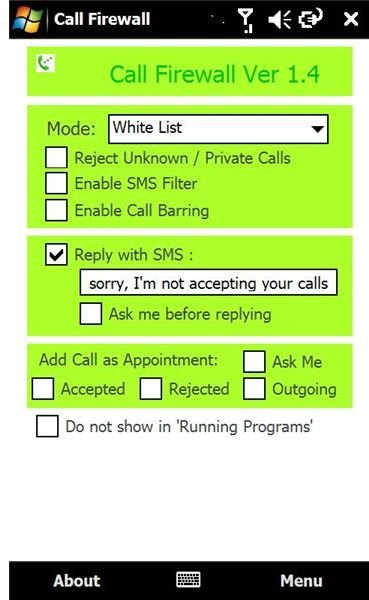 Usage and Configuration
Call Firewall is so simple to use – literally a case of either switching from Reject All Calls to Accept All Calls to accepting calls from My Contacts Only. For more flexible use however, Call Firewall requires the use of list management – whitelists and blacklists, to be more precise. Messages via SMS can also be blocked.
These can easily be setup in the relevant screens, and it is literally a case of inputting the telephone number or (if the call is in your contacts list) name. Numbers beginning with a certain group of digits can also be blocked. Barred or blocked calls meanwhile can be added as appointment items for review at a later date, for instance in occasions when someone you know and need to speak to calls you, but you don't know their number or have it in your contacts list.
Once configured, it is important to ensure that Call Firewall continues to run in the background – once disabled (for instance after a reboot) then your once-blocked call will of course require answering!
Thankfully, it's possible to add Call Firewall as a startup item on your Windows Mobile device, resulting in the application running automatically with the configured settings every time you reboot your handset.
Conclusion (4 out of 5)
Despite our best efforts, we often find ourselves receiving unsolicited phonecalls from sales people, surveys, political parties – pretty much anything that takes up valuable time.
Because of this, Call Firewall is just the sort tool that needs to come as standard on any mobile phone. As such it is a must-have tool, one that doesn't take up much space on the phone yet provides a massive enhancement – just the sort of thing a piece of high tech equipment like a Windows Mobile device should provide. Try it out and see what you think.