Facebook IM Chat Client for Windows Mobile
What's it for?
Facebook is the world's most popular social networking site, with countless functions, games and applications added onto the standard photo galleries and profile updates of its millions of members. One useful enhancement made to Facebook since it first appeared is added functionality of instant messaging – the ability to chat with friends online – and now this same functionality is available on Windows Mobile.
FacebookIM is a new and free application that allows you to login to your Facebook account from the comfort of your Windows Mobile handset and start chatting almost instantly with any Facebook contacts that happen to be logged in.
Quick and easy to download and install
Available from www.mosko.mobi, FacebookIM is quick and easy to download and setup. At just 117kb, the download could be quickly achieved directly from a Windows Mobile powered phone or PDA with a suitable data plan, and the .CAB file executed directly from the phone to install. If this isn't possible however, it is an easy task to download to your PC and then copy the FacebookIM.Mosko.Mobi.CAB file to your phone via an Activesync connection.
Configuring FacebookIM is the next stage – a quick and straightforward task that requires two things – your Facebook username and password – so you'll need a Facebook account if you don't already have one.
FacebookIM in Action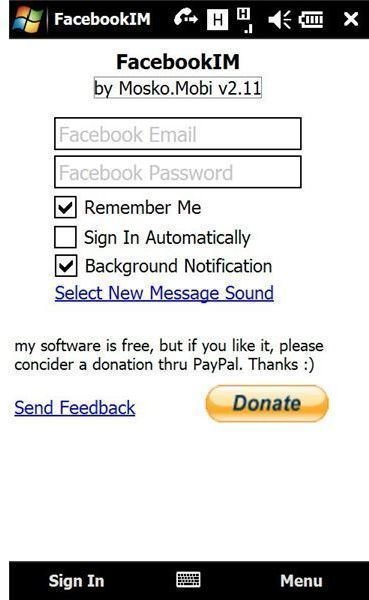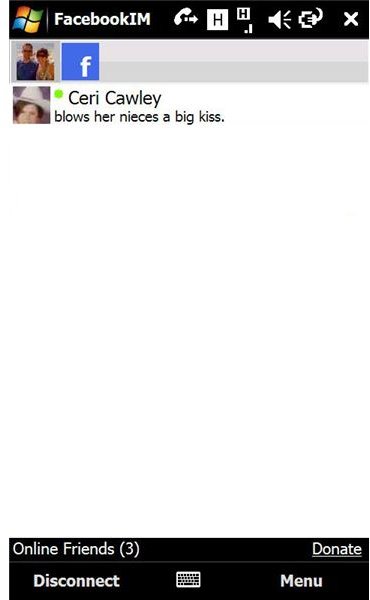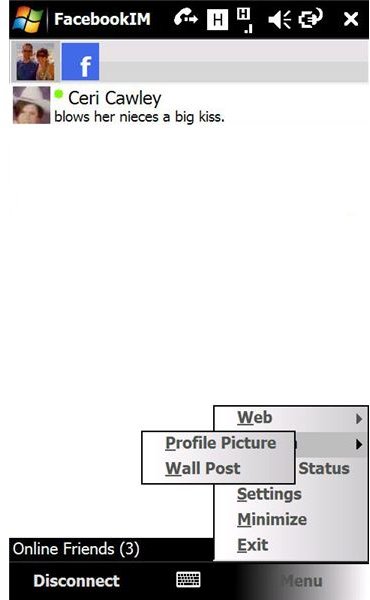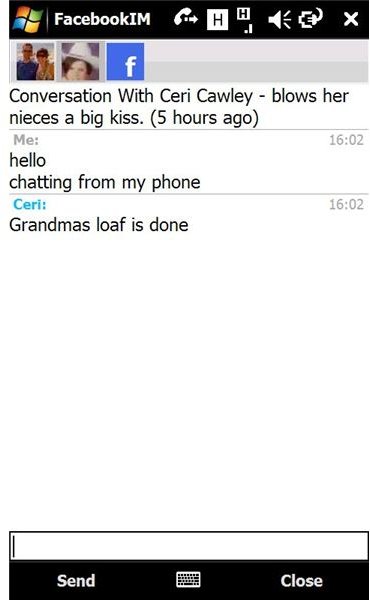 Features IM and more
As well as allowing the user to chat with other online Facebook contacts, FacebookIM provides a few other features. Your status can be quickly updated thanks to a conveniently placed text entry area that is activated when the Update Status menu command is selected.
It's also possible to upload pictures from your Windows Mobile device to Facebook, either replacing your primary profile picture or to be published as a Wall Post on the social networking site.
FacebookIM joins a raft of Windows Mobile Facebook clients all vying for attention and use. For a freeware application however it's not at all bad, and seems pretty stable running on my Sony Ericsson Xperia X1.
Rating and conclusion (4 out of 5)
However other solutions are slicker. Like the Snap2Face application, FacebookIM looks and feels and acts like a traditional Windows Mobile application, with menus and tabs. With the arrival of the Facebook X-Panel on the Sony Ericsson Xperia X1 and the approaching move to Windows Mobile 6.5, the writing is on the wall for "traditional looking" Windows Mobile applications.
FacebookIM therefore is an excellent solution for modern Windows Mobile devices with low memory or CPU specs or devices (typically from WM 2003 onwards).