Coreplayer For Windows Mobile Review: A Universal Media Player for MP3, MP4, xVID, DIVX, WMA, FLAC, and OGG Music Files
Access Music, Video & Audio Files
Coreplayer truly is an application that once you've used, you cannot do without.
As a media player, Coreplayer has a playlist function, as well as a means of accessing your music, video and audio files depending on year, genre, artist, album – all of the standard media player fare.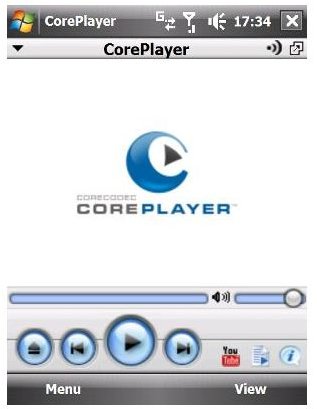 The layout and organisation of the player is pleasing, with the preference options for every function you can think of separated neatly into pages rather than the long, endlessly scrolling screen found on players.
One of the best uses of Coreplayer is for viewing Youtube videos on a Windows Mobile device. Far better than relying on the browser plugin being up to date. This can be achieved using Coreplayer's Open URL command, into which the required Youtube URL can be typed or pasted. Playback is smooth and of comparable quality to the same clip viewed on a desktop PC.
In conjunction with the iPlayer for Windows Mobile tool, Coreplayer can be used to view BBC content, while it also deals with some difficult to manage video formats. Like me, you might have been sent videos filmed on other phones in one format and found that you've been unable to view them – with the vast amount of formats available under Coreplayer, this problem should soon be a thing of the past.
Cost & Installation
For a Windows Mobile application, it does have a rather hefty price tag - however given that it supports a vast number of audio, video, image, streaming and container formats, the one-time fee of $29.95 is well worth it.
The purchased file is just 1.58 MB in size, and needs to be copied to your mobile device in order to install Coreplayer.
As with installation of all .CAB files, simply launch the install by opening Coreplayer.CAB. Installation is quickly completed, and the first thing you should do is open the application and browse to the Preferences screen (Menu > Tools > Preferences) and on to the File Associations page to view what file formats can be played, and which ones you would like to view in Coreplayer.
Superb Media Player (5 out of 5)
An excellent media player, Coreplayer is a smashing catch-all alternative to Windows Mobile Media Player that surpasses the bundled player by literally miles - it's a shame there is no easy way to incorporate Coreplayer into the TouchFLO 3D user interface found on many Windows Mobile 6.1 devices.
If the price tag is a stumbling block, you can find a selection of open source and freeware alternatives, however, none of these provide the superb level of technical support that Coreplayer provides. When it comes to viewing videos and listening to music on the move the best media player applications traditionally score highly.
To purchase CorePlayer, visit www.coreplayer.com.
To compare an alternate media player for Windows Mobile, read this review of Pocket Tunes Deluxe 5.0.
Coreplayer for Windows Mobile Screens