CeTwit Mobile Twitter Client for Windows Mobile Reviewed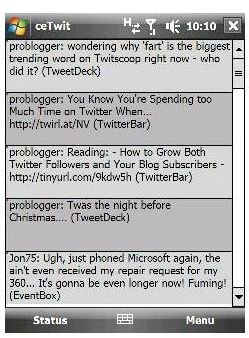 Most Windows Mobile Twitter clients attempt to replicate the desktop experience of a Windows or Mac Twitter client. CeTwit is different.
Apparently designed for users of older Windows Mobile devices, ceTwit offers a software experience that while typically and unashamedly looking like the traditional Windows Mobile application runs impeccably across almost every hardware build.
A Twitter account is of course required for use with ceTwit – you can sign-up totally free at www.twitter.com. (CeTwit was reviewed for testing using a Twitter account, however it is also compatible with TwitPic and Ping.fm, which can also be used to connect to your social networks.).
Download and Install
To download ceTwit, visit the download page at Kosertech.com. Two versions are available, depending on whether you use Windows Mobile 6 Professional (Pocket PC version) or the Windows Mobile Smartphone mobile OS. Smartphone users may need to upgrade to the Microsoft .net Compact Framework Version 2, also available via Kosertech.com. Download either from your PC or from your mobile browser.
The ceTwit download is a .CAB file, which means that if you downloaded to your PC, you will need to copy this to your mobile device in order to install – this is best done via Microsoft Activesync, but can also be performed directly through Windows Explorer. Once copied, simply browse your phone to find the .CAB file and select to install.
ceTwit Screenshots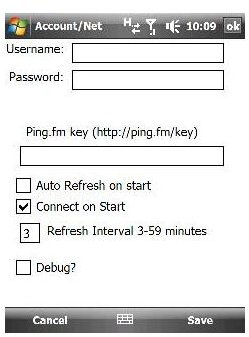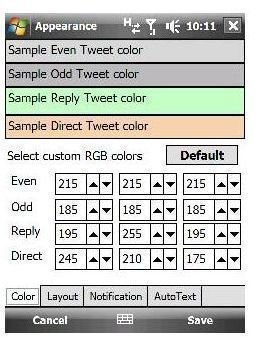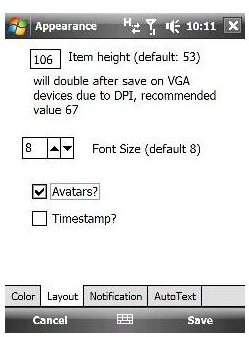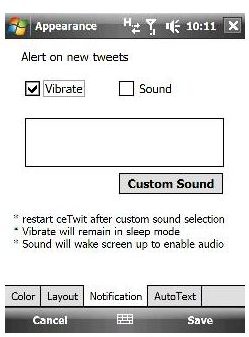 Configure ceTwit
Once this is done, run the application. After you have been prompted for your username and password, configure your installation via the Menu button.
From here you can alter the appearance of how ceTwit displays Tweets – for instance give alternating messages a colour to distinguish between them, select a third colour for direct replies and a fourth for replies. The number of Twitters on screen can also be set, as can font size and whether or not avatars and timestamps on Tweets are displayed. Notification type and refresh rate can also be set as desired.
Conclusion
With a good selection of Twitter clients available for Windows Mobile, it certainly seems that "Tweeting" is the most popular form of microblogging. CeTwit is a solid and reliable tool for keeping up to date with "Tweets" while on the move.