Nimbuzz IM Client for Windows Mobile
A polished piece of software, Nimbuzz allows users to chat, send pictures and files and connect with various social networks such as Facebook and MySpace as well as the traditional chat networks like MSN and Yahoo.
Download
Available for download via www.nimbuzz.com, you will need to copy the CAB file to your Windows Mobile device via ActiveSync or download through your mobile browser. Nimbuzz does require that you signup for an account (either on the website or through the application when you first run it) and also requires that you submit your mobile telephone number which Nimbuzz shares with third parties (as per their Privacy Policy), so do have a good think about whether or not you want to signup for this service if giving your personal details away for free isn't something you're keen on.
Images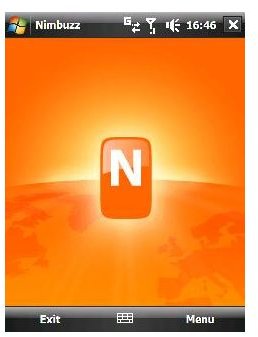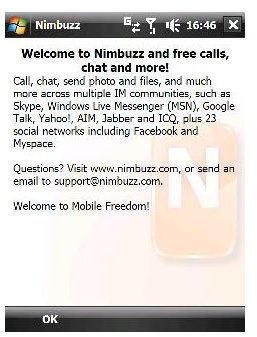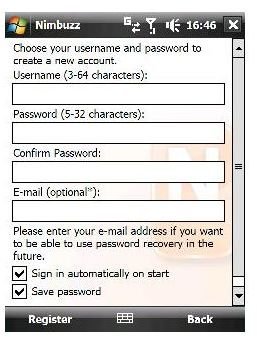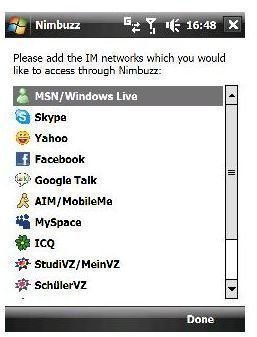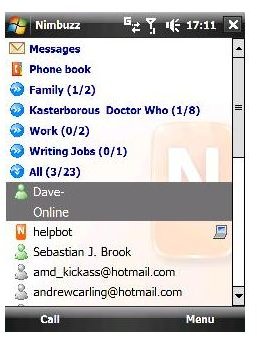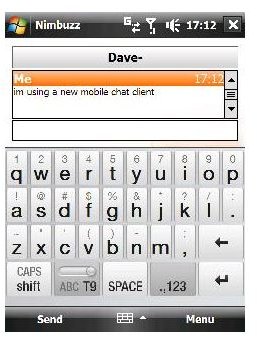 Installation
While the download is of a modest 2 MB, the final installation amounts to around 6 MB – you might therefore prefer to install Nimbuzz on your memory card if you have one installed.
Through Nimbuzz, you can connect to friends on the MSN, Skype (text chat), Yahoo, Google Talk, ICQ and AIM chat networks all from the portable comfort of your Windows Mobile device. It also has social network functionality, allowing the user to connect to Facebook or MySpace and many other similar sites. The interface is of the smooth, polished look that Windows Mobile users have come to expect in recent months, and is certainly at home on Windows Mobile 6.1.
Mobile File Transfer
Where Nimbuzz has the edge over other Windows Mobile chat clients is with a useful file transfer option. Photos, sound, documents - files of any reasonable type and size can be sent from your mobile device to the contact you're chatting with, pretty effortlessly.
Bandwidth
However there is a downside to all of this. I'm on the T-Mobile network in the UK, and testing Nimbuzz effectively proved problematic. The reason for this isn't 100% clear, although it is either something to do with bandwidth or port blocking. I don't have problems with other chat clients, so I suspect the former. Certainly when connected to my home WiFi network, Nimbuzz worked like a dream, and there is no problem with it as a communications tool. Trying to chat via a GSM or HDSPA connection is a different story, I'm disappointed to report. Nimbuzz is also prone to crashing if other software is running, which could be due to the Windows Mobile 6.1 TouchFLO 3D interface on the test device (HTC Touch Diamond).
Iron it out!
All in all a slick, versatile application hampered by unnecessary data collection, high bandwidth usage and a tendency to crash. These are problems that can be sorted out for future releases, but for the time being I can't recommend Nimbuzz.
This post is part of the series: IM Clients
Reviews of the various Windows Mobile instant messaging clients available for download