Tiny Twitter for Windows Mobile Reviewed
Tiny What?!
Tiny Twitter is a handy Windows Mobile client that allows the user to access their Twitter account while on the move, as well as update their status and interact with other users.
If you're unfamiliar with Twitter, it is the most popular microblogging service, which allows user to update "followers" with their current activity. If you've ever used the "Status" feature on Facebook, you'll be familiar with the concept. Incidentally, Twitter can be integrated with Facebook, allowing Twitter users to update their Twitter and Facebook status with just one click. Obviously using Tiny Twitter on your Windows Mobile device allows you to update Twitter and any other linked services while on the move.
Download & Install
Available for download (693kb CAB file) from www.tinytwitter.com, Tiny Twitter can be downloaded for Windows Mobile Pocket PC and Smartphone devices. A Java version is also available if you prefer, but with custom-built versions for your handset, why bother? You can also browse from your Windows Mobile device and download directly.
To install, copy the CAB file to your device and then browse to the CAB file and launch the installation procedure. Usage requires a Twitter account, available via free signup from www.twitter.com.
Credentials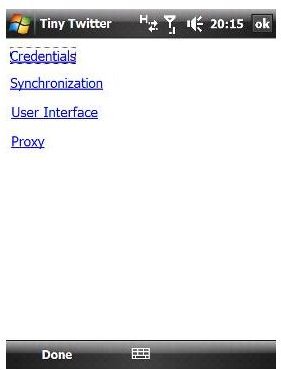 When you launch Twitter, you should be taken directly to the Settings screen (accessed via Menu > Settings). From here, it is a simple step of entering your Twitter-supplied Username and Password into the Credentials screen.
Sending a Tweet can be done quickly and easily via Menu > Tweet. From here, you have 140 characters to update your status. Not much? That's why it's called "microblogging"!
Once you're happy with your Tweet, hit the Send button. You can exit the Tweet via Menu > Done.
Get Twittering!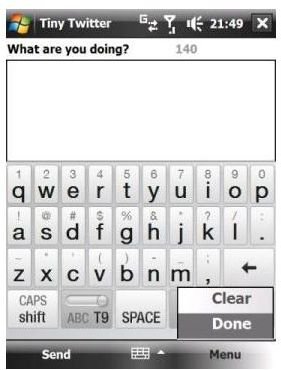 There are various benefits to be gained from Twittering on the move. Tiny Twitter itself offers full compatibility with the Twitter service, and utilises the full capabilities of you device to provide updates via the interface rather than through other means such as RSS or SMS (which are both employed by other mobile Twitter clients).
It is therefore a simple task to send direct messages or replies to fellow Twitterers, or connect with their Timeline (their most recent Tweets). New Twitterers cannot be added via Tiny Twitter, however – this must be done by visiting their Twitter page. You get one of these for signing up, for instance mine is www.twitter.com/atomickarma.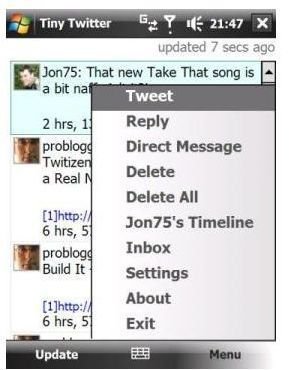 By design, it is difficult to follow a lot of Twitterers using any handheld device, and Tiny Twitter is no different. This might cause problems depending on your device and screen size, depending on how much you like to read and interact with fellow Twitterers.
You can also configure your update schedule via Tiny Twitter (via Menu > Settings Synchronisation), depending on your desire to read new Tweets, your mobile device battery or your dataplan.
Tiny Twitter is a superior microblogging and social networking client for Windows Mobile, stable and with solid support and a comprehensive FAQ on the homepage.
This post is part of the series: Windows Mobile Twitter Clients
Which is the right Windows Mobile Twitter microblogging client for you?