Review of Palringo - Windows Mobile Messenger App
Why Palringo?
Palringo is an instant messenger (IM) client for Windows Mobile that allows the user to connect with contacts on either MSN, Yahoo, AIM, Gadu-Gadu, ICQ, Jabber, Google Talk and iChat.
A freeware application (from www.palringo.com click "All Download Options"), it is strikingly simple to set up and use, and offers the added benefits of picture sending ("snap and send") and sound file transfer.
To use the software first of all requires that you sign up at the Palringo website. The system works by securely routing your messages via the Palringo servers, therefore minimising the impact on your data transfer rates, as of course only one IM application is open.
Download and Install Palringo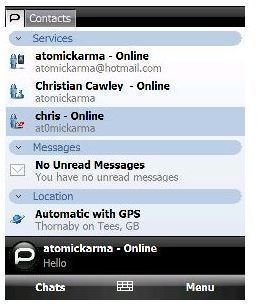 The download is 1.1mb and Palringo can either be installed via your desktop PC with your Windows mobile device connected via Activesync, via a link sent by SMS or by navigating via your mobile browser.
Once installed and launched on your handheld, setting up a connection to your IM account is easy. Palringo will take your username and password, encrypt them and login on your behalf.
The main control screen of Palringo outlines what services you have setup, which ones are currently connected (identified by a small logo – Y! For Yahoo, for example), any outstanding messages and a new feature which uses GPS to triangulate your position and display the name of the nearest town.
Using Palringo on Windows Mobile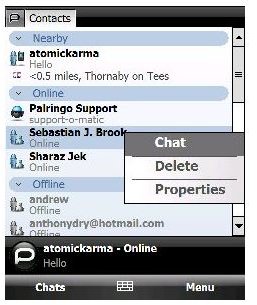 The contacts tab displays which of your IM buddies are online and signed in, and again Palringo separates them by which IM network they are on. Chatting is a simple case of selecting contacts with your stylus or thumbpad (Palringo isn't geared for TouchFlo 3D users), selecting Chat and away you go.
Palringo provides a clear chat window, combining text, photo and sound communication, as well as providing the user with a handy button to select/press when the time comes to send photos or sound files.
Using this Windows Mobile messenger app to chat simultaneously with contacts on different chat networks is a great experience.
Text chatting is as straightforward as entering text via your device hardware or software keyboard, while, sound/voice can be sent by pressing the capture button, which uses your mobile's hardware to record what you want to say. The real benefit of this function becomes clear when you communicate with someone else using Palringo.
A Good Windows Mobile Messenger

Due to the wide range of IM services supported, Palringo does not provide the facility to send and receive files directly – the Voice and Photo files can only be sent one-way unless you are communicating with a contact signed into Palringo. Sending photos is a case of tapping the Capture Photo button and launching your camera.
This is disappointing as a major use for chat clients is the sharing and viewing of various files types between friends and contacts. While webcam access shouldn't be expected, there is a case that there should be some decent support here and in other clients for swapping files and photos.
Similarly, photos already taken and saved to your phone cannot be sent. However the immediacy of the content that can be transferred is impressive, and allows for moments to be shared almost live.
Group chatting is supported directly by Palringo's servers, but again this requires contacts with Palringo installed on their device. Palringo provides versions for iPhone, standard mobiles, Blackberry and Java devices, Symbian, Windows PC and Mac OSX Leopard. It is also possible to install on Linux using the Wine virtualisation. Usage is scattered across all of these platforms.

Surprisingly in the age of Skype phones, Palringo doesn't support VOIP, and there appear to be no plans to provide the service. It's also not possible to share photos (a popular service on Yahoo messenger) and despite many Windows Mobile devices possessing video cameras, there is no facility to use this hardware as a webcam.
At the end of the day Palringo is a good text chat client, with some useful extra functions.
This post is part of the series: IM Clients
Reviews of the various Windows Mobile instant messaging clients available for download