Review of Pocket SharpMT: Windows Mobile Blogging Software
(3 out of 5)
Pocket SharpMT is the Pocket PC version of the SharpMT desktop blogging interface. Available via freeware, it enables the user to publish to their Movable Type or Wordpress blog (Blogger.com is not supported).
Blogging with Pocket SharpMT
While posting to blogs via email is an option for Windows Mobile users, this can be an experience loaded with difficulties, with incorrect formatting and layout, the inability to include images, set category or apply tags and a delay between the email being sent and the article being published.
An online mobile solution avoids these drawbacks, and Pocket SharpMT provides everything that is missing from an emailed posting.
Downloading at a very light 187kb, the software can be quickly and easily installed either directly to the phone or via a synchronised PC.
It's then a simple task to configure your installation to connect with your Movable Type or Wordpress blog and begin composing your first post on the go.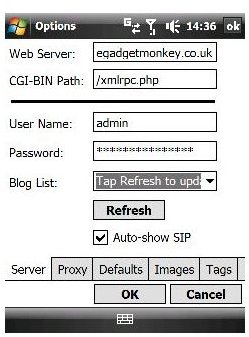 Simply enter the URL of your blog, RPC path, username and password, and click Refresh to pull through the blog details. (The RPC path directs Pocket SharpMT to the RPC file that your blog responds to when posting via third party software. The screenshot shows "/xmlrpc.php", which is the path used for Wordpress. The default option "/cgipath/mt-xmlrpc.cgi" is used for Movable Type blogs.)
The form-based interface is slightly cluttered, but everything that you need to publish is available, from existing categories and tags to the functionality to create new ones. Hyperlinks, italics, bold and underlined type can all be applied, while saved images on your Pocket PC or Windows Mobile 6.1 Smartphone can be uploaded. You could even take a photo with your device and upload that.
Functional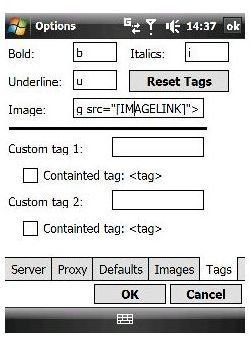 A bugbear of Apple iPhone users is the inability to cut and paste – Windows Mobile doesn't have this drawback, and Pocket SharpMT supports the function to allow the quick and easy provision of quoted text within blog quotes. Alternatively you might prefer to write your content in Mobile Word and paste it into the blog software.
Another advantage is the ability to configure custom HTML tags which allow efficient custom formatting.
The smaller size of the majority of Windows Mobile displays can result in problems viewing the text entry area, especially on devices equipped only with virtual keyboards. Thankfully Pocket SharpMT provides a scrollbar on the blog interface allowing the user to see what they are inputting.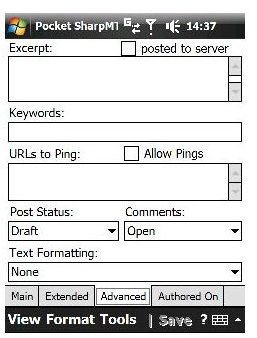 Another useful feature is the ability to enter excerpt text, a commonly used function in Wordpress and Movable Type blogs, as well as enter URLs to ping, such as "https://rpc.pingomatic.com".
As well as being limited to your Movable Type or Wordpress blogs, Pocket SharpMT is also restricted to use on a single blog. There is also a question over its stability, certainly on Windows 6.1 devices since I found that the settings I entered and revisited later the same day were lost following a soft reset (this freeware software hasn't been developed since 2007, so will not have been tested on current devices).
Conclusion: a capable but frustratingly single-minded and flaky application that would benefit from some development.