Review of eWallet for Windows Phone 7
Don't Worry About Passwords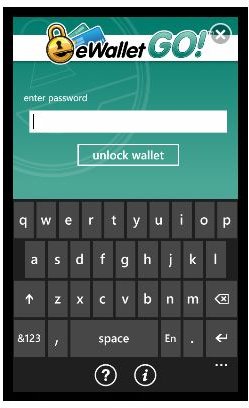 With so many passwords, PINs and codes to remember, it makes sense to keep a physical record of them just to make sure that we can access our bank accounts or enter our place of employment.
However, this opens up a massive security risk – if you use a notebook filled with passwords for your online and offline accounts, what use is the password? What you really need is a locked notebook that you won't lose, or one that can be wiped in the event of theft.
This is where your mobile phone comes into the equation, specifically Windows Phone 7. A new app for the platform is eWallet GO!, a tool for storing passwords and credit card details with tough encryption that can only be accessed by you…
EWallet GO! for Windows Phone 7 Explained (4 out of 5)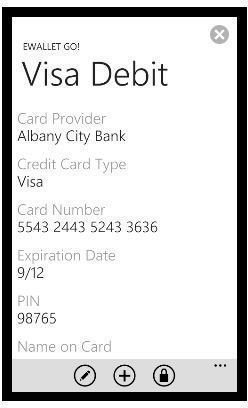 The point of eWallet GO! is clear – this is an app that is designed to give you the chance to never forget passwords by keeping them safe on your Windows Phone. To this end, the very first thing the app does upon launch is require you to set up a master password.
Although designed for the typical use of storing credit card details, it also provides templates for typical user accounts such as Hotmail. In fact various templates are provided, each of which can be edited for you to set up as relevant and active accounts in eWallet GO! that you might refer back to at some point.
Easy User Interface (4 out of 5)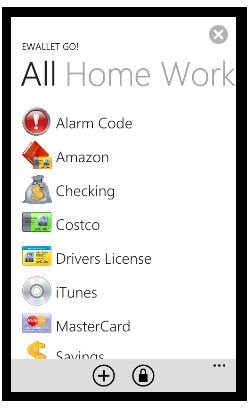 Featuring full integration with the Metro UI, eWallet GO! is easy to use, separating both the sample and user configured accounts into two categories, business and personal, which are accessed by swiping left and right through the menus.
Clicking the + New Card symbol in the menu allows you to choose from a variety of account types, from bank account to car info to clothes sizes to insurance details and even software serial numbers!
All of this information is presented in a typical menu, and adding data to a new card account that you create in eWallet on your Windows Phone 7 device is a simple case of filling in forms, which can be saved and locked with your master password.
In addition to the ease with which accounts can be created, you are also able to Backup and Restore data to eWallet GO! via the main menu. This data can then be saved to your PC via a DropBox client, for instance.
Pricing and Compatibility (2 out of 5)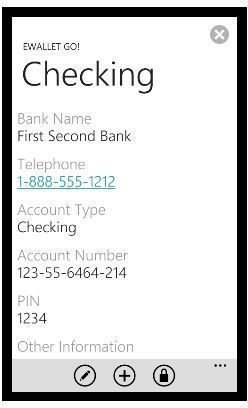 A quick check through user feedback on the Zune Marketplace reveals no compatibility issues with this app on any of the Windows Phone 7 devices from Samsung, LG, Dell and HTC.
The main issue here is with the pricing. £3.99 is expensive for any mobile app, but without the benefit of a trial version for you to see what you're getting (something that Sky Wallet does, with a lower price of £3.49) questions have to be asked about the future of eWallet GO!, and whether purchasing at this stage is a long term solution to your passwords issue or just a stop gap.
Conclusion (3 out of 5)
Microsoft has been actively encouraging developers to offer trial versions, and have some impressive conversion stats to back this up. If people don't use eWallet GO! Because of the lack of a "shop window" trial version, then the long term viability of the app is in question.
This is a shame as this is clearly a very good app that applies 256 AES encryption to your most vital personal data and presents it so that only you can access it. Should you lose your Windows Phone, you might employ the Find My Phone system to find or wipe the device, but by this time you should have used the backup tool in eWallet GO! on your Windows Phone 7.
Despite the pricing issue, this is a top app with plenty of useful features; because of the pricing and lack of a trial, however, it gets downgraded to just 3 stars.
References
All references and screenshots from eWallet GO! for Windows Phone 7.