Review of Windows Phone Foursquare App, 4th & Mayor
Windows Phone 7: The Social Phone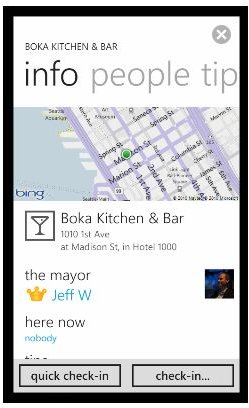 The state of social networking on Windows Phone occupies two polar opposites – Facebook and Twitter are very well served, instant messaging and any other social networking less so.
While this might be attributed to the worldwide success of Facebook and Twitter, it is also likely that their existing (and future) integration with Windows Phone is a contributing factor. As such anyone wanting to use a service such as LinkedIn or Foursquare will find a limited bunch of apps at present.
However, this might be about to change with 4th & Mayor, a new Foursquare app for Windows Phone.
User Interface and Integration (4 out of 5)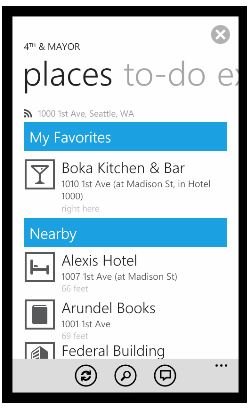 Delivering integration with the popular Foursquare social service, 4th & Mayor offers an easy way to find out what your friends and contacts are up to around your location.
If you haven't previously used Foursquare, the app features a link to the service's signup page although you might prefer to do this on your desktop as there are quite a few fields to complete – alternatively you can link the account to your Facebook profile to save time.
Featuring good use of the Windows Phone Metro UI, 4th & Mayor features four main sections:
To-do
Explore
Friends
Places
Each of these will be populated as soon as you have linked the service up with your various friends and family, something you can do via your desktop browser by adding contacts from Facebook and Twitter. The app also allows you to add friends from your phone's address book.
Getting Together with Foursquare (3 out of 5)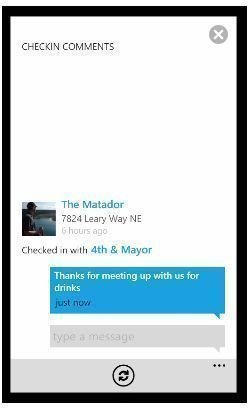 Using the built-in location services on your Windows Phone, 4th & Mayor triangulates your position in the world and uses the Foursquare network to find friends that you can interact with. Foursquare provides an easy-to-use service to its users – basically, it tells them where their friends are – and this is done most easily if your contacts are also using Foursquare.
However, if this is not the case it doesn't matter too much, as in most cases your contacts will be in their home town or city. All you need to do is take advantage of 4th & Mayor's Friends screen to find out what people are doing or use the Explore screen to find something interesting to do – and possibly get other people involved too!
4th & Minor? (3 out of 5)
As an unofficial client app, 4th & Mayor ticks all of the boxes, apparently allowing seamless integration with the host service and featuring a UI that sits comfortably within the Windows Phone 7 platform. However 4th & Mayor is terribly slow. Tested on the HTC HD7, the app was sluggish to switch between screens and seemed unable to determine the location of the host device for a good 20 minutes.
Given that Foursquare comes into its own when you're out and about in the city at night looking for friends to socialise with, 20 minutes is easily the time it takes to have a drink in one bar and move to the next. As such for some people this app will not offer the best experience of Foursquare. On the plus side, however, 4th & Mayor is free, so this might take some of the sting out of the speed issues.
References
All references and screenshots: 4th & Mayor app for Windows Phone 7.