Get Windows Phone 7 Internet Radio with TuneIn
Internet Radio on Your Windows Phone 7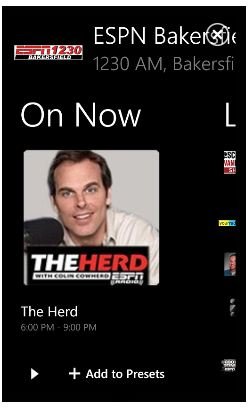 One of the great things about having a mobile Internet connection in the UK is the ability to enjoy streamed radio and TV. This is something that has been lacking so far from Windows Phone 7 – while the handsets have the ability to tune-in to radio the old-fashioned way, thanks to a lack of a BBC iPlayer app for the platform, radio is limited to a few radio network-specific apps.
Thanks to TuneIn, however, you can take advantage of Internet radio on a huge scale, streaming voice and music stations to your phone over the web. A wide selection of radio stations is included in this app…
User Interface (5 out of 5)
Delivering the kind of slick, Metro UI compatible user interface that Windows Phone 7 users have come to expect, TuneIn also features a useful search feature as part of the main application screen. Offering the ability to connect to the web and stream radio to your phone, TuneIn features audio content listed by location, genre and even language.
The quality of the product seems apparent throughout, right up to the station playback screen where TuneIn offers alternatives to quickly switch to should you be unhappy with the choice of music on offer.
Station Selection (5 out of 5)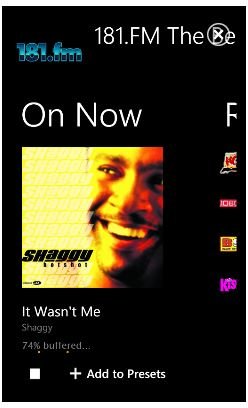 Selecting a station to listen to can be daunting, given the number of radio channels that are available through TuneIn.
For instance if you searched for something to listen to using the Local option, you would receive a list of local and national radio networks to choose from, whereas selecting from the Sports option offers a range of stations from around the world.
At all times you can access a Home button on the app's menu bar to send you straight back to the main screen, and a search tool gives you the chance to find a station playing a particular music genre, such as jazz, blues or alt-rock, for instance. TuneIn also features access to a list of popular podcasts from around the world that you can download and listen to with the app.
Audio Playback (4 out of 5)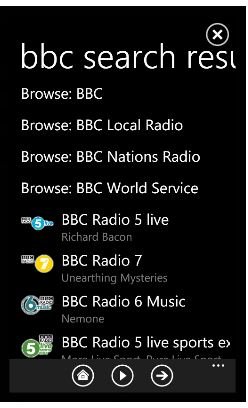 In testing (using a Wi-Fi connection and an HTC HD7) the TuneIn app seems to have trouble streaming particular stations, which indicates that it is acting as a client for these radio networks rather than re-routing them. This does result in your hand being forced as to which station you choose to listen to, however, although when you get a good feed the sound quality is excellent.
One problem with the app is that it cannot be used when connected to your PC – this is likely due to it using the Windows Phone Zune software which auto-syncs with the Zune client when connected by USB cable.
Conclusion (4 out of 5)
Costing absolutely nothing at all, TuneIn is one of the best apps to be launched on the Windows Phone platform – quite an achievement given how popular it is becoming.
Delivering the ability to find exactly the sort of radio station you're looking for – whether it be music or talk radio - TuneIn is easy to use and offers the sort of integration between web services and a mobile device that you would expect.
Best of all, perhaps, is that fact that you get all of this functionality from the Zune Marketplace without paying a penny! So why delay? Get Windows Phone 7 Internet radio access today with TuneIn.
References
All references and images from TuneIn app for Windows Phone 7.