Project Emporia Automatic News Feed Aggregator for Windows Phone 7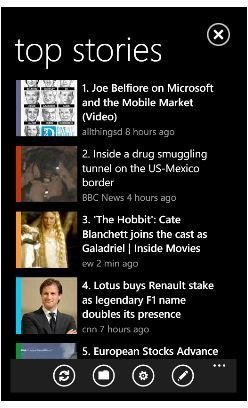 Finding relevant news these days can be a massive effort. There's simply so much of it about, whether it be local news, international stories, sports, entertainment, music and television, etc.
As a result many people use RSS feeds to subscribe to the news that they want to read, and have these collected by aggregators on their computer or mobile device. But even then there is a need to sift through what is collected in order to find the really interesting material.
This is where Project Emporia for Windows Phone comes in - this app is developed at Microsoft with the aim of making it easier to find the news you want to read.
Usability (3 out of 5)
After installation, the app can be launched from the Programs menu (reached by tapping the arrow on the Start screen) and features a few documents to read (such as terms of service) which you can take a look at before tapping I agree.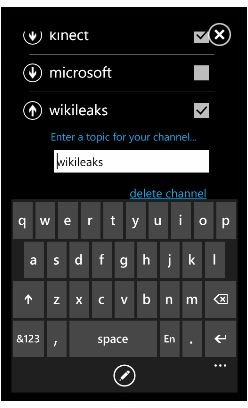 What Project Emporia then does is take a look at your Internet Explorer Mobile history in order to collate a selection of stories particular to you.
For instance, recently I've been reading up on Windows tablets, the recent trouble in North Africa and Formula 1 motor-racing – and as a result of scanning my Internet history Project Emporia delivers the most recent selection of news items with a similar theme. Using this app I can get the latest on the situation in Egypt, see that driver Sebastian Vettel is quickest in pre-season testing at Barcelona and that ARM processor-equipped Windows 8 tablets might be seen in late 2011.
These are all things that might have taken a bit of browsing to find, so it is great to have them delivered to my mobile in this way. Additionally if I think a friend or family member might like to see the same content I can open it to read fully and then use the menu to send it to them via e-mail or Twitter. You can also save stories for reading later.
In addition, you can set up custom channels via the Settings option, which also allows you to include or discard any of the default news feeds if required.
Availability and User Reception (3 out of 5)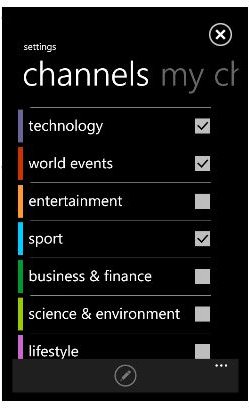 Project Emporia can be downloaded for free from the Windows Phone 7 Marketplace, and takes just a few moments to install. With an accessible user interface and the ability to tailor the app to your own news reading requirements, reception in the Marketplace has been generally good, with only some minor complaints over US bias on some of the selected news sources.
As it is still early days for this app, it would seem likely that integration with a web-based account will come at a later date, hopefully quelling some of these complaints.
Conclusion (3 out of 5)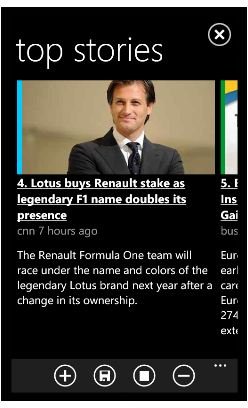 Pretty much performing the same task as customizing iGoogle would but with less news sources available, it is still early days yet for Project Emporia.
If your interest is a relatively mainstream one like sports news, world events or technology then you shouldn't have any problem finding items to satiate your need for the latest information, however, if you're a big fan of a particular TV show or trendy pop group then don't expect this app to deliver the type of news you're looking for just yet.
References
All references and screenshots: Project Emporia for Windows Phone 7