Top Windows Phone 7 Blogging Apps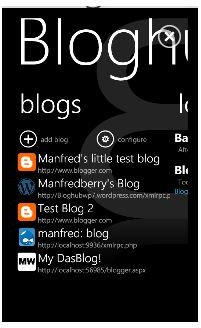 Blog on the Go!
Windows Phone 7 is a flexible and time saving mobile platform – so it makes sense that someone should introduce a blogging app sooner or later.
In the event, three have materialised within weeks of the platform's launch, giving bloggers three ways to interact with and publish to their blogs. These might be WordPress, Blogger, TypePad; it depends on the blog app and its functionality.
The following Windows Phone 7 blogging apps are available exclusively from the Zune Marketplace and while one is free, the other two can be trialled for free, with certain limitations.
BloghuB
Probably the most functional of the currently available Windows Phone 7 blogging apps, BloghuB allows you to manage any WordPress, Drupal, Blogger, dasBlog or TypePad blog, both hosted or standalone.
Images and rich text formatting (bold type, links, etc.) can be added to your posts, while you can also add images, approve or reject comments, and connect to multiple blog accounts as well as the standard basic blog posting tools.
BloghuB can be downloaded from the Zune Marketplace for £3.49 in the UK.
BlogAffinity Windows Phone 7 Blogging App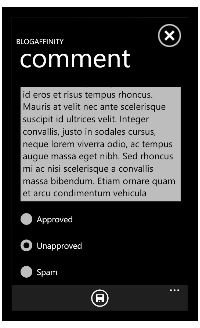 If you're looking for something that is more than just another blog client, BlogAffinity combines the standard mobile blogging functions with an RSS reader. If your blog regularly relies on content from other websites – perhaps you provide a commentary on tech news, for instance – BlogAffinity's RSS/Atom reader will allow you to check sources and get ideas for posts quickly.
This might sound impressive, however, grabbing reference links and quotes is impossible until copy & paste is introduced in the first Windows Phone 7 update so you might prefer an alternate app in the meantime.
Currently the app supports a limited set of blog platforms, with Blogger and LiveJournal compatibility expected in a later version.
You can buy BlogAffinity on the Zune Marketplace for £3.49 in the UK.
Blog Client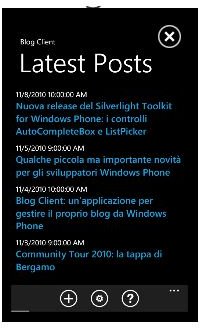 The only free Windows Phone 7 blogging app in this list, Blog Client allows you to connect to WordPress, Subtext and any platform that uses the Metaweblog API, which doesn't include Blogger.
As it is free, Blog Client only provides very basic functions, such as post title, post, categories and tags; there is no option to format text or insert images and links although you can set a date for publishing.
If you want a stripped down client that offers little in the way of formatting and media but is fast and easy to use, Blog Client should be your top choice.
A Fourth Option
There is an alternative to a specific mobile blog client for users of WordPress – rather than installing an app on your phone, you can install a plugin that will enable easy access via your browser.
The plugin in question is iPhone/Mobile Admin, which basically detects that you are viewing your blog's dashboard screen from a mobile device and applies a different template and CSS to allow you to access the various options in a mobile-friendly manner.
Available from wordpress.org, iPhone/Mobile Admin can be accessed from many mobile devices with a suitable browser.