How to Use Microsoft Office Mobile on Windows Phone 7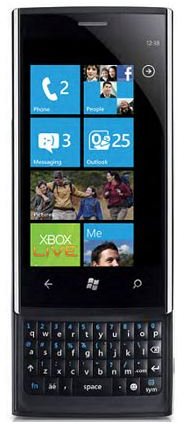 Microsoft Office on the Move
The Windows Phone 7 platform features superb integration with corporate software, particularly Exchange email and document creation and management.
With a Windows Phone 7 handset, you have access to Microsoft Office on the go. Whether you sync with a SharePoint server or have a Windows Live SkyDrive to sync your files with, it is easy to create and read documents on your phone and view changes made to documents saved to your remote storage.
Connecting to an Exchange email account is very straightforward, while syncing your files from your phone to your SharePoint account or SkyDrive can be achieved with a single command.
Microsoft Office Mobile – What's Included?
The three most popular Microsoft Office applications – Word, Excel and PowerPoint are included in Microsoft Office Mobile, while for syncing with a SkyDrive account OneNote is used.
Each of the popular applications can be accessed via Start > Microsoft Office > Documents; tapping the New Document button will give you a choice of creating a new Word document or Excel workbook, while PowerPoint can be used to work on presentations stored on your phone, attached to an email or shared on Microsoft SharePoint Server 2010. Unfortunately there is no way to create a new presentation on Windows Phone 7.
While Outlook is commonly considered a part of Microsoft Office, Outlook Mobile isn't included within Microsoft Office mobile. Instead it is available separately on Windows Phone 7 devices, where it can be found managing email accounts.
Microsoft Office Mobile Sync with SharePoint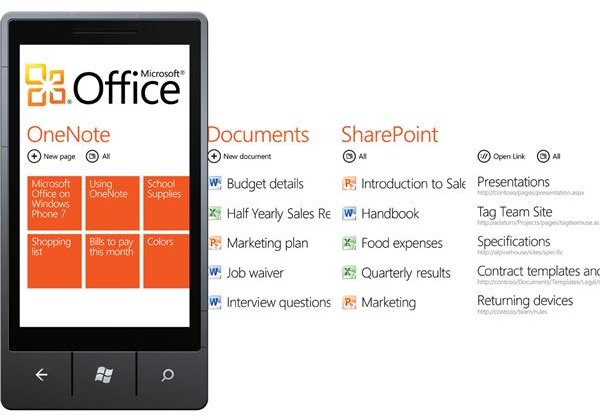 To get started syncing documents and lists with a Microsoft SharePoint Server 2010, go to Start > Microsoft Office > SharePoint; you have a choice of open URL, to connect to a particular document or page, all to begin opening documents or you can tap here to begin importing links.
Synchronization with a Microsoft SharePoint Server 2010 site requires the correct permissions to be applied on the server, so you will need to ensure that these have been set as required before commencing. Once this has been done, documents can be created, shared and managed from your Windows Phone 7 handset via Microsoft Office.
Syncing Microsoft Office Mobile with Windows Live SkyDrive
For those of you who don't have access to a Microsoft SharePoint Server, a lower level of syncing is available with a Windows Live SkyDrive, the free remote storage provided by Microsoft to Windows Live account holders.
To get started with this, go to Start > Microsoft Office > OneNote and create a New Note. Once you have added what you want into it, go Back and on the OneNote screen go to All and then on the menu at the bottom of the screen click Refresh. If you have a Windows Live account setup on your Windows Phone 7 OneNote will sync with this – otherwise you will have to sign in to it.
OneNote documents created on a Windows Phone can then be found by logging in to your SkyDrive via the web. These can then be viewed or edited further using Microsoft Office Web Apps, or downloaded to your PC to be saved or edited.