Choosing Windows Phone 7 Remote Desktop Apps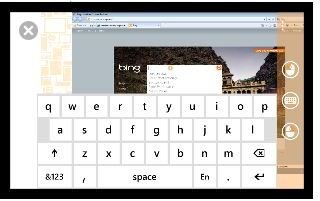 Can I Remote Control My PC from a Windows Phone 7?
With Windows Phone 7 you get what is effectively a mobile device and operating system packed with software that integrates with a Windows PC; so it makes sense that you should be able take this integration one step further and access your PC via your phone.
In the past this may have meant using a web app such as Go To My PC or LogMeIn, but thanks to the capabilities of the Windows Phone platform you can remote desktop or send commands remotely to your PC or server.
Several Windows Phone 7 remote desktop apps are available, each of which can be downloaded from the Zune Marketplace with a free trial. Note also that apps may require a PC-based component.
Remote Desktop
Requiring an additional VNC server app to be installed on your PC, Remote Desktop is an expensive £11.49 and requires an open port connection for use outside of a local or home network.
However, if you're prepared to sign up at that cost, the app allows easy remote desktop connections to any networked computer via IP address. The remote desktop display appears in landscape mode and a useful side menu allows you to input left and right mouse clicks as well as activate the on-screen keyboard.
For standard remote desktop purposes this is a solid app, but there are other options.
Lazy Admin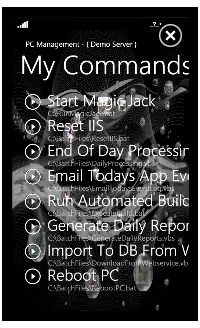 Perfect for server admins, Lazy Admin allows the user to run daily SQL server reports, reboot, restart IIS (Internet Information Services) and much more. Remote processes can be launched using batch files, VB scripts, PowerShell scripts and even standard executable files.
Using this tool you don't have to go through the bother of a remote desktop connection when you're off site – all you need to do is log in to the app and send the command!
The Windows Phone 7 remote app is available free from the Zune Marketplace – however, the PC component must be downloaded from www.lazy-admin.com and requires a monthly or annual subscription, although a trial version of the desktop software is available.
PC Connector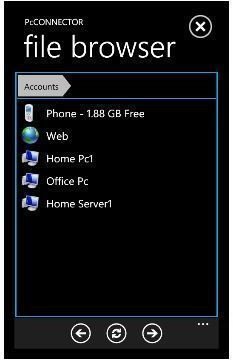 Available from the Zune Marketplace for £3.99 in the UK, PC Connector provides various remote desktop utilities in one app. You can access the File Browser to view files on your PC, transfer documents to and from your phone and even create and send emails with files attached via your PC.
PC Connector Windows Phone 7 remote desktop app doesn't give you an actual remote view of your PC in the way that Remote Desktop does – think of it more as a subset of features that you might have found in Lazy Admin.