Stay on Top with These Windows Phone 7 Calendar Apps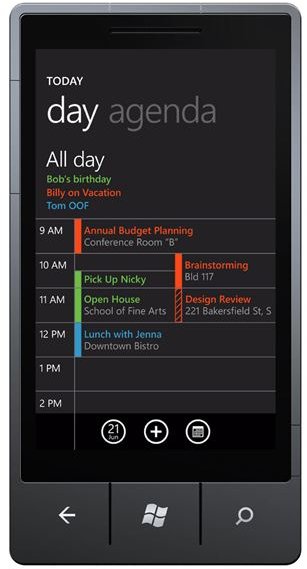 Windows Phone 7 Calendars
Windows Phone 7 comes with a single, powerful calendar app that allows you to sync with various popular calendar services – so why would you need any others?
Well, there is more to a calendar app than just displaying appointments and tasks that have been synced from an Exchange calendar. You might wish to know particular special dates that aren't available through your corporate network or Windows Live or Google Calendar, for instance.
This selection of Windows Phone 7 calendar apps are available from the Zune Marketplace, accessible via a Windows Phone 7 device or the Zune desktop client.
Note that all apps available on the Zune Marketplace can be downloaded initially as trial software.
(Image via www.microsoft.com)
Hebrew Date Converter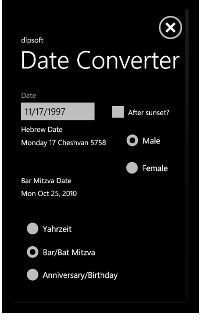 Have you ever tried to work out the Hebrew date for a birthday or anniversary, and found that you couldn't quite get it right? Hebrew Date Converter effortlessly converts Gregorian (English) Calendar dates to Hebrew ones, automating the calculation for you.
This is one of those apps that you don't realise you need until the last minute; luckily you can get a copy of it pretty quickly.
Available for 79p on the Zune Marketplace, this app will also convert the Hebrew date back into Gregorian Calendar!
Advent Calendar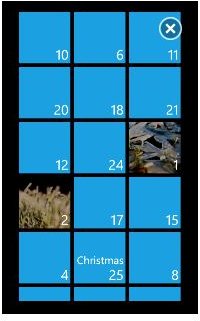 One look at this app and you can see how nicely it integrates with the Windows Phone 7 user interface – almost as if it was meant for the new Microsoft mobile platform from the beginning!
Pictures from a Scandinavian winter wonderland are displayed behind each of the dates from December 1st through to December 25th, and the app auto-pins to the Start menu with the most recent scenery image. Advent Calendar is a perfect app for Christmas and is free to download.
Calendar Calculator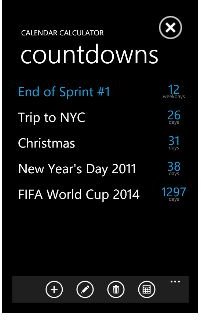 If you have any special days coming up, or a holiday next summer, you can use Calendar Calculator to display the time remaining to the big day. A flexible app, you can configure your target data countdown to include or ignore weekends, as well as displaying the number of days between two dates.
One great use is to countdown to a birthday, or the release of an album or upcoming TV show.
This app costs 79p from the Zune Marketplace in the UK, and is extremely useful indeed!
Fertility Calendar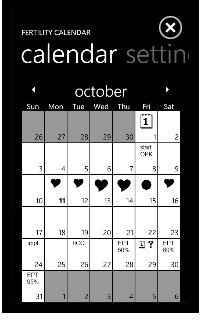 Ideal for anyone planning on starting a family, the Fertility Calendar app allows a lady to calculate the optimum time to engage in intercourse with her partner to increase the chances of the intended outcome of pregnancy. Similarly it can be used to calculate when to avoid intercourse if you don't use protection.
Fertility Calendar can be purchased for £3.99 in the UK from the Zune Marketplace.
Holidays Windows Phone 7 Calendar App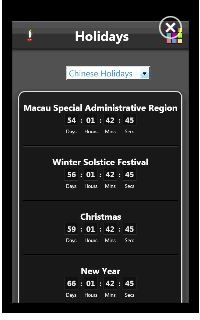 Finally, Holidays is like having a mobile diary with you, with all of the important festival dates from around the world stored in it! Downloadable for just 79p in the UK, Holidays stores and displays details of national holidays and festivals for many countries including America, the United Kingdom, France, China, Germany, Australia, Canada and many more.
This is a very useful app that you shouldn't be without and is perfect for programming in important holidays into your main calendar app.
(Images via author)