Download the Top Ten Windows Mobile 6 Apps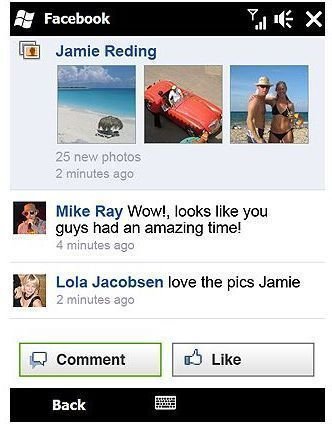 What are the Top Ten Windows Mobile 6 Apps?
Windows Mobile 6 has been around since 2007 and features a variety of free and premium apps available from several libraries, including marketplace.windowsphone.com.
Some legacy applications designed for Windows Mobile 5 or earlier can also be run on Windows Mobile 6 devices, but the majority of apps are dedicated to devices released from 2007 to 2009.
Apps range from social networking to productivity and GPS fitness software – let's take a look at the top ten Windows Mobile 6 apps!
Facebook for Windows Mobile
Get a kick out of mobile social networking with this top mobile version of Facebook – send messages, set your status and view profiles, all from the comfort of your Windows Mobile phone!
You can also take photos and upload them to your Facebook account with a suitably equipped device, while "liking" and commenting on your friend's posts is also possible! Facebook for Windows Mobile is available free from marketplace.windowsphone.com.
(Image via marketplace.windowsphone.com)
Treesize Mobile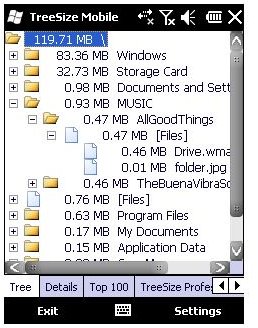 If you're looking for a way to manage the files and folders on your Windows Mobile phone, Treesize Mobile is a great tool to find the size of folders and sub-folders and also delete them if necessary.
Folders can be sorted by size, name and number of files and they can even be displayed in a Top 100 list. Available for 69p in the UK, Treesize Mobile is a vital tool for any Windows Mobile user. Download now from marketplace.windowsphone.com.
(Image via marketplace.windowsphone.com)
Microsoft Office Mobile 2010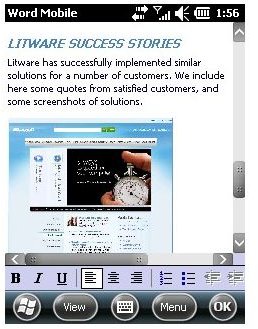 Only available for Windows Mobile 6.5 devices, Microsoft Office Mobile 2010 provides an upgrade to the existing Word, Excel and PowerPoint mobile apps. Although listed as one, this is effectively three apps, with the additional functionality of access to corporate SharePoint spaces with SharePoint Workspace Mobile.
Despite the mobile interface, Microsoft Office Mobile 2010 can be used to create and edit Word and Excel documents as well as display PowerPoint presentations. The app is free from marketplace.windowsphone.com to anyone with Windows Mobile 6.5 and a previous version of Microsoft Office Mobile.
(Image via marketplace.windowsphone.com)
Finger Suite & Finger Keyboard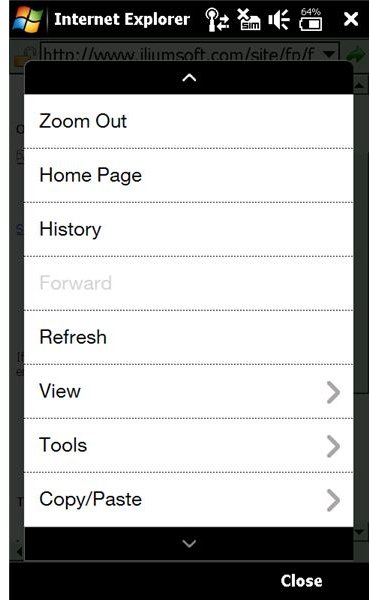 The native keyboard and stylus menu system on Windows Mobile 6 is unsuitable for modern mobile users – so why not update these with FingerSuite (pictured) and Finger Keyboard, two great enhancements to the UI which make interacting with your phone so much easier?
These apps introduce enhanced, finger-friendly menu options as well as a very useful software keyboard similar to the type you might find on an iPhone. Available to download free, you can find FingerSuite at www.freewarepocketpc.net and Finger Keyboard at xda-developers.com (signup required).
Adobe Reader LE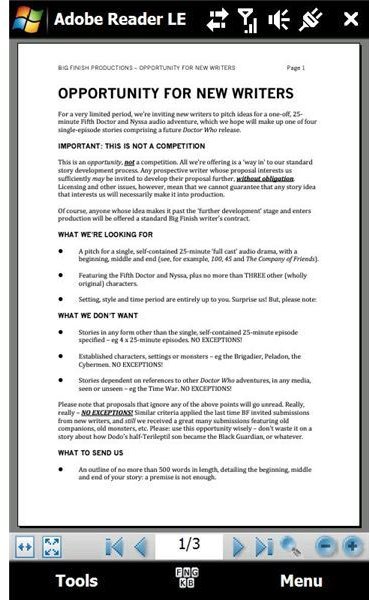 You cannot read PDF documents without a suitable app, and the Adobe Reader LE which comes pre-installed on many Windows Mobile devices is the top choice for this platform. Featuring zoom and scroll tools, Adobe Reader LE makes an excellent eBook reader as well as providing means to access and read other PDF files.
Adobe Reader LE is included as a free app in Windows Mobile 6, so take a look on your phone to find it!
moTweets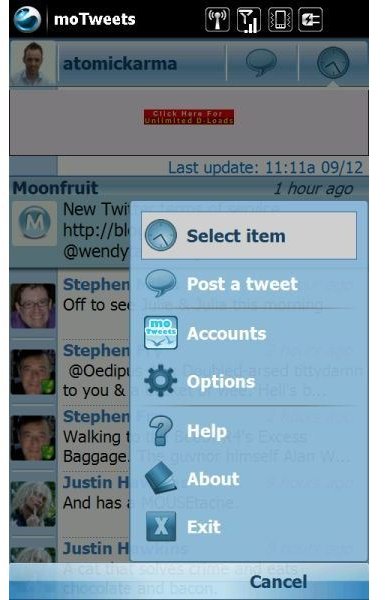 Twitter users on Windows Mobile shouldn't miss moTweets, an excellent mobile app with a superb user interface. Providing all the usual Twitter functions like tweet, retweet, direct messaging and also adding geotagging and uploading photos into the mix, the beauty of moTweets is that it has a great, easy to use menu system offering all of the common extended Twitter functions.
MoTweets is available to download free at www.freewarepocketpc.net.
CleanRAM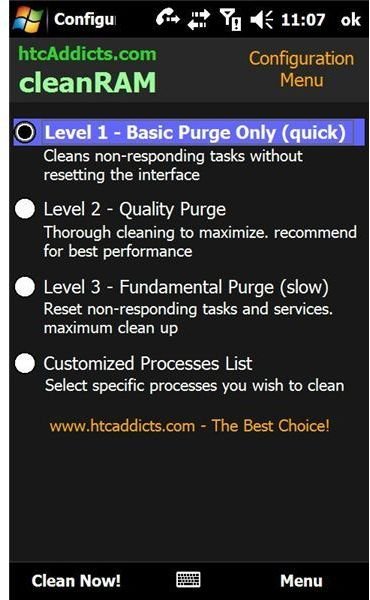 Like TreeSize Mobile, CleanRAM is a must-have app for any Windows Mobile 6 user. This platform is notorious for having bad app management, with multitasking often resulting in phones locking up. CleanRAM can prevent this by allowing you to end running tasks (such as software that you might have thought you had already closed) in order to free up RAM and speed up your phone.
With various "cleaning" options, CleanRAM is a vital utility that can be downloaded via www.freewarepocketpc.net.
WinSportsTracker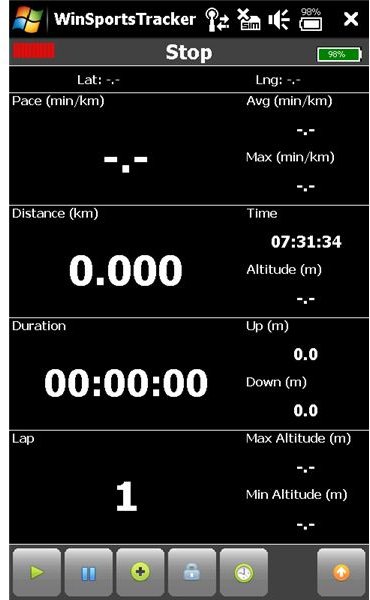 The health conscious among you should have already tried WinSportsTracker, a superb Windows Mobile app that combines GPS tracking with real-time statistics (like speed and distance) about your running or cycling activities.
An additional function of WinSportsTracker is that you can use it as an off-road navigation tool, and the great thing is – it's free! This is a truly feature-packed app that ties in beautifully with the web site service.
Find out more about this app and download your copy via www.freewarepocketpc.net.
Google Maps for Windows Mobile 6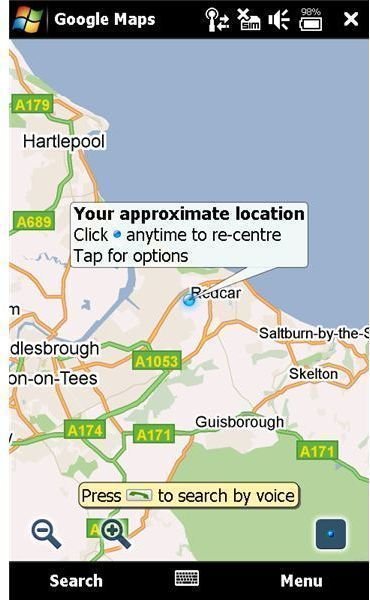 Google Maps has turned out to be one of the most vital web apps of all time, and with the ability to now access Street View on your Windows Mobile device, the latest version of the free web maps application is a must-have. You can use Google Maps Mobile much as you would the desktop version, using it to see where you are in relation to your destination, calculating journeys and using it to find places of interest; you can even activate Google Latitude and share your location with your friends.
Google Maps Mobile for Windows Mobile 6 makes use of your GPS hardware and is available from Google or www.freewarepocketpc.net.
Mobile Wi-Fi Router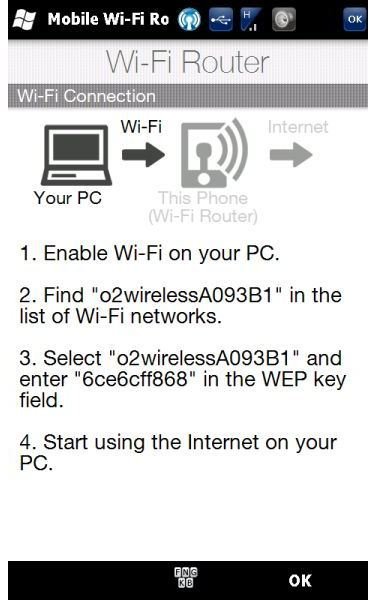 If you have to connect your laptop or PC to the internet and plan to use the tethering software that comes natively with Windows Mobile, but have forgotten or misplaced your USB cable, Mobile Wi-Fi Router is a great alternative. You don't need any cables, just a wireless interface on your PC or laptop and this app will turn your phone into a wireless access point.
This free app is superb, but of course depends on your network and data use plan as to how often or widely you can use it – not to mention your mobile's battery life!
Download it free from www.freewarepocketpc.net.
(Images by author except where stated)