Guide to Windows Phone 7 Wireless Sync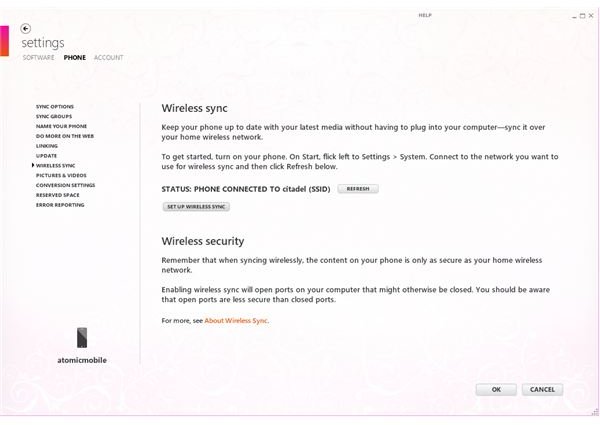 USB and Wireless Sync
Syncing your mobile phones is usually a case of connecting them to a USB cable with some client software on your PC for managing the sync. It's certainly one way to sync music, video and pictures on the Windows Phone 7 platform, but it's not the only way…
Once you have completed the initial sync with your PC, if you have a wireless router on your home network that your Windows Phone 7 handset and your PC are connected to, you no longer have to hook up your phone to your PC to share content – instead, you can just stream it wirelessly!
Connect Your Phone to Your Wireless Network
Configuring your phone to sync wirelessly with your PC cannot be performed until you have set up the initial, cabled sync, so you will need to go through those steps first. Next, you will need to ensure your phone is connected to your home wireless network.
Check this by going to Settings > Wi-Fi and flicking the software switch to turn on wireless. Your network will be displayed if it is transmitting its SSID, so enter the password as required. Hidden networks cannot currently be added or connected to with Windows Phone 7.
After you have done this, open the Zune desktop client and go to Settings > Phone > Wireless Sync.
Using Zune to Configure Windows Phone 7 Wireless Sync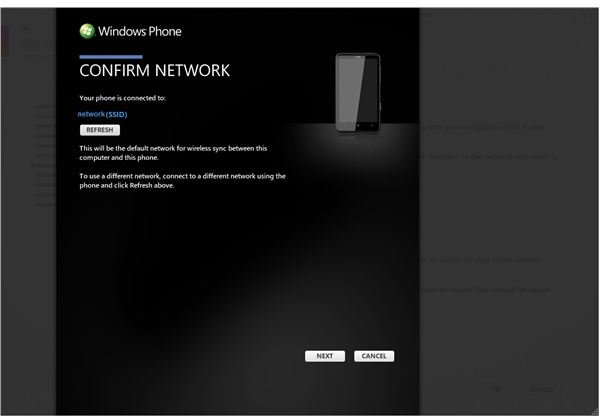 Against the Status notification, click the Refresh button – this should update and tell you that your phone is connected to your wireless network. You should take heed of the notice in the lower portion of this screen, which basically explains that with wireless networking, the media content and data stored on your phone is open to interception if your wireless network is not secured. There are plenty of guides here on Bright Hub that explain how to secure a wireless network.
The next step is to click on the Set Up Wireless Sync button. You will then be taken to the Confirm Network screen, in which you must confirm that your phone is connected to the correct network, which will be the default connection for wireless sync between your Windows Phone 7 and your PC. Click Next to proceed; your Windows Phone 7 will now sync with your PC when within range of your home network (providing it has 10 minutes worth of charge)!
How to Sync Items with Windows Phone 7 Wireless Sync
With the wireless sync configured you no longer need to connect your handset to your PC to transfer items from your phone. Basically if you take a photograph on your phone, the next time the two devices sync, the photo will be moved to your PC!
The really great thing about the wireless sync, however, is the way in which you can drag movies, photos and music to your phone in Zune; the data is sent over the air to your Windows Phone without you even needing to connect, accept or deny!