Best Image Apps for Windows Phone 7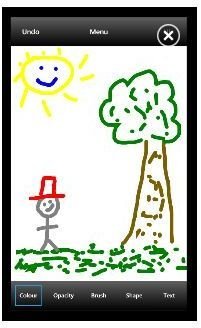 Draw and Edit Images on Your Windows Phone!
Apps for Windows Phone 7 are on the increase, and more and more mobile software is available for drawing and image editing on your new handset.
Whether you're looking for a tool to draw pictures with on your Windows Phone 7 display or something to use to tweak existing images and photos or even change them completely, there are several apps now available in the Windows Phone 7 Marketplace that should meet your needs.
Image Studio
With this cheap app (0.79p in the UK) you can alter elements such as opacity, change the colour of an image and even draw your own pictures using the built-in brushes.
Custom colours can be mixed, text can be entered into an image and you can easily undo your changes.
Available from the Windows Phone 7 Marketplace, Image Studio can be downloaded in a matter of minutes, and as with all apps you can try a demo version before purchasing.
Pictures Lab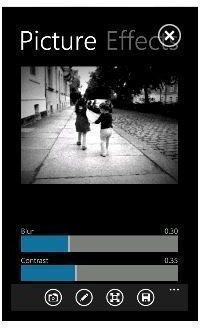 Available for £1.99 in the UK, Pictures Lab is another great way to edit images and comes with 20 effects that can be easily applied to your photos.
All the usual image filters are here, like sepia and black and white, while the full list of filters is displayed with previews of your chosen image in an easy to browse screen, so you can get a good idea of how your chosen photograph will look with a particular filter applied.
As with all Windows Phone 7 apps, Pictures Lab has a free trial version.
Colorize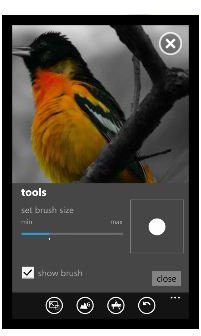 Costing just 99p for the full version, the Colorize app for Windows Phone 7 is a great tool that allows you to convert images to black and white and then add colour to certain objects or sections.
This brilliant app lets you alter the size of the brush in order to select the image portion you wish to recolour with care, and even offers a save facility so that you can return to your Colorize project later on. The trial version of Colorize is fully featured other than the ability to save your changes, so give it a try and let the results speak for themselves!
Thumba Photo Editor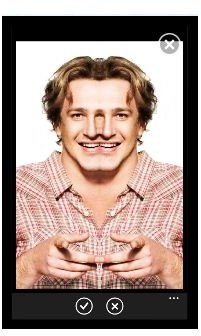 This photo editor fully integrates into the Pictures Hub on Windows Phone 7 and allows you to add adjustments and effects to images with just your fingers. Brightness and contrast can be adjusted, images can be cropped and you can even create "hall of mirrors" style caricatures of your photographic subjects.
Thumba Photo Editor also features a range of filters like sepia and greyscale to give your photos an old-fashioned look, while you can also "airbrush" wrinkles out of photos.
Try this app free on the Marketplace or download the full version for 79p.
Onboard Image Apps for Windows Phone 7
If you use a HTC Windows Phone 7, you'll find an onboard app for editing photos you have taken. Available in the programs list, Photo Enhancer can be used to add filters to your photos.
You might opt to apply some sepia or the decayed look of an old photo from the 19th century to your snaps, or simply improve the contrast in order to get a better overall picture. This is done by selecting from a list of preset filters on the left hand side of the screen, and once you're happy with the outcome you can save a copy of the image.