How to Customize Windows Phone 7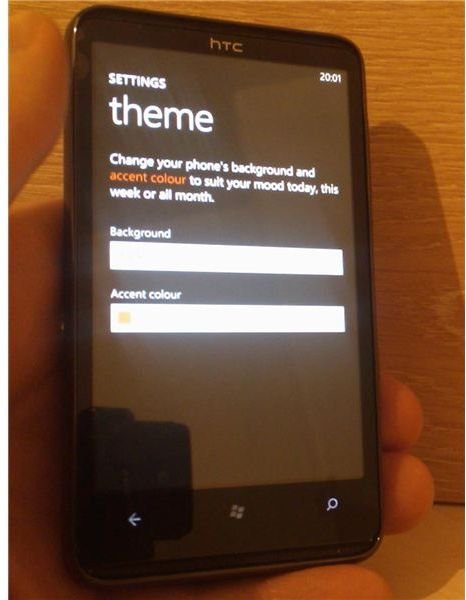 It's Your Windows Phone!
Windows Phone 7 ships with a distinctive tile-based user interface, known as Metro. By sliding your finger left and right on the main screen you can switch between the home screen and the programs list and by scrolling up and down you can see the other tiles on your home screen. Some of these might be programs, or they might be hubs.
However, you can also pin contacts to the home screen, as well as remove hubs and programs. In fact the whole thing is customisable, allowing you to rearrange the entire home screen to look just as you like it.
You can even change the colours of your tiles and background!
Choosing New Start Screen Colours
We'll start with the colours. You might have seen different Windows Phone 7 handsets displaying different coloured tiles and backdrops to your own – for instance the HTC HD7 ships with a white background and light blue tiles, whereas the HTC Surround often appears in online ads with a black background and red tiles. Note that a black background is a little easier on your battery life than a white one.
You can easily change the start screen colours on your own Windows Phone 7 device – to do this, scroll down to your Settings tile or if you don't have this scroll right (or tap the arrow) and in your list of programs find Settings, represented by a cog. Under System, find Theme – here you can choose the background colour (dark or light) and the accent colour (magenta, purple, teal, lime, brown, pink, orange, blue, red, green) for your tiles. Tap your selection and it will be applied!
Customize Your Windows Phone 7 Start Screen Tiles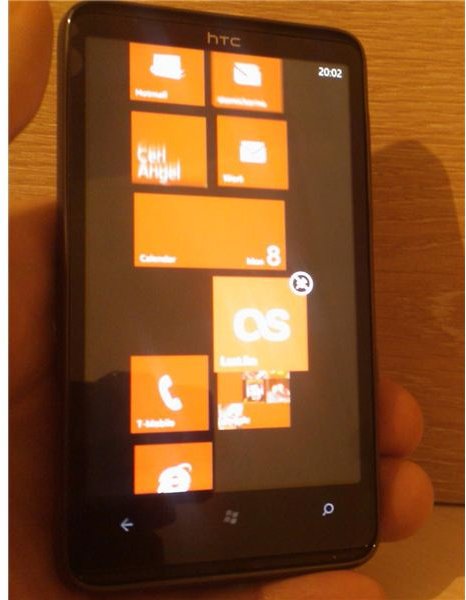 Your start screen tiles can be removed, replaced and rearranged simply by using your finger.
For instance, you want to move the Hotmail tile, simply tap and hold it; the tile will become prominent as other tiles fall into the background, and you will be able to either remove the tile from the start screen by tapping the pin icon in the corner, or you can reposition it by dragging it to another part of the start screen. Wherever you leave it, other tiles will move to make way for the repositioned tile, and you only need to tap once to drop the tile into its new home.
Add a New Windows Phone 7 Start Screen Tile
Adding a tile to your Windows Phone 7 start screen is just as easy, and best demonstrated via the People hub. Under All, find a contact that you might regularly access for telephone or email purposes. Under profile, you will see the menu has three options, Pin, Link and Edit. Use Pin to add this contact to your Windows Phone 7 start screen, and he or she will be listed when you unlock your Windows Phone.
Apps installed on your phone in the programs list can also be added in this way.
So there we have it - 3 easy ways to customize the Windows Phone 7 user interface!
References
Author's own experience.
Images by author.