Guide to Using the Windows Phone 7 Marketplace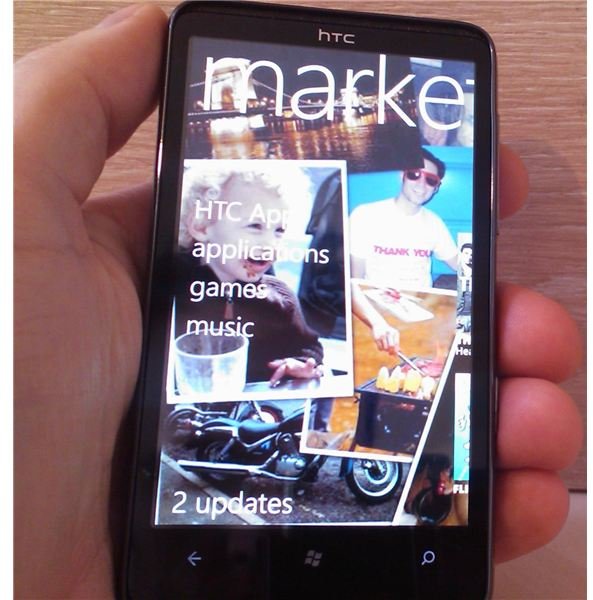 Unleash Windows Phone 7 - Use the Marketplace!
With your new Windows Phone 7 switched on, charged up and connected to the web, you might be thinking about downloading a couple of additional apps – and you can do this exclusively via the Marketplace hub.
Featuring a selection of app types and even music and video, you can easily and efficiently install games, social networking apps and more with just a tap. These apps are downloaded and installed exclusively across the web, which means you can get them wherever you are!
The Windows Phone 7 Marketplace is a new experience for many – even if you're used to online, "over the air" app installation, so let's take a look at how it works…
Accessing and Viewing the Windows Phone 7 Marketplace
Before you start downloading apps for Windows Phone 7, you need to access the Marketplace. This can be found on the home screen, identified by its shopping bag motif (not to mention the "Marketplace" label!)
Opening the Marketplace will reveal an initial choice of applications, games and music, as well as any manufacturer or network apps installed as part of the branding. You can scroll left or right to view the featured apps, games and music, or choose from the initial menu.
This main Marketplace screen will also display what updates are available for apps you already have installed, and these can be quickly and easily updated with a single tap.
Buying Apps in the Windows Phone 7 Marketplace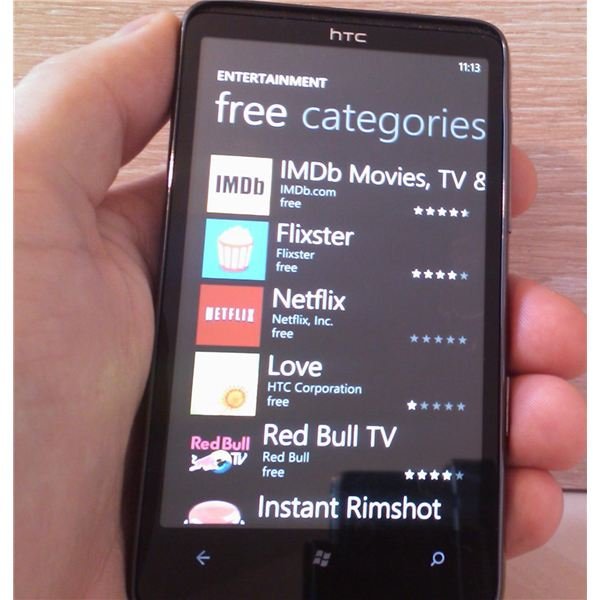 Before you start buying apps, music and games, you need to have your Windows Live account set up and signed into on your Windows Phone. Do this via Settings > Email & Accounts > Add an Account.
Next, from the Home screen go to the Marketplace. In the Applications menu you will see a variety of app categories – choose the one you want and look for a suitable app. For instance, you might go to the Entertainment apps and choose the Free selection, where you will find IMDb. Tap this entry to open it, and check the rating, the summary and even the screenshot. You will see that this app has been designed to integrate visually with Windows Phone 7. If you're unsure, scroll down and read the reviews, then click Install, agree to let the app access your GPS information, and then confirm your purchase. Even free apps will display this screen, although they will of course be listed as zero-priced purchases.
It's a simple app install procedure that is also enjoyable to use.
Downloading Windows Phone 7 Games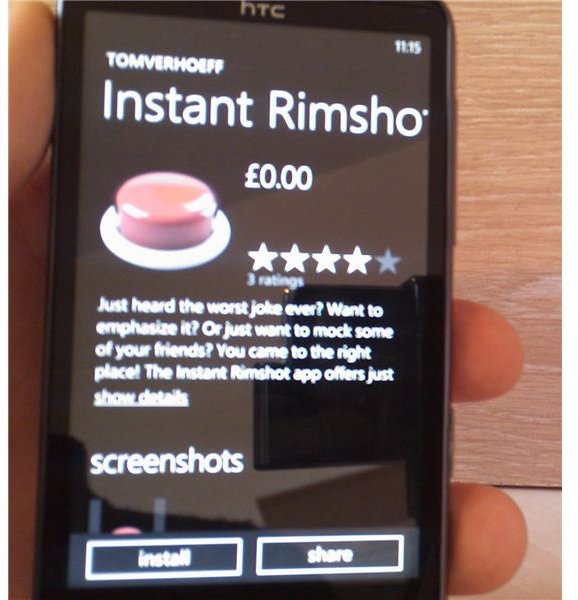 The list of available Games can be viewed either from the Games category in the Marketplace or via Games > Get More Games.
Games can either be downloaded as trial versions to be upgraded to later, or purchased outright from the off. If you don't have a credit card added to your Windows Live account, this can be done over the phone in the web browser.
Downloaded and installed games will not be available in the main program list on your Windows Phone – instead you can access these via the Games hub. If you also have an Xbox LIVE account, your gamerscore and other features will be available via Windows Phone 7!
More and more games are being added on a daily basis - among the selection of currently available games are:
The Sims 3
Monopoly
Star Wars: Battle for Hoth
Tetris
The Harvest
Bejeweled LIVE
Earthworm Jim HD
…and many more. Doing well at these games will also improve your Xbox LIVE gamerscore, which is worth thinking about.
Get Video and Music in the Windows Phone 7 Marketplace
Finally, you can purchase videos and music via the Marketplace, both single tracks and albums, from a variety of genres.
As an example, I selected the Rock genre and under Top Artists found Queen. Tapping the icon, I was able to list all of their available material, either by Albums or by the title of each of their Songs. Short samples of tracks can be checked before purchase using this system, which bears more than a passing resemblance to that used by the Zune media player – indeed, Windows Phone 7 uses the Zune desktop app for syncing.
Which means you don't necessarily have to use the Marketplace for adding music to Windows Phone 7. Using a USB cable and the downloadable Zune app, you can sync your own tunes to Windows Phone 7. An advantage of this is that the PC-side application will detect your favourite tunes and types of music, allowing you to really get the most out of the phone app.