Windows Phone 7 vs iPhone: Advantages of Windows Phone 7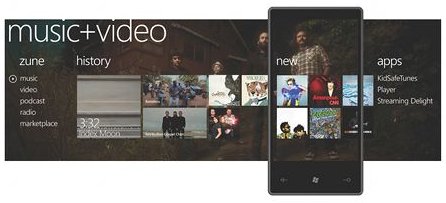 Why Windows Phone 7 Is Better Than iPhone
The iPhone has a several year lead on the new Windows Phone 7, and as such, I think the overall user experience has had the necessary time required to be polished into a fantastic mobile phone experience (check out What's Awesome About the iPhone 4 for details). That having been said, there are a few areas in which Windows Phone 7 really hits a home run. Whether these key experiences are enough to make up for the areas in which the phone is lacking, is a decision that is going to have to be left to the consumer.
Media Hub & Zune Pass
If you have used a Zune HD, you know that the music experience is second to none. One of the awesome tricks of WP7 (Windows Phone 7) is that Microsoft integrated that same Zune experience into the phone. Every WP7 device is also a Zune player. What that also means is that every WP7 is able to interface with Zune Pass, a music subscription service by Microsoft that for $14.99 a month brings you unlimited streaming music. Wherever you have a data connection, you are able to stream from a library of millions of songs. For any music buff, this is a pretty big deal, especially since Apple doesn't offer any first party alternative on their iPhone.
Games Hub & Xbox Live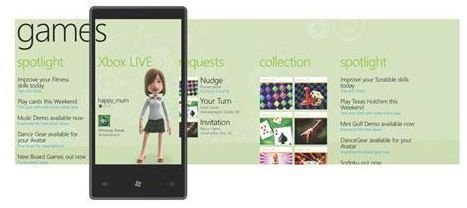 Another area where Microsoft hopes to differentiate itself from the iPhone and other competitors is by offering a very integrated and powerful gaming experience on WP7. In the Games Hub, you can see what your friends are doing, what games they are playing, and their current gamer score. Every game has unlockable achievements, and each game adds to your overall gamer score. For anyone who considers themselves a gamer, the Games Hub and its Xbox Live integration is a huge leap forward in gaming on a mobile phone.
Further, the quality of games already looks fantastic, and offers a lot of promise due to the ease of development. Microsoft has made it easy for any developer who has made a game for Xbox Live Arcade (on Xbox 360) to port their game over to WP7, being able to keep approximately 90% of the same code. As WP7 gains market-share, it is a very realistic that its user base will attract many of these developers to port over their already successful Xbox Live Arcade game to the WP7 platform.
More Options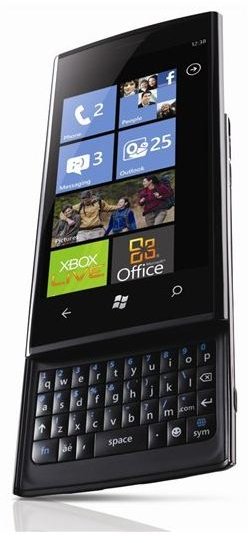 The Apple iPhone is a very nice piece of hardware, but if you want a larger screen or keyboard, forget it. Every iPhone is the same. One of the neat things about WP7 is, like Google's Android, a variety of hardware manufacturers are making smartphones with WP7. Microsoft put together a set of minimum hardware requirements ranging from required buttons, minimum storage, screen resolution, and processor speed; ensuring that the WP7 experience is consistent from device to device, but from there, hardware manufacturers are left to do what they want with the device. Already, Dell has shown one of the slickest keyboard smartphones ever created (Dell Venue Pro), leaving phone nerds everywhere drooling. Other interesting offerings include HTC's phone with a massive slide out speaker (the HTC 7 Surround). Also, just about every smartphone screen size is represented, from the smallest form factor, to the largest screen that they put into phones.
With the iPhone, you have to assume that Steve Jobs knows exactly what you want in a smartphone. On WP7, with nearly a dozen devices already available or announced, you are likely to be able to find the exact form factor and features you want in a phone.
Developers
In a previous article I talk in greater depth about the importance of developers to the success of Windows Phone 7. Likewise, developers take into account the size of a market before they develop an app or game for a platform. Since the iPhone controls a large portion of the smartphone market, Apple has many developers making software for their mobile phone platform. Since Microsoft's WP7 is new to the market, they have to find ways to attract developers. Microsoft understands this, and has made it easy for people to make applications for WP7. The easier it is to develop, the cheaper it is to develop, which means that we will likely see a higher developer to user ratio on WP7 than we see on the iPhone. What this means for the end user is that it won't take long for WP7 to catch up on the quality of apps we already see on the iPhone, and perhaps even surpass them in the near future.