What Windows Phone 7 Apps Are Available?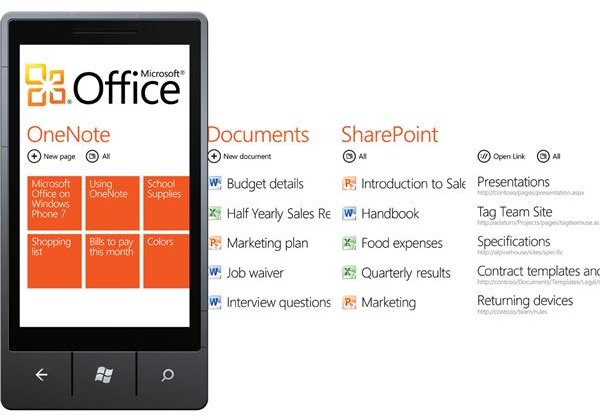 How Many Windows Phone 7 Apps Will Be Available??
1000, 2000… the figure keeps going up and up. Just how many launch day apps will be available for Windows Phone 7?
It is certainly expected to be more than the 60 games that will be available to play standalone on the devices, connected to an Xbox Live account.
However many it is, you can guarantee that all of the usual suspects will be lining up to provide Windows Phone 7 apps for searching, communicating with friends, shopping, visiting the cinema and so on.
We're pretty sure the figure is over 1000. While we don't have space to feature them all right now, let's take a look at some of those must-have Windows Phone 7 apps that we know are going to be available at launch.
Onboard Apps
The Windows Phone 7 apps will be accessible via one of the Hubs, the Windows Marketplace; but you might find yourself never visiting this Hub as there are so many cool apps already on board.
For instance, accessible via the Search button is Bing in both text and voice search guises. This app will deliver the answers you are looking for via a superb Windows Phone 7-styled UI – and the same is true of almost all apps. Web browsing is available via Internet Explorer, while Office apps to blow away those supplied on the iPhone and Android devices come as standard.
As you may already have read, social networking is a key element of Windows Phone 7, with Facebook and Windows Live apps shipping with the phone, all configured to display updates on the Home screen.
(Image from microsoft.com)
Windows Phone 7 Third Party Apps
Along with 60+ games – including launch day releases from EA including The Sims 3 – there are believed to be over 1000 apps available to users of the Windows Phone 7 Marketplace on the day of launch.
Details of the majority of apps are non-existent but Microsoft have enticed some big-name partners to develop apps for their new wonderphone: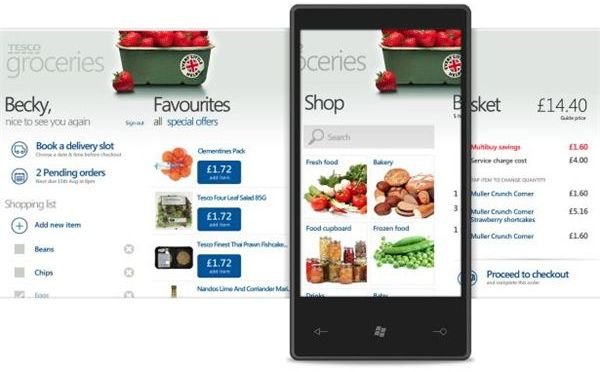 EBay – bid on the go with the Windows Phone 7 eBay app – or just browse auctions and add items to your watch list.
Twitter – this is likely to be one of the most popular downloads on launch day, an official Windows Phone 7 app from Twitter that looks absolutely superb, not to mention just "right" with the UI.
Tesco - UK shopping giant Tesco has already jumped in to allow you to prepare shopping lists and buy favourites with their app (pictured).
(Image from www.pocket-lint.com)
More Windows Phone 7 Apps
IMDb – demoed at the launch event, this is IMDb as you have never seen it before – slick, attractive, usable and not littered with adverts.
Netflix – the T-Mobile HTC HD7 will come with this installed, allowing you to not only order videos but also watch them!
Amazon – seen on Joe Belfiore's demo device at the launch, little is known about this app as he didn't click on it! Expect the usual mobile Amazon fare, all tied into the Windows Phone 7 styling.
Fandango – find movies, watch trailers and book seats with this theatre indexing app.
**
U-verse Mobile ** – available in the USA to AT&T customers is U-verse Mobile, a version of the subscription TV streaming service that even non-subscribers can access for just $9.99 per month via Windows Phone 7.
Slacker – again packaged on the T-Mobile HTC HD7, this is an alternative to paying the monthly Zune Pass subscription. Slacker slots into the Music hub on Windows Phone 7 to offer online radio.
T-Mobile TV – finally, T-Mobile are offering their own streamed TV solution with news, kids and movie channels live and on demand available.
(Image from www.intomobile.com)
More Apps to Come!
There is a big buzz around Windows Phone 7, comparable to that of the iPhone at launch in 2007. Where the biggest names in online services have already tread, others are likely to soon follow.
Clearly a major element of Windows Phone 7's third party app market will be drawn to the Xbox Live integration, but there is plenty of scope for apps that create PDFs, apply filters to your photos, allowing you to make VoIP calls (I'm looking at you, Skype) and all the usual music and online shopping apps.
With Microsoft rumoured to be planning the launch of a small form tablet device running Windows Phone 7, there is set to be a whole new market opening up…