Windows Phone 7 Launch News

News From the Windows Phone 7 Launch Event
The launch of Windows Phone 7 marks a sea-change in mobile operating system user interfaces that goes way beyond Microsoft replacing the aging Windows Mobile.
By developing the futuristic, attractive and beautifully integrated tile-based UI, they haven't just thrown the gauntlet down at Apple. Rather, Microsoft have laid down a challenge to the whole mobile computing industry.
The Windows Phone 7 launch revealed some fascinating information from both sides of the Atlantic, such as confirmation of which networks will be carrying the devices, and who is supplying them – not to mention how much these fantastic new handsets will cost.
The Windows Phone 7 Launch Apps
Kicking off at 9.30am PDT and 2.30pm UK time on Monday, 11th October, the Windows Phone 7 launch event was introduced by Microsoft CEO Steve Ballmer, accompanied by handsets from HTC and others, a personal appearance by AT&T Mobility CEO Ralph de la Vega and Microsoft's own Joe Belfiore, one of the main designers of the new mobile platform.
Covering the new platform's ethos, the launch devices, some of the launch apps and the Windows Phone Hubs, the launch took place in New York before the world's top technology journalists. Microsoft want to make using a mobile phone easier and more personal, and they have built the device around the two phrases:
Always delightful
Wonderfully mine
The almost flawless demonstration by Belfiore revealed these two target phrases are easily achievable; he demoed the act of taking a photo and uploading it to Facebook in around 20 seconds to illustrate his concept of "Pocket to Picture to Post it."
You might have already seen the Xbox Live integration - however the Windows Phone 7 Hubs also include Office, People, Pictures and Music and Video content. There are 1,000 launch apps available, from built-in Facebook integration to a Windows Phone 7 version of The Sims!
Windows Phone 7 Availability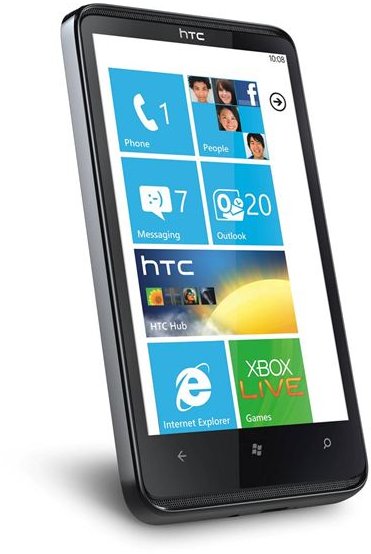 The most important single item of news from the event was the availability schedule. Occurring in two phases, this will include 9 handsets from HTC, Dell, LG and Samsung in North America, where the devices will be available from November 7th on AT&T, with other networks (notably T-Mobile) following later. In total, 60 operators in 30 countries worldwide will be supplying Windows Phone 7 devices.
In the UK and Europe, devices will be available from the earlier date of October 21st. This includes all of the UK's major networks of T-Mobile, Vodafone, Orange, Three and O2, with the latter announcing a territory exclusive on the HTC HD7 from the launch date, available for free on a £40 monthly tariff and a 24 month contract.
Windows Phone 7 on AT&T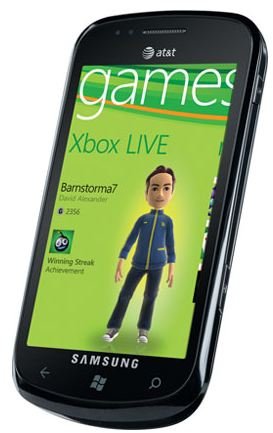 Meanwhile AT&T's selection of three Windows Phone devices should suit all types of user, with one model of "a different kind of phone" from LG, HTC and Samsung:
• Samsung Focus (previously known as the i917 Cetus) – 4" AMOLED screen, 8GB storage, 5MP camera, just 9.9mm thick, released November 8th.
• LG Quantum – 3.5" screen, QWERTY hardware keyboard, 16 GB storage, release date unconfirmed.
• HTC Surround – 3.8" screen, 5 MP camera, 2x Dolby Surround speakers, 16 GB storage, release date unconfirmed.
Each of these devices features the standard minimum hardware spec for a Windows Phone 7 device including the 1Ghz Snapdragon processor, and will be available from AT&T for $199.99.
The Windows Phone User Interface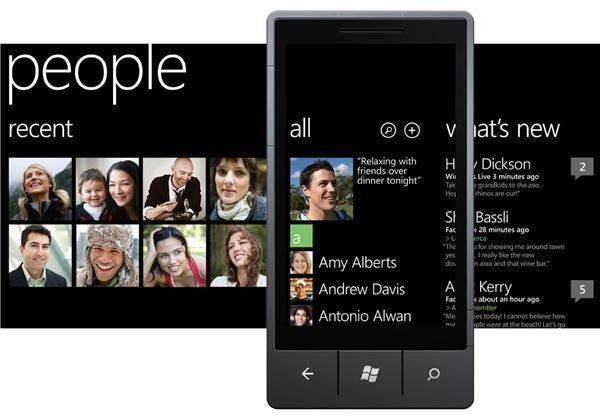 You know those adverts for the Apple iPhone, where some apps are demoed really quickly and the message at the bottom reads "Steps removed and sequence shortened"?
The Windows Phone 7 adverts won't need this – the apps on this platform are so closely integrated that in some cases there aren't even any steps.
Using the tile-based display you can see here, everything slides smoothly to the left and right, with the screens looping around when you reach the end. Live information from various applications such as email, social networking and anything else you use regularly is automatically displayed on the Home screen, with only a single sign in to each of these services required when you setup the device.
What This Means for Mobiles
So – a new mobile platform for a new socially connected age. While the inspired integration of social networking and Xbox LIVE will either make or break the Windows Phone 7 platform from a consumer point of view, there remains the issue of business suitability. As things stand, Windows Mobile 6.5 is still available meaning that businesses can still use that platform – indeed, Microsoft went to the trouble of launching Office Mobile 2010 on Windows Mobile just a few months ago.
Whatever the future business uses of Windows Phone 7, the purpose of this new OS is clear – Microsoft want a slice of the mobile phone and apps market pie, and they've gone all out to deliver the most impressive mobile user interface yet in order to get it.
Samsung believe that Windows Phone 7 will be a "a game changer for Microsoft".
Microsoft hasn't changed the game with Windows Phone 7 – they've started a new one.