Windows Mobile - Web Comic Reader Mobi App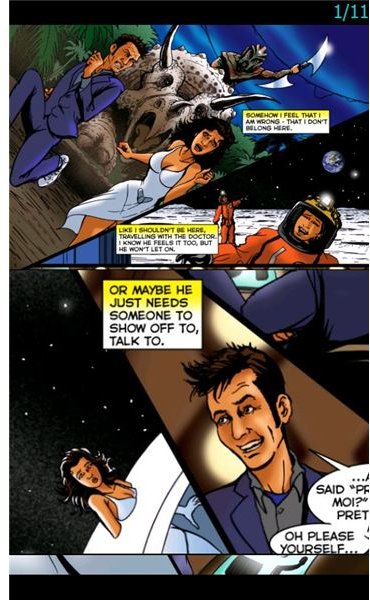 Windows Mobile Web Comic Reader
One of the most interesting developments in use of mobile phones is the need to use a mobile device to read digital versions of comic books. Whether a web comic or a legal digital version of a mainstream title, there has been an explosion in demand for such material – and phone app developers have delivered.
The majority of comic book reading apps seem to be available only for Android and iPhone – however Comic Reader Mobi is available across all main mobile platforms, and makes a great Windows Mobile web comic reader.
Capable of handling a range of file formats and featuring a unique zoom feature, Comic Reader Mobi should be the first choice for any Windows Mobile user intending to read comics on the go.
Text Zoom Functionality
If you've used Windows Mobile web comic readers before, or viewed a comic on another device, you'll probably know that there is a tricky aspect to reading comics on a mobile screen that is smaller than the printed page.
Many web comic reading apps deal with this issue by breaking up the frames of the comic strip into individual images – however this can disrupt the pace of a comic. Often comic book artists dictate the pace, urgency and atmosphere of the story by arranging the various frames in a certain way – breaking these frames up detracts from this intention.
Comic Reader Mobi handles things a little differently. Believing that the main problem with web comics isn't the small images but the small text bubbles, the developer has introduced a way to magnify speech bubbles and captions, with great results. You can also drag a square around areas and frames that you want to zoom into.
Using Comic Reader Mobi
Available for €9.99 ($13.50 or £9.00) from comicreader.mobi, this app is a perfect use of touchscreen Windows Mobile devices – in fact its only downside is that it is more suited for these than the Widows Mobile Smartphone (read non-touchscreen) devices.
The touch interface allows you to change pages either by swiping your finger across the screen, or using the page arrows, while text sensitivity can be adjusted and optimized for comics in color and black and white.
Onscreen controls can be used or they can be hidden, while there is also the ability to lock the app to whichever screen rotation you prefer.
Multiple File Support (4 out of 5)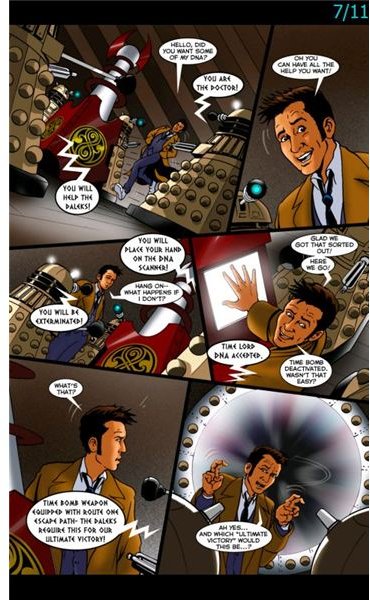 Using Comic Reader Mobi requires you to have a comic strip in digital format to read. Whether you're using .RAR, .ZIP, directories of images, or even the common .CBR or .CBZ comic book reader formats, Comic Reader Mobi provides support for each of these, and your digital comic book of choice can be quickly opened using the file browser tool on the menu.
Comic Reader Mobi is one of the few Windows Mobile apps I would recommend purchasing – it really is as good as the description suggests. A video on the apps website (on the Lens tab) gives a video demo of the tool, while there is also an online demo you can try.