Windows Mobile Applications For FTP File Transfer Protocol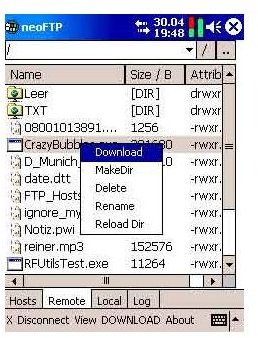 File Transfer with Windows Mobile
Windows Mobile applications come in all sorts of shapes and sizes, from RPG games to Twitter apps, blogging tools and even FTP.
Although FTP might not be the most obvious use for a Windows Mobile device (after all, the screen can be very small, many users don't like the stylus, etc) there are several applications that allow file transfer via this method.
FTP stands for File Transfer Protocol and is the primary method of uploading files to a webserver by the website manager. Although used for many other purposes, this primary use for FTP means that it is unlikely to be replaced in the foreseeable future.
Reasons for Windows Mobile FTP
There are a number of situations in which you might it necessary to use FTP Windows Mobile applications:
• To connect to a remote server for standard work-related file retrieval.
• Similarly you might wish to use the protocol to connect to your own web server in order to make a vital change.
• Finally, you might be browsing the web on your Windows Mobile device and require a file that is listed for download. However as it only available via the FTP method, your mobile browser is unsuitable.
Admittedly, the majority of cases when FTP access would be required via your Windows Mobile would probably see you working outside of your home country, or certainly away from a PC, laptop or netbook. However the possibility is still there – and thankfully there is suitable software.
FTP – A List of Suitable Windows Mobile Applications
The following Windows Mobile FTP clients can be used on either Windows Mobile 5 or 6. Some can be used on older versions, and all listed here are open source or freeware.
Total Commander - Possibly the most popular Windows Mobile FTP client, Total Commander offers more than just FTP, as its true purpose is file management. It features file comparison, tabbed interface and two-pane view.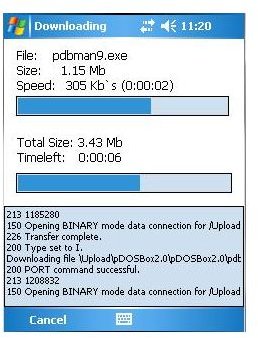 Neo FTP - This open source FTP client can be used in conjunction with other apps from the neoTools series (also available from the same site) and offers straightforward FTP, with a tabbed interface to switch between local and remote computers.
Orneta FTP - If you're looking to transfer files in as few clicks as possible, Orneta FTP has an elegant interface that will allow you to do just that. The developers also claim that this is future proof (unlike many Windows Mobile applications) – it is designed to work on any interface and screen resolution found on a Windows Mobile phone.
Mobile FTP Client - Of all of these FTP Windows Mobile applications, Mobile FTP Client is the one that is most like a desktop application. Featuring a site manager (for storing credentials for multiple FTP accounts), passive and active connection types and multiple file transfer, this app is also a very small 200KB.
Free FTP Client - Offering drag and drop and copy and paste, the beautifully named Free FTP Client also allows users to CHMOD files and directories on the remote server.
Although you might have successfully installed your FTP client, keep in mind the fact that your mobile network might not accept connections to be established using the method. As such Windows Mobile FTP might be restricted to WiFi connections only.