Zip Windows Mobile Smartphone Files And Folders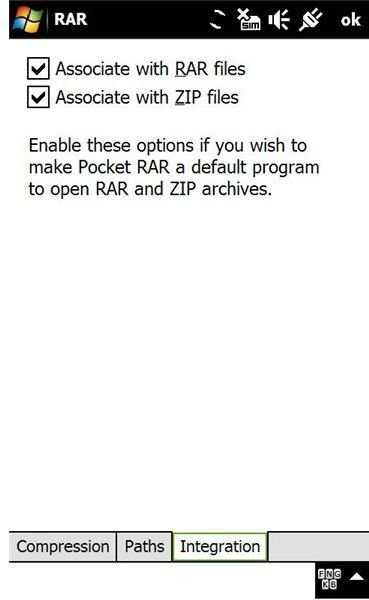 Quick and Easy Windows Mobile Zip Archives
If you're using your Windows Mobile phone for managing documents or general data, you might find it useful to be able to zip and unzip files.
This might be because you want to compress some files for opening on your mobile device, have received a file via email that you wish to read, or alternatively you might wish to create a zip file from data stored on your Windows Mobile Phone.
Follow this guide in order to find out how to both unzip and zip Windows Mobile smartphone documents.
Use WinRAR
There are several zip solutions available to Windows Mobile users – chief among these, however, is the mobile version of WinRAR.
Other solutions such as HandyZIP, HTC Zip Compress and EzyUnZIP each have their advantages and disadvantages – however Pocket RAR offers the widest level of functionality, support for different zip formats and will work with both touchscreen and hardware interface Windows Mobile devices.
Available as freeware, you can download Pocket RAR 3.92 from Softpedia. The download file is in .EXE format – as a result you will need to install the software while your Windows Mobile device is synced to your computer via Activesync or Windows Mobile Device Center.
Zip Windows Mobile Smartphone Files and Folders
In order to use Pocket RAR to zip Windows Mobile smartphone documents, you will need to run the application on your mobile device.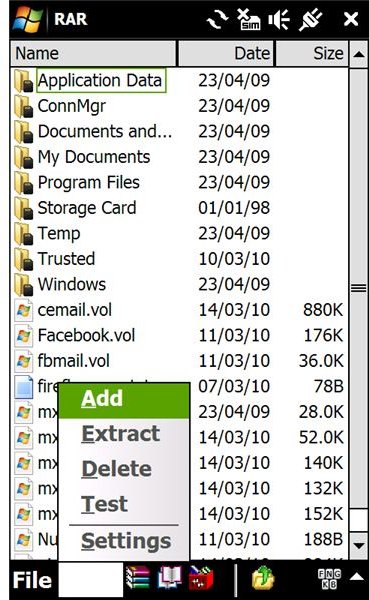 When run for the first time, Pocket RAR will display the Settings screen, with three tabs, Compression, Paths and Integration.
Compression allows you to decide on whether you will use the RAR or ZIP compression format, as well as the strength of compression – Best, Good, Normal, Fast, Fastest and Store are the options here.
Paths can be used to set default folders for extraction, newly created archives and even a folder for temporary files.
Integration allows you to set Pocket RAR as the default program to open RAR and ZIP archives.
To zip a file, browse your phone within the Pocket RAR interface until you find the file(s) you require. Next, go to Tools > Add or click the Archive button (a pile of three books, the usual WinRAR icon) – you will be taken to a new view that will allow you to name, set the compression type, apply a password and browse to the location you wish to save the new RAR or ZIP archive. Click OK to create the new zip file.
Unzip Windows Mobile Smartphone Documents
You might also wish to unzip Windows Mobile smartphone documents – this can be done by browsing the mobile device in File Explorer to find the archive in question. Select the archive to run Pocket RAR, and with the compressed file selected, go to Tools > Extract. In the following screen, you can set a new Filename, before proceeding to select the Destination folder. Click OK to extract the file.
As well as RAR and ZIP formats, Pocket RAR also supports 7z and .TAR compressed archives.