How To Determine the Version Of Windows Mobile On Your Device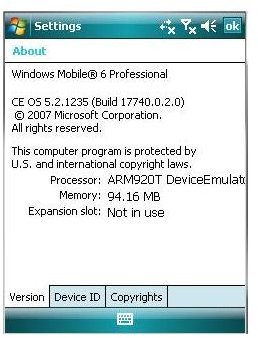 Which Version are You On?
There are many different versions of Windows Mobile. Since the mobile operating system was introduced by Microsoft in 2000, it has gone through several reiterations, and further development is planned in the shape of Windows Phone 7 Series.
A lot of Windows Mobile software is tied to a particular version of the operating system – for instance I use a Twitter app on my phone that I can only successfully and reliably run under Windows Mobil e 6.5.
While app developers want as wide an audience for their apps as possible, hardware requirements and developments to the .net framework (used by developers to give their apps access to a Windows Mobile device controls, sound and display) as well as changes in technology since the first Windows Mobile devices have resulted in a good deal of software being compatible with only a narrow segment of the various versions of Microsoft's operating system.
Windows Mobile Variants
After the release of Pocket PC 2000 and Pocket PC 2002 – operating systems for devices that usually didn't have any phone capabilities – Microsoft released Windows Mobile 2003.
Several editions were available, with two editions for Pocket PCs and two for Windows Mobile capable phone devices, as follows:
Windows Mobile 2003 for Pocket PC Premium Edition
Windows Mobile 2003 for Pocket PC Professional Edition
Windows Mobile 2003 for Smartphone
Windows Mobile 2003 for Pocket PC Phone Edition
Over time, Windows Mobile would be streamlined into fewer versions.
Windows Mobile 5 was released in 2005, was the first to offer push email functionality (via a direct MS Exchange connection, similar to BlackBerry) and also offered new versions of Office Mobile and Windows Media Player, as well as general hardware support such as GPS, Bluetooth, etc.
In 2007, Windows Mobile 6 was released in three versions:
Windows Mobile 6 Professional
Windows Mobile 6 Standard – a version for non touchscreen devices (categorised by Microsoft as smartphones
Windows Mobile 6 Classic for Pocket PCs – with no phone capability, this version was purely for handheld devices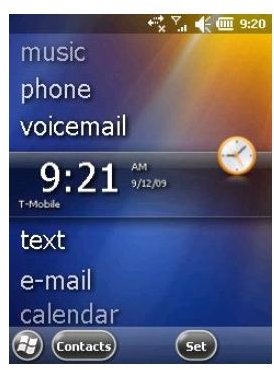 Following the release of Windows Mobile 6, various upgrade versions have been released:
Windows Mobile 6.1
Windows Mobile 6.5
Windows Mobile 6.5.1
Windows Mobile 6.5.3
Windows Mobile 6.5.5
The release of Windows Phone 7 Series will mean a brand new operating system with virtually zero backwards compatibility. However as a result of Microsoft's hardware specification, it is uinlikely that any current phone will be upgradable to Windows Phone 7 – as such it seems that Windows Mobile 6 will be around for a long time to come.
How To Determine Your Version of Windows Mobile
Note that depending on your Windows Mobile version and any user interface enhancements (TouchFLO 3D, Spb Mobile Shell, etc) the following instruction may not be accurate.
By default, you can determine version of Windows Mobile by going to Start > Settings > System > About.
Here you will see a screen with three tabs – the first includes the Version, the second your Device ID and the third a list of Copyrights.
The Version tab displays your Windows Mobile version, as well as the build of Windows CE used to develop it. This tab will also display the device processor type and memory size.
You can also set your own Device ID, by opening the tab and inputting text into the Device name field.