Windows Mobile Marketplace Software Apps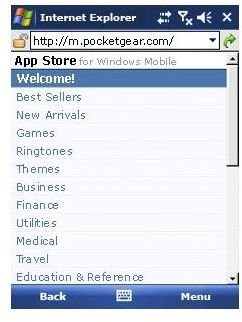 Windows Mobile Marketplace Apps
iPhone, Android, and WebOS for the Palm Pre phones all have one thing in common: an easily accessible online software repository.
The term "appstore" has become synonymous with any managed online resource of applications, both free and premium, that can be downloaded and automatically installed to mobile devices.
For several years Windows Mobile has been playing catch-up, but this all changed with the arrival of Windows Marketplace for Mobile. However due to some strict controls on software that can be included in the marketplace, other online repositories, accessible via a single mobile app, have sprung up.
Both PocketGear and FreewarePocketPC supply a wealth of applications and games for Windows Mobile phones and act as competitors to the official Microsoft Windows Mobile Marketplace.
Appstore for Windows Mobile
PocketGear.com boasts the world's largest supply of mobile software and provides apps to users of Symbian, Palm, Android, and BlackBerry phones as well as Windows Mobile.
Their Windows Mobile marketplace app is an Appstore for Windows Mobile which provides access to 2,500 apps and is available to over 950 Windows Mobile devices.
Available via appstore.pocketgear.com/winmo, the Pocketgear appstore is available as a freeware tool, although note that many of the apps available when using it might premium software.
Appstore for Windows Mobile can be difficult to use, however. Rather than being a standalone app, it combines an installation manager with Internet Explorer Mobile, a less than satisfactory solution, but given the wealth of applications on offer many users opt to use this Windows Mobile marketplace.
OpnMarket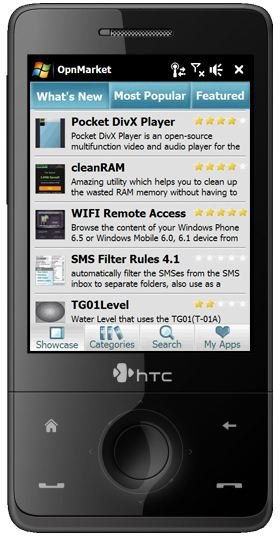 pnMarket is compatible with most Windows Mobile devices with touchscreens, and allows you to browse and download apps and updates via your WiFi or mobile network connection.
All that is required to use this Windows Mobile marketplace app is a username and password to www.freewarepocketpc.net, the massive website that offers the largest supply of freeware Windows Mobile apps online.
OpnMarket is essentially a way of easily accessing www.freewarepocketpc.net from your Windows Mobile phone. Thousands of free applications are available, making this a much better choice than the PocketGear marketplace if free software is your preference.
Download OpnMarket for free from www.freewarepocketpc.net/opnmarket.
The Official Windows Mobile Marketplace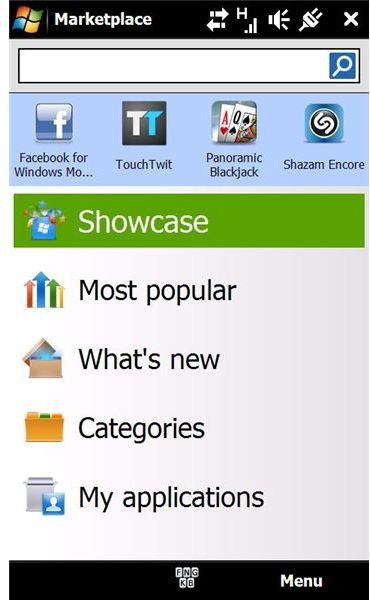 Seemingly behind the game, Microsoft released Windows Marketplace for Mobile in 2009 for use on Windows Mobile 6.5 devices (although 6.0 and 6.1 are also now supported).
Microsoft's answer to the Apple iPhone Appstore is quick and simple to use, managing software downloads and installation. However it isn't as secure as Microsoft would hope it to be. Downloaded files can easily be picked up from the Windows Phone file structure and redistributed, resulting in premium software being passed on for free or even resold. However, free applications such as Facebook are also available, with some developers happy to supply ad-supported apps through the Marketplace.
The release of Windows Phone 7 Series in late 2010 is likely to see a change to the Windows Mobile marketplace. Early indicators are that the new mobile OS isn't backwards compatible, rendering almost all applications unusable on the new operating system.
Windows Mobile 6.5 users should find Marketplace for Windows Mobile on their phones. Windows Mobile 6.0 and 6.1 users should visit microsoft.com/windowsmobile to get started.