Windows Mobile Forum And Website Review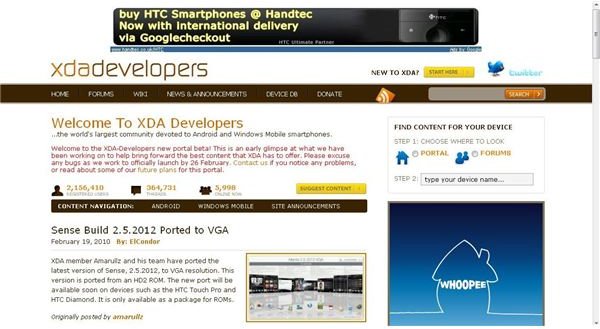 Number 1 Windows Mobile Website
As the owner of a Windows Mobile phone, you might feel as though you're slightly alone. Despite the operating system shipping on two million handsets in 2008, other Windows Mobile users can be hard to find, with the result that several communities have formed online.
While almost all of these communities are great places to chat and discuss Windows Mobile phones, applications and versions of the operating system– not to mention the possibilities of Windows Phone 7 Series– they all play second fiddle to the ultimate Windows Mobile website, XDA-Developers.com.
With over two million registered users and over 5,000 online at any one time, XDA-Developers .com is the biggest Windows Mobile forum on the web, and is a great place to get news and information about the platform, not to mention the latest apps and custom versions of Windows Mobile.
Windows Mobile Portal
Visiting www.xda-developers.com, the first thing you will notice is the portal page. This is a new development at XDA-Developers.com, and is used to highlight some of the more interesting content within the forums.
The purpose of XDA-Developers.com is one of cooperation. New and veteran developers get the chance to create new apps and share them with the community, utilizing feedback to improve their concepts. Completed and well-developed projects appear on the portal news pages, alerting visitors to these new developments.
Featuring news and announcements, access to the XDA-Developers.com Wiki and the forum, and a powerful search tool that displays content from the portal, the real bones of the Windows Mobile website is the community forum.
Windows Mobile Forum
The great thing about XDA-Developers.com is the open attitude towards community. You don't have to sign up as a member to read the posts, although a free login is required to download apps and view screenshots.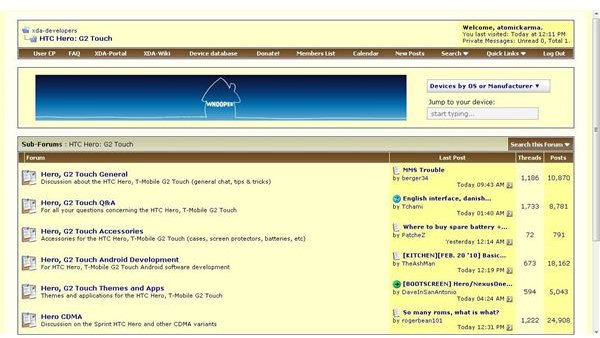 The real benefit of this community is its attitude to cross-compatibility and acceptance of the multitude of devices running Windows Mobile.
While the majority of posts surround the HTC manufactured devices (for example the HTC HD2 or the HTC Diamond) there are also sub-forums dedicated to Windows Mobile phones made by Toshiba, Samsung, Acer, Song Ericsson and others.
A typical sub-forum will include a General board for discussion about the particular phone and perhaps the community itself, a board to discuss accessories for the phone in question, a board discussing – and often previewing and making available for download – applications and themes for that specific Windows Mobile phone, and finally a board featuring downloads to custom-developed versions (known as ROMs) of Windows Mobile specifically for that model of device.
Download Applications and ROMs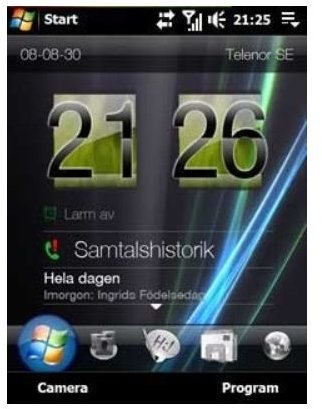 Naturally, the boards offering free downloads are the most popular; some of the creations in these areas are amazing. For instance thanks to the work of experts on XDA-Developers.com the HTC-developed TouchFLO 3D has been ported to devices upon which it was never intended to be used. Windows Mobile 6.5 has similarly been ported to other devices, while the new Sense UI from HTC has also been adapted for use on Windows Mobile phones that don't ship with it installed.
One word of warning – a visit to XDA-Developers.com can take over your life. Screenshots accompany all application and ROM downloads and for fans of Windows Mobile it really is like being a kid in a candy store, with enhancements and new features all ready and waiting to be tried out!
If you're a fan of the platform, you cannot miss the Windows Mobile forum at www.xda-developers.com!