Windows Mobile Media Player Explained - Building The Library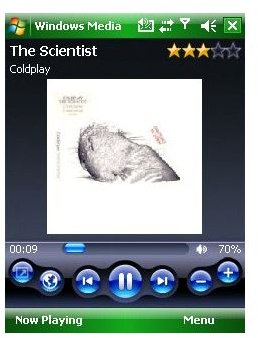 Get the Most out of Windows Mobile Media Player
Windows Mobile phones come with a very useful media player app –Mobile Media Player, a mini version of the desktop media player found on Windows desktops.
With its Media Player 10 style skin and button design, Windows Mobile Media Player looks like a piece of your Windows desktop shrunk down and running on your Windows Phone– in fact the current version is known as Media Player Mobile 10.
Capable of playing different audio and video files, Windows Mobile Media Player utilizes a library "database" of media on your Windows Phone, enabling it to immediately access all of your content whenever you select it.
While not suitable for all Windows Mobile devices, users running Windows Mobile 6 and later should be able to experience the benefits of a useful media player that makes the most of the onboard sound reproduction hardware and software.
Organize Your Library
To get the most out of Windows Mobile Media Player, you should organize your media library. The most effective indexing by the media player is enabled by organizing your media files on your phone in a sensible manner.
You should spend some time setting up folders on your Windows Mobile phone or expansion card, and even if you've already got music and video on the card, you should name and arrange folders accurately. The reason for this is simple– MP3 files don't always feature the full set of data that Windows Mobile Media Player needs to correctly index them, and by spending time organizing your data (particularly your music files) you can quickly find the tracks you want by browsing if the library can't read them.
To update the library, go to Menu → Library → Update Library…
Play Music
Windows Mobile Media Player is designed to play back audio from a variety of file formats – most commonly you will want to listen to MP3 or WAV files, but the software also supports the lossless WMA (Windows Media Audio) format.
To play a tune, first of all open Windows Mobile Media Player. You can choose either tunes from the Library or use the Menu → Open File option to browse your phone for music files. The benefit of this method is that Windows Mobile Media Player will let you select folders as well as individual tracks, allowing you to easily select entire albums. To listen to a track, simply press the white triangular Play icon.
With the Library populated with all of the media content on your phone, you can also select tracks based on genre, artist name, and album, and also choose pre-selected playlists of your favorite tunes.
Play Videos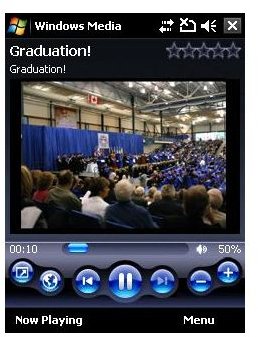 Video files can also be played, so if you've got a good sized display on your Windows Phone you can potentially enjoy some TV or movie catch-up thanks to Windows Mobile Media Player.
To open video files, you can access them directly from the media player library or browse for them, as explained above.
When using the video playback on Windows Mobile Media Player, you can utilize the full size of your display, in much the same way as you would on your desktop media player, using the "full screen" button on the far left. Via Menu → Options you can also set video clips to playback in full screen mode as a default mode.
A drawback with Media Player Mobile video and audio playback is the lack of compatibility with a wider selection of file formats. Some MPEG 4 files will playback, depending on the codecs used; similarly new audio formats such as FLAC are not supported, resulting in many Windows Mobile users dropping Media Player Mobile in favor of alternatives such as TCPMP.
Other Features and the Future of Windows Mobile Media Player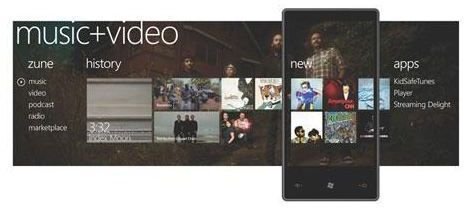 Windows Mobile Media Player also features the usual back and forward skip controls, a pause button, and volume controls. A progress bar also illustrates how far through a track you are– this can usually be moved back and forth to skip within a video or audio track.
Using the Menu you can also Open URL – this has traditionally been used to open online music and video streams, but sadly has been largely made redundant thanks to the development of YouTube and custom media formats and protocols by large broadcasters.
Future versions of Windows Mobile Media Player look set to be more integrated into the operating system. Preview images of Windows Phone 7 Series - the new name for Windows Mobile - have revealed an interface similar to Microsoft's Zune HD media player. This new approach to Media Player Mobile will need to allow compatibility with a wider selection of media formats and include more codecs than the current version if it is to be seen as a success, however.