How To Setup Windows 7 Sync With Windows Mobile - Installing Windows Mobile Device Center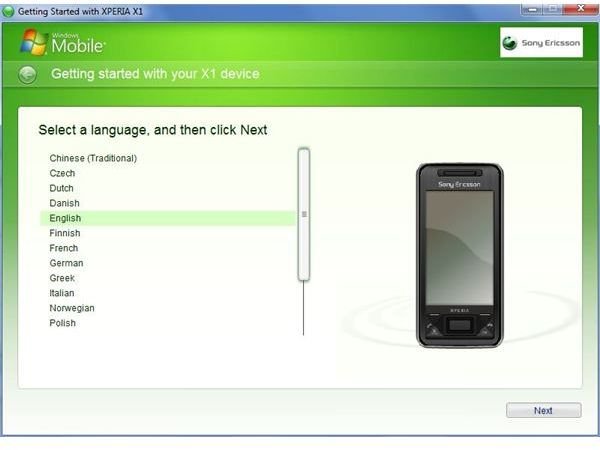 Sync Data with Windows 7
Getting the most out of Windows 7 and a Windows Mobile Phone device requires installation of Windows Mobile Device Center. This is a relatively new application from Microsoft that replaces ActiveSync. With superior error and duplicate detection, Windows Mobile Device Center is specifically designed for use with Windows Mobile 6 and later devices.
You can setup a Windows 7 sync with Windows Mobile once the Windows Mobile Device Center (WMDC) has been installed – it is available from two locations:
• Your Windows Mobile 6 or later driver CD ROM
• From www.microsoft.com/windowsmobile – a valid copy of Windows 7 is required.
(Note that Windows Mobile 6 devices that shipped before Windows 7 was released can use the WMDC designed for Windows Vista.)
Just like ActiveSync on Windows XP and 2000 PCs, Windows Mobile Device Center will also let you share, copy, paste and browse files on your Windows Phone.
Installing Windows Mobile Device Center
Setting up Windows Mobile Device Center can take longer than the similar ActiveSync on Windows 2000 and XP.
Before running the installer file (either via CD ROM or downloaded from the Microsoft site) ensure that your Windows Phone is not connected. Also ensure all other applications are closed, particularly Microsoft Outlook. Installation of WMDC requires little more than specifying a location and agreeing to the usual legal agreements.
Once the application has installed fully, restart your PC – following your login to Windows 7, connect your Windows Mobile device via USB (USB is preferred, however if you have Bluetooth on your PC and phone you can certainly use this connection option). The drivers installed with Windows Mobile Device Center will now allow for your Windows Phone to be setup for use with WMDC.
Once your phone is installed and detected by Windows Mobile Device Center, it is time to set up the synchronization.
WMDC should detect what phone you are using as well as display a single menu option – Mobile Device Settings. Further menu options appear following a successful sync. This might take a bit of time, depending on the data on your phone, the data on your PC and the type of connection you have used.
Setting Up a Windows 7 Sync with Windows Mobile
When you click on Mobile Device Settings, the Windows Mobile Device Center begins the process of setting up a relationship between your phone and Windows 7. For this it initially requires you to give your Windows Phone a name so that you can recognize it in WMDC.
After this, it is time to check your sync settings.
By default, Windows Mobile Device Center will attempt to sync Contacts, Calendar information, Emails, Tasks, Notes, Mobile Favourites, Files and if installed Microsoft Office OneNote files.
As you can see, a considerable amount of data can potentially be transferred in a Windows 7 sync with Windows Mobile – as a result it is probably safer to clear the check boxes for Email and Files when setting up an initial sync.
Similarly, the Sync Settings link under each object to be synchronized can allow you to choose whether or not to sync data already on your phone that has been put there by a different computer. The less data involved in the first sync, the better, so you may choose to only sync one set of data.
Other Windows Mobile Device Center Tasks
The Windows Mobile Device Center is also designed to assist in the easy transfer of music, photos and videos from your Windows Phone to your PC, as well as manage software installed on your phone, while you can browse the contents of your handset via the File Management button.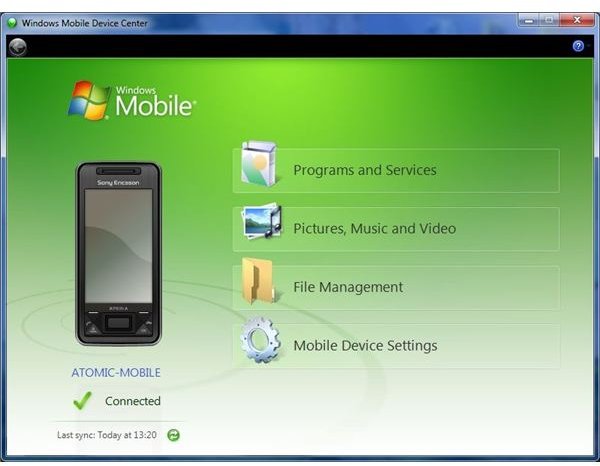 To transfer photos, music or videos from your Windows Mobile device, go to Pictures, Music and Video and select Import Settings. In this screen, you can choose where Windows Mobile Device Center will save your media to – all content has to go to the same location, so My Documents on your Windows 7 PC is a good choice.
You can also choose how to label the files on your PC, and whether to retain the same file structure – useful in the event of duplicate filenames. Use the Import pictures/video from your device link to import visual content to Windows 7.
Adding music to Windows Mobile devices via Windows Mobile Device Center can be done by using the Add media to your device from Windows Media Player menu item – however all this really does is launch Windows Media Player for you to drag MP3 files to the Sync tab in that app and you can do this without Windows Mobile Device Center.