Freeware Google Maps Windows Mobile App - GPS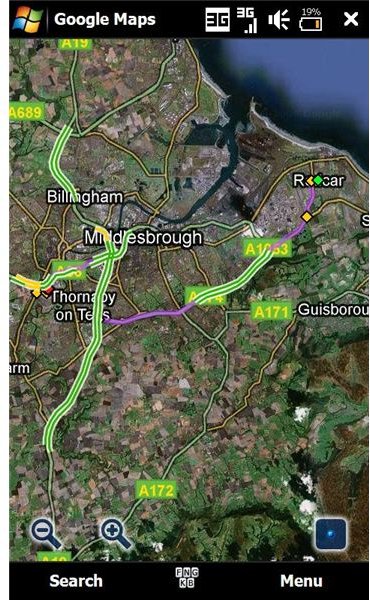 Get Moving with Google Maps!
Google Maps is a great online service from the popular search engine company, allowing you to plan journeys, see satellite views of most areas and even show you how many pools your neighbor has!
There are various mobile versions of the tool, and recently a new version of Google Maps Windows Mobile has been released – this update to the app allows you to sign in to your Google account, thereby sharing starred items, while the satellite and map views are also available.
If you have GPS on your phone, you can take advantage of Google Maps - otherwise while the refresh rate depends on your phones Internet connection (often resulting in a low refresh rate) this mobile app is nevertheless very useful indeed and can be employed effectively for use on foot or cycling.
Using Google Maps Windows Mobile
Available from cnet.com, Google Maps is of course free to use. Once downloaded and installed onto your Windows Phone, you can engage in almost all of the usual Google Maps activities:
Get Directions
Search
Latitude
View Starred Items
There are also many of the same options, such as hiding and revealing various Layers such as Traffic information. Google Maps Windows Mobile also supports GPS.
All of these options are available via the Menu, where you can also change between Satellite View and Map View.
The main use for Google Maps Windows Mobile however is more than likely to be Get Directions…
GPS on Google Maps Windows Mobile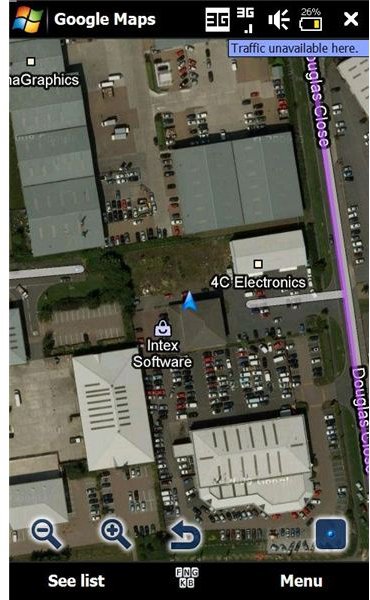 One advantage of using the Google Maps Windows Mobile version is the added support of GPS, which you wouldn't expect to receive on your desktop.
As long as your Windows Phone comes with onboard GPS (or you have an external GPS device that you can connect) you can take advantage of this via Menu > Options > GPS. If you experience any problems using this, you will find that opening mobile Internet Explorer and going to Menu > Tools > Options > Browsing History, highlighting Cookies and selecting Clear will rule out any old data causing any problems with this.
Using GPS, the Traffic layer offers more up to date information than when using Google Maps with the standard Internet connection, although it isn't quite a replacement for TomTom or any other dedicated GPS app.
Get Directions on Google Maps for Windows Mobile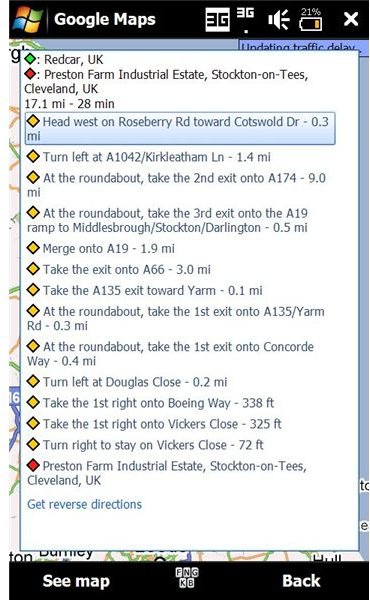 Getting directions to from a location on Google Maps is as simple on the Windows Phone version as it is from your desktop browser.
From the Menu, go to Get Directions. You'll be prompted to enter a Start Point and an End Point. You'll also notice that you can select the search to be conducted for a journey by Car, Public Transit and Walking – simply select the relevant tab either by pushing your D-pad left or right or tapping with a stylus.
To enter a Start Point, tap or select the button – you will then be asked to Enter an address. This can be a town, city, postal or zip code or even a full address. Alternatively you can Select a point on the map. This might require you to use the + and – zoom buttons to get a better view, while you can scroll around the map using your finger or stylus.
Once you have entered your Start Point, select OK and repeat the process for your End Point. Click Show directions for Google Maps to display to you the full route required, and click See map to see a highlighted path of the journey.
Other Tools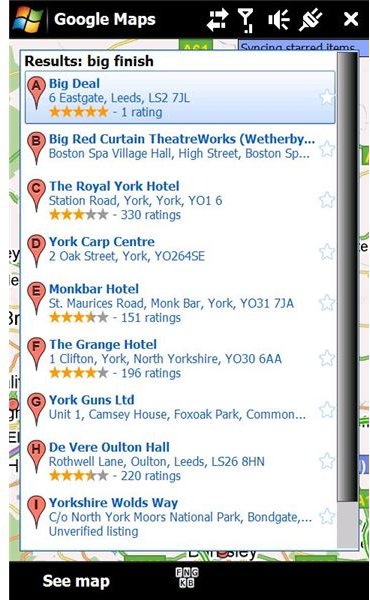 Google Maps Windows Mobile also provides other dynamic features providing you with almost instant information. One of these is the familiar Search function – accessible from the Menu, you can Search the map for businesses, areas of interest, etc simply by entering the name of the name of the company or place you're interested in.
Results are displayed on the map as red dots for you to tap and investigate, while you can tap See list to provide full details of the highlighted location such as the address or for example if you're searching for a hotel, the star rating will be displayed.
Of course, this is a Google search, and you can investigate the results even further. Select one of the search results to see images or reviews of the location, or even visit its website.
There's lots you can do with Google Maps for Windows Mobile!