ClearTemp: How to Delete Temporary Files and Unused Registry Keys on Your Windows Mobile Phone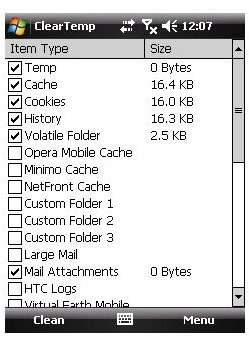 What is ClearTemp and how does it work?
As the name implies, ClearTemp is basically used to clear temporary files from your Windows Mobile Smartphone. Apart from this, it can also be used to delete unnecessary and unused registry keys and values on your system. While using your mobile phone, you're probably unaware about accumulation of these files until one day you discover that your WinMo system has become sluggish and simply refuses to work at its maximum ability. This issue might even lead to system crash if not dealt with on time.
ClearTemp is developed by Vicott Wong and also allows you to delete recently used program lists along with Internet address history. It even clears your boot counter and if you feel your system memory is being utilized too much, you can also change the location of temporary folders like a cache history and cookies to your storage card. You can also add any custom folder that you think needs cleaned up to the application and get rid of all unwanted files on that folder.
Installing ClearTemp on your Windows Mobile phone is an easy job and you just have to download the setup file on the storage card of your device and run it by going to the Windows file explorer.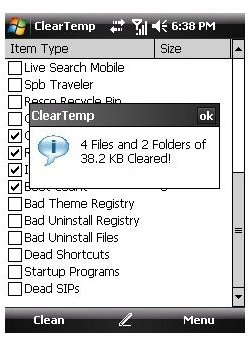 Once the application is installed, you can browse to the tools menu and select the folders you want to clean. Now you can simply press the 'Clean' button to start the cleanup process. For changing the location of the temporary files you just have to go to the options menu and select the location from the drop-down list.
You will find a 'MRU Cleaner' option in the settings menu that can be used to clear the list of all the most recently used applications. To enable the auto clean option (it starts cleaning temporary files automatically on system startup), you just have to tick the 'startup' option in the options menu. Pressing 'Apply' will save all your settings and you can then move out of the application and perform a soft reset on your device.
After ClearTemp has completed cleaning up your system, you will notice a refreshing change in the working of your device. This is because of the reason that now your system has been cleaned up of all temporary files, cache history, unwanted cookies, internet history and unused files, making it run smoother and in a more efficient way.
SOURCE: Vicott Wong