Enhance Your Tweets With 3 Great Twitter Applications For Windows Mobile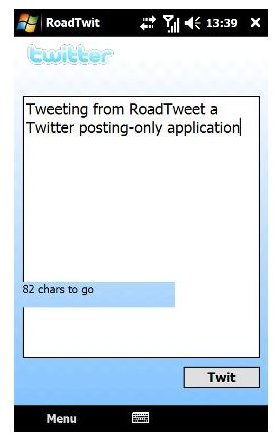 Twitter Without Consequence
The use of Twitter has increased considerably over the past few months, and the Windows Mobile has a great selection of Twitter clients for tweeting and reading other tweets not to mention taking photos, shortlinking URLs and replying to and quoting other Twitterers.
However it isn't always practical to be engaged in full on Twitter interaction from the comfort of your Windows Mobile device – time might be pressing, you might be in a boring meeting or your phone may have limited space fro a full client applications.
An increasing number of Twitter mini-apps have appeared on Windows Mobile over the last few months, allowing users to "Twitter without consequence" - that is, leave their mark on the Twitter sphere without checking immediate reaction. This is achieved by means of simply allowing tweets without displaying those observations and messages from the people you follow.
RoadTwit
This is a Twitter instant post client for Windows Mobile 5 and later. Simply install (it's available from Codeplex.com) and use the menu to login to your Twitter account. From then it's simply a case of sending Tweets whenever you have a network connection.
This isn't a tool for addicted Tweeters, but for those of you on a quest or at a meeting/event that you want to TWeet from without getting wrapped up in answers and responses.
TwitToday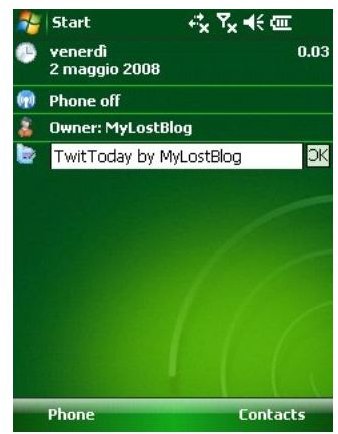 Another simple instant post client for Windows Mobile 5 and 6, TwitToday is a handy single line entry to your default Windows Mobile Today screen.
A light 20 KB download, TwitToday is easily installed via the CAB installer – to setup the client go to Start > Settings > Personal > Today and check the "bLADE TwitToday" entry. This will display the Twitter entry area on the Windows Mobile Today screen. From here you can send Tweets quickly and easily without loading a full Twitter client.
TwitToday can be downloaded from FreewarePocketPC.net.
TwitterMyFlickr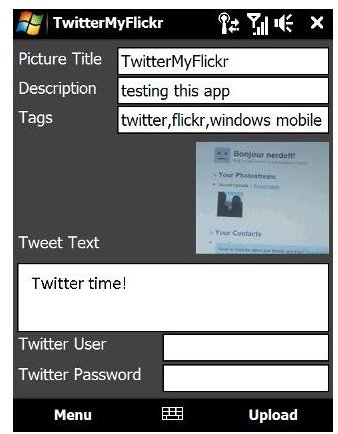 Finally, there is TwitterMyFlickr. This application is a bit different, combining a Twitter instant post client with a Flickr uploader – basically if you want to publish images taken on your Windows Mobile device mounted camera to Flickr and alert Twitter followers of your snap,
TwitterMyFlickr manages this by logging into both your Twitter and Flickr accounts, uploading an image to one and displaying your chosen message and tiny URL to the other.
Tweeting photos is becoming more and more popular, making TwitterMyFlickr a great tool and again something that can be used at events such as concerts and festivals.
Get TwitterMyFlickr from FreewarePocketPC.net - remember you'll need a Flickr.com account to use it!
New Way to Tweet
Three great Twitter apps that bring a new way of sending tweets to Windows Mobile, these instant post clients are all free, all very usable and all perfect for people who like the sound of their own Tweets!
Twitter isn't just about the conversation, it's about the value of the Tweeter - and these tools can help you enhance the value of your Tweets by forcing focus on the Tweeting and less on the conversation.
Mobile Tweeting requires two things - a generous dataplan and a Twitter account!