MagiCall Review for Windows Mobile Smartphones: SMS and Call Filtering System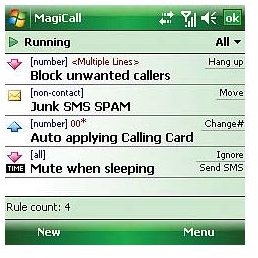 Installation, Working and Main Features
MagiCall is a useful rule-based call filtering application that allows you to block any unwanted caller who keeps bothering you all the time. You even have the option to hang up the phone automatically if you don't feel like talking to that person. All calls and SMSs from that person are then blocked and you can keep doing your work without any disturbance. Call filtering can even be done for both outgoing and incoming call, you just have to pre-define the phone number of the unwanted caller and let MagiCall handle the rest for you.
The Full version of MagiCall v2.2 can be purchased from the Mobiion's official website for $ 24.95. The size of the set up file is only 495 KB and you can download it in seconds if you have a fast internet connection. The company provides a free trial for 10 days if you want to test the application before you finally decide to buy it as well. Even after you have bought the application the company guarantees to return your money after 30 days if you are unsatisfied with the product. The facility to update this application free of cost for one year also is one of its major selling points.
MagiCall practically allows you to tame your Smartphone to reply to an SMS or send a forward SMS or even launch a specific application while the rule is being triggered.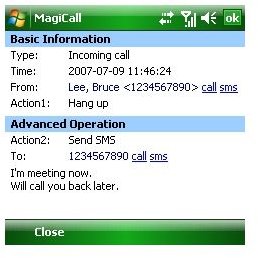 A rule is a predefined act that is initiated immediately on occurrence of a specific call action and MagiCall consists of three major modules namely Rule List Window, Rule Configuration and Log Viewer. With the Rule List Window you can see all the assigned rules and even disable/enable them according to your needs by just clicking on the specific icons. You can also create a new rule or copy, delete, and modify the existing rules and much more depending upon your requirements.
You can also block any SMS containing specific content like letters or words and save the configuration so that whenever you receive that kind of message it is automatically blocked by the phone. You can then filter the content of the SMS in three ways: Choosing the 'Must Included' option will guide the phone to receive only that message which includes only the content mentioned by you. If you choose 'Must Not Include' option, it will guide the phone to block all the messages which include the content mentioned by you. The third option is 'Any' and it is specifically meant for one or more SMS.
Finally the Log Viewer allows you to record the detailed information of a call or a triggered rule. You can save a written record of all the triggered events such as the name of the person from which you received the call, time of the call, subject of the call, your response and much more. You can store these log files in your Smartphone so that you can view them whenever you want. This application is compatible with all Smartphones and Pocket PCs running on Windows Mobile devices ranging from WM 2003SE to the latest WM 6.1.
Final Verdict
With MagiCall you can easily filter all your calls and messages and assign rules accordingly so that you are not disturbed during an important meeting or a romantic outing. Hence it is possible for you to respond back with ease if you are busy doing some important work. This saves you from the unnecessary hassle of attending all the calls and messages that have the least amount of importance for you.
Assigning the rules and filtering the calls is an easy process and you will get used to it rather easily.
I recommend this application to all my readers who are haunted by unwanted calls and the burden of replying back to them.
SOURCE: Mobiion Software